We solved common decor dilemmas with 'Designer Tips'
The process of transforming a house into a home does not happen overnight, and, often, the transformation is never truly complete. Over the years, we have amassed a collection of tips from the local designers on the cutting edge of Baton Rouge's interior design scene, who have offered their insights on everything from new construction to renovations to durable decor. With all-too-common problems in mind, we took to our archive to solve the design dilemmas that are plaguing us, and, possibly, you too.
---
I have a small living space and I want it to feel inviting instead of cramped. What do I do?
Kenneth Brown of Kenneth Brown Design suggests in this tip that sticking with a neutral color palette is one sure-fire way to make a room feel larger. However, by adding accessories and taking a chance on a dark accent wall, the space will gain dimension and become a welcoming space, rather than an empty one.
"Here, I took advantage of small nooks to create visual interest, giving the illusion of additional space," says Brown. "And don't be afraid of darker walls – they tend to make walls recede visually."
For more small space inspiration, check out these tips: Adrianne Bellizaire on small space planning and David Baird on big living in small spaces.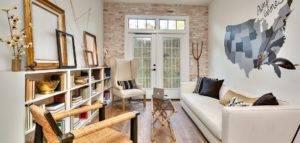 ---
I have kids and pets so I need durable furniture but I still want my space to be grown up and fashion forward. Is there a way to have it all?
Designer Karen Giffel of Karen Giffel Interior Design explains in this tip that her go-to solution for her clients is a selection of performance fabrics that can stand up to even the most overwhelming messes while still offering the same stand-out patterns, colors and quality as other high-end options.
"As an interior designer I like to let life happen," explains Giffel. "JFFabrics and Crypton produce lifestyle options that are both beautiful and user-friendly."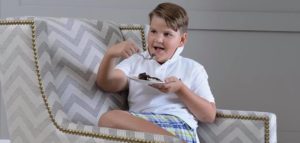 ---
I am building a new house and I have no idea where to start. How do I know what to prioritize in my new spaces?
In this tip, builder and designer couple Brandon and Cherith Craft explain that the key to creating a successful space is paying attention to how your family lives and what spaces are used most. They explain that the kitchen is typically the best place to start because of its central location to both the home and the family. By making special adjustments that cater to your family's habits and goals, your new space will work for you, instead of against you.
"There are so many areas to attend to when starting a new home, but for us, it always starts in the heart of the home–the kitchen," says Cherith. "For us personally, we use a lot of appliances in the morning–the coffee pot, blender, toaster–and we wanted a clean look in the kitchen, so we added a 'butler's kitchen' behind the kitchen to hide all of these things that we use daily."
For more new construction and renovation advice, check out these tips: Rethink your renovation to manage expectations and Anne McCanless on choosing the right designer.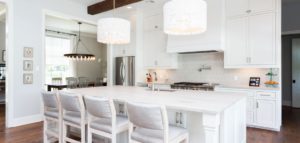 ---
What are some easy tricks to make my space feel pulled-together but still personal?
According to designer Amanda Cason of Amanda Cason Interiors, as well as Laura Roland of Fireside Antiques, creating a welcoming space is as simple as including aspects of your life and interests. While the spaces on popular shows look perfect, there is something to be said for a space that feels like a family actually lives there. For Cason and Roland, displaying collections of pictures, antiques and other pieces that are special to you are one way of inviting guests not only into your home but into your life.
In the same way, designers Cati Hardy, Neda Dragevic, Becky Walker and Patti Dupree all note that artwork is a great way to complete a space."A piece of art that speaks to you now will invoke beauty over a lifetime, a remembrance of a time and place, a pleasant experience," Hardy says. "It may lend grace and sophistication to a place or reflect personality into your surroundings. You will love it forever."
For more on bringing your personality into your home, check out these tips: Amy Strother on vintage sensibilities, Carrie Griffin on personalizing a room and Adding soul to your space.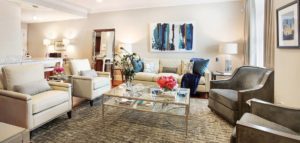 ---
For more helpful tips from Baton Rouge's interior elites, check out inRegister's "Homes" page here, and check for new tips weekly in the [email protected] newsletter.