Designer tip: Laura Roland on starting a collection
What is it about a home that makes it distinctly and unabashedly yours? Laura Roland of Fireside Antiques believes that the spirit of a home lies in the accumulation of special details, treasures that hint at a family's history.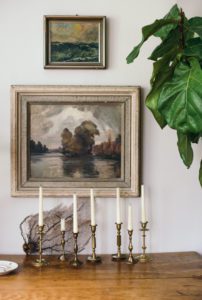 "I am always amazed when I start a project and my clients don't have a collection of something to make their home unique to their tastes or travels,"she says. "If you walk into a friend's home and they have an impressive collection of paintings on the wall, chances are they didn't buy them all at once."
Roland suggests first finding something  you enjoy searching for, and to start the collection one piece (or two) at a time. Before you know it, you'll have a very personal and impressive statement that speaks of your experiences and your personality, whether it be a collection of paintings, wooden boxes, books, pottery, brass candlesticks or something more obscure.
"A house doesn't become a home overnight," Roland reminds her clients. For a collection to be authentic and timeless, she advises, it has to reflect a journey, or even a lifetime.
For more on Roland, check out her tip on reupholstering antique furniture, or check out her social media here and here.