Designer tip: Neda Dragicevic on bringing a room to life with art
After spending the last decade in one of the art capitals of the world, Neda Dragicevic left New Orleans and headed west. In Baton Rouge, Dragicevic now works under Patti DuPree of Patti DuPree Furniture and Interiors, and knows a thing or two about how to properly incorporate art into the home. An outstanding piece of art, she advises, can either complicate a room or bring it to life. For Dragicevic, there are four key points to keep in mind when it comes to purchasing art for your home:
1. Use a piece of art as inspiration for a room's eventual color palette.
Using a dramatic piece of art to inspire a room is one of Dragicevic's main tips. The room should enhance the art, using neutral-colored accessories to complement the piece. If the art is loud, keep the room subtle with light-colored walls, plenty of natural light and hints of wood.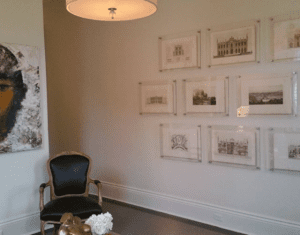 2. Let your art be the point of interest by displaying it tastefully, and ideally with a mix of old and new.
Art in a room doesn't have to be one singular piece. "It can also be a collection of similar pieces such as antique architectural prints bought at an auction and then framed in an attractive eye-catching style. At all intersections, art should create a pausing interest for whoever is in the room," says Dragicevic.
3. Don't make art the last piece of the puzzle when decorating a new space. 
While decorating, we are sometimes met with the empty wall that needs a certain size of art. The scale of the art should blend seamlessly with the size of the room. Waiting until the end to add art tends to complicate the incorporation and offers fewer options and inherently limits the design.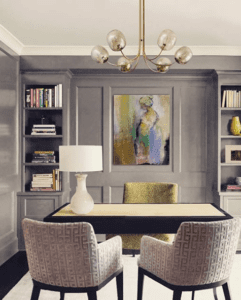 4. Every room needs a focal point!
It is important to remember that the frame itself can be the focal point of the room. Dragicevic suggests that simple pieces of art can add to the calm demeanor of a monochromatic room, but are easily enhanced with a bolder frame. The bold, dark frame draws attention to the art while acting as an accent of its own.
To learn more about Neda Dragicevic and her designs, visit pattidupree.com.