Designer tip: Karen Giffel on durable decor
Life happens, especially during the holiday season. Unfortunately, this often means that furniture gets caught in the crossfire of holiday desserts and family playdates. In order to prevent disaster, Karen Giffel of Karen Giffel Interior Design suggests choosing fabrics that can withstand everything from accidents to everyday wear and tear.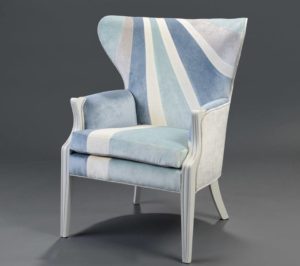 "As an interior designer, I like to let life happen," explains Giffel. "By having a performance fabric library that is resistant to stains yet stylish, I give my clients the ability to make priceless memories in their spaces."
Giffel's go-to line for functional and fashionable fabrics is JFFabrics' collaboration with Crypton Fabrics. Characterized by bold colors and graphic prints, the companies work together to produce fabrics that will both provide the desired wow factor within a room while also standing the test of time.
"JFFabrics and Crypton produce lifestyle options that are both beautiful and user-friendly," says Giffel. "During the holidays, having fabrics that accommodate these needs allows for entertaining to be more fun and less stress."
By keeping in mind the variables of life when choosing furniture for a room, Giffel notes that the time and effort put into the design will not go to waste as soon as chocolate cake or red wine entertains the equation.
For more on Giffel and her designs, visit her website here. Also, check out some of her other inRegister designer tips here and here.