Designer tip: Becky Walker on how to keep it fresh
No need to completely redo a room when you're tired of the look. Instead, Becky Walker from The Design Studio suggests adding vibrant details that are easy to change out when you're ready to update a room.
"A neutral color palette for your staple pieces and walls allow you to try different accents for when you get tired of a certain look," says Walker. "We love seeing a neutral palette with pops of color either on a wall with eye-catching artwork or vibrant throw pillows."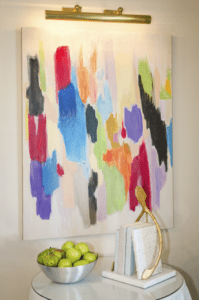 If a room in your home feels stale, try freshening it up with some vibrant accents. Walker says colorful artwork is an easy way to add excitement to any room.
"Colorful artwork is great because it's not permanent. You can simply move it to a different room when you get tired of it or want a new look," says Walker.
And with the holidays just around the corner, Walker's tips are convenient for easy holiday party decorating.
"For example, around the holidays, it's easier to change out a Christmas throw pillow on a neutral sofa or accent chair than it would be on a colorful piece of furniture," adds Walker.
To learn more about Walker's work and The Design Studio, visit tdsola.com.