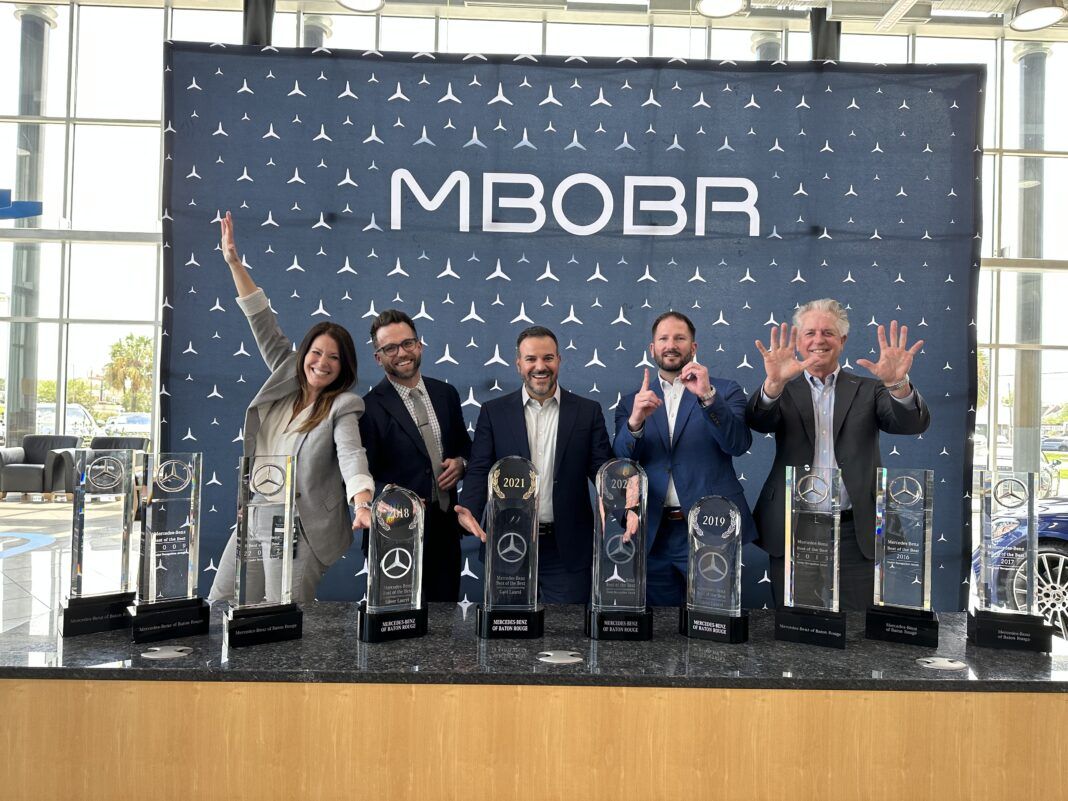 Mercedes-Benz of Baton Rouge servant leadership leads to 10 years of being the 'Best of the Best'
Sponsored by Mercedes-Benz of Baton Rouge
Stepping inside Mercedes-Benz of Baton Rouge, one of the first things you'll notice along with the friendly faces and luxury vehicles on the floor is a banner highlighting 10 years of "Best of the Best" awards.
Mercedes-Benz of Baton Rouge is the most awarded Mercedes-Benz dealer in Louisiana, winning the 2022 Best of the Best Dealer Recognition Award from its manufacturer for the 10th time. Nick Pentas, general manager and managing partner of Mercedes-Benz of Baton Rouge, says the winning streak is a testament to the dealership's commitment to excellence, as well as to its employees who strive every day to be the best. "It's also a customer award," Pentas says.
The Best of the Best Award recognizes Mercedes-Benz dealerships that excel in customer service, management and leadership, new vehicle sales, and automotive service and parts. Customers who choose Mercedes-Benz vehicles demand the best, and they expect exceptional service from every person they interact with, from the Luxury Sales Ambassador to the finance department and service technicians. Mercedes-Benz of Baton Rouge consistently delivers on these expectations, providing a top-of-the-line experience for each customer.
Pentas credits the Mercedes-Benz of Baton Rouge culture of servant leadership as the reason for its success year after year. "There are many businesses that define what they want their culture to be, but very few who reinforce it," Pentas says.
At Mercedes-Benz of Baton Rouge, culture is reinforced every day – through simple things like swapping out name badges for larger laminated "Culture Cards" that employees wear around their necks. The cards include Mercedes-Benz of Baton Rouge's mission statement and a "Quiver of Arrows" that reinforces cultural pillars. Pentas takes time frequently to talk to employees about the arrows and what they mean to him personally. "That's a way we reinforce the culture, we talk about it," he says.
Culture Team members also bring attention to fellow employees who embodied the culture during the previous week. "Whether they helped a customer change a flat tire or went out of their way on a Sunday, we get tons of stories," Pentas says. Each week, one employee is selected to receive a culture coin worth $500, which can be redeemed at the end of the year for prizes. Culture coins are handed out to Employees of the Month, the winner of the Halloween costume contest, and also at unplanned times when someone is noticed doing something extra.
In the community, Mercedes-Benz of Baton is a proud supporter of organizations like Rotary Club of Baton Rouge and the Big Buddy Program. Pentas also serves on the board of Capital Area United Way. During the annual CAUW campaign, employees are encouraged to donate and Pentas matches it. Employees are kept informed about other giving throughout the year. "They see when we've had a great month, and so we share how we're giving back," Pentas says.
For more information about the dealership and its award-winning services, visit the website, www.mbobr.com, or stop by the showroom.