What to expect at Hands Producing Hope's first annual Hope Gala
Since 2012, Hands Producing Hope has brought work, education and opportunity to disadvantaged families around the world and right here in Baton Rouge. To continue the group's life-changing work, the nonprofit is hosting its first annual Hope Gala, presented by Brown Industrial Construction, on October 14.
"A big desire of ours is to connect with our local community and grow their awareness of what Hands Producing Hope does," says founder and executive director Rebecca Gardner. "The inspiration behind the Hope Gala was to create a fun, interactive way for people to learn more about our impact and how they can further support our work."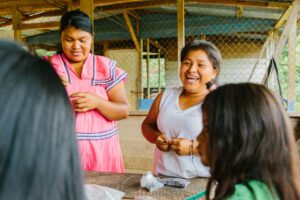 Through ethically made goods, Hands Producing Hope not only provides stable work and income for their artisans, but also prioritizes their education and physical, mental and emotional health. All proceeds from the Hope Gala will help fund HPH's impactful programs like adult literacy school, maternal health education and small business training—to name a few.
"Our work is only possible through the support of our customers and generosity of our donors," explains Gardner. "The more consistent and sustainable work we are able to provide for our artisans, the more they are able to provide for their families and local communities."
Hope Gala attendees can look forward to a free-flowing night filled with food, drinks and a wall of gift cards—all from local restaurants and businesses. The main event, the silent auction, will feature a wide variety of items and experiences, ranging from art to free yoga classes to facials and more. After-hours shopping and a photo booth add to the list of fun activities. For those unable to attend the gala in-person, Hands Producing Hope is offering virtual tickets that provide exclusive access to the silent auction, as well as a HPH tote bag stocked with sustainably made goods.
"Equipping them with the knowledge of literacy and other skills offered in our programs empowers our artisans to be able to pursue their dreams and open up a world of opportunities," says Gardner. "The proceeds from the Hope Gala will help us not only continue the programs, but be able to grow and increase the number of lives we are able to change." 
The Hope Gala will kick off at 7 p.m. on October 14 at The Guru, located right next door to the nonprofit's Government Street storefront, The Hope Shop. In-person and virtual tickets are available for purchase on Hands Producing Hope's website until sold out. Keep an eye on the group's Instagram and Facebook for event updates and link to the virtual event.
---
To learn more about Hands Producing Hope, check out this story from the inRegister archives.