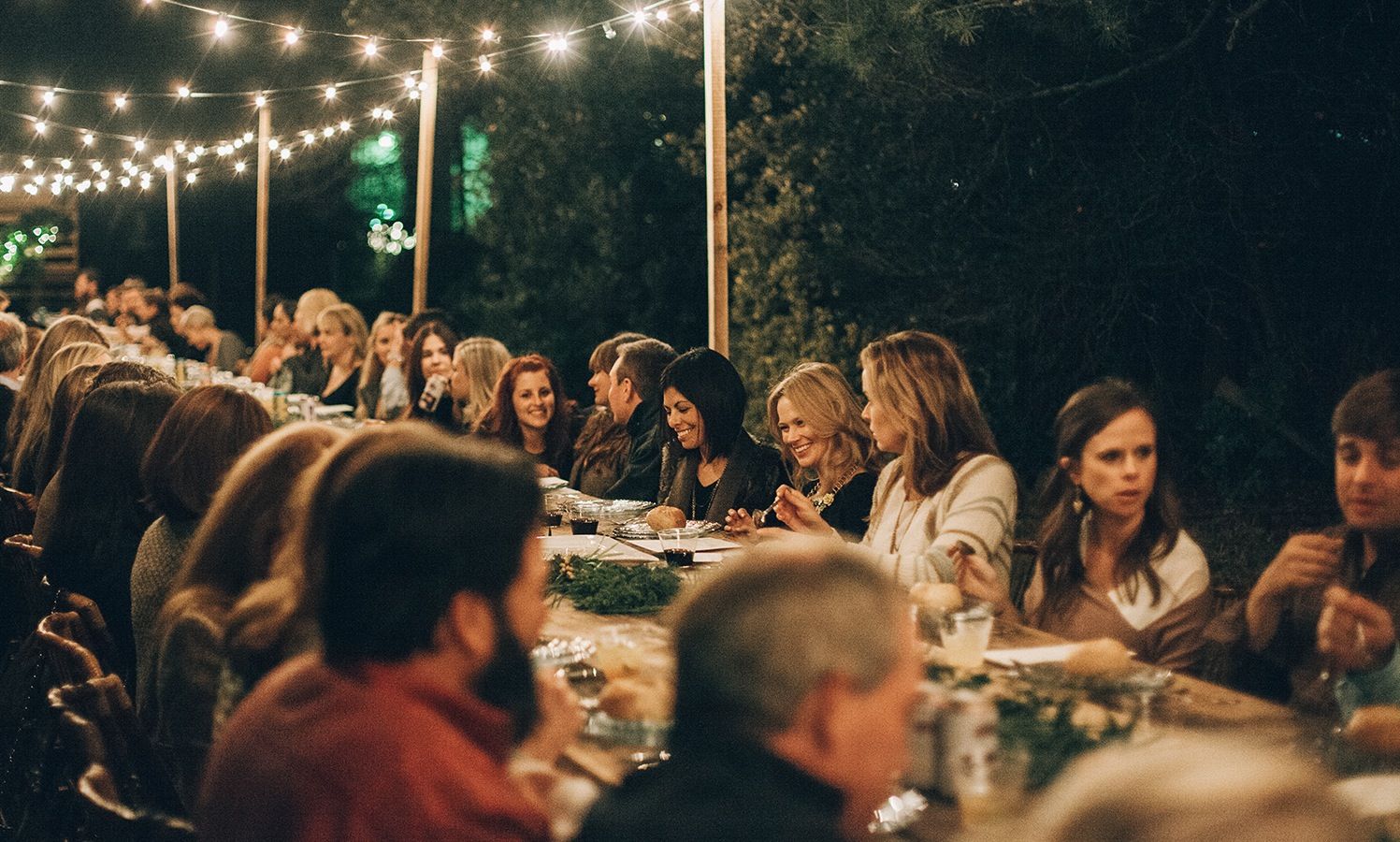 Photo by Michael Tucker
Farm to Fork celebrated the freshest local ingredients in an open-air setting
Leigh Ann Chatagnier and Lindsey Smith shared a vision for their outdoor dinner party: relaxed and intimate. That was their slogan, after all. An intimate gathering of friends.
Except the 100 people in attendance at the Farm to Fork event the women hosted in November weren't exactly a group of close-knit friends. They were, some of them, strangers, brought together by a mutual love for their community.
"That's where everyone found common ground," Chatagnier says. "Through the community."
As night fell, guests began to arrive in attire inconsistent with a typical Baton Rouge gala. Attendees wore flannel shirts, denim and boots.
"We wanted the guests to be able to feel the soul of the place and the people," Smith says. "It was nothing fussy. It was real and relaxed."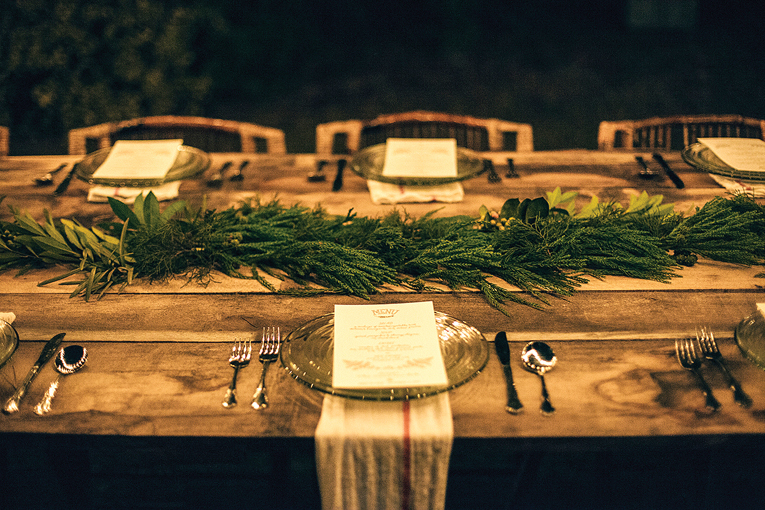 The outdoor space at Red Onion provided its own aesthetic charm for the informal affair. The evening highlighted some of the best local offerings around. Guests were greeted with a handwritten chalkboard sign thanking vendors and rustic furniture decorated with plants in clay pots.
"We channeled the place," Smith says. "We are lucky to have a tropical climate in Louisiana that allows for beautiful and fragrant plants."
At dinner, guests dined al fresco at a 100-foot table Chatagnier and Smith built themselves using wood salvaged after hurricanes. Bistro lights were strung overhead, and branches of pine served as centerpieces. String Remedy, a four-piece band with acoustic string instruments, played mellow background music.
Dishes were served family style and passed from guest to guest, igniting conversation. The ingredients were all locally sourced by Baton Rouge food delivery service Country Table. Guests began the meal with roasted vegetables with satsuma vinaigrette over mixed greens, followed by spiced pumpkin and shrimp bisque in a bread bowl. Meat-eaters enjoyed an entrée of cochon de lait grillades over Southern-style stone-ground grits with smothered greens, while vegetarians had their own savory treat in the form of purple rice pilaf with smothered greens. Dessert was salted caramel crème brûlée.
"With friends, in-laws, or whatever the case may be, just have fun with it," Smith says, offering advice for those who may want to recreate the scene. "Whether you're shooting for whimsical or traditional, nature and friends are the magic ingredients."
Check out a video of the evening here.
See more of the evening in this slideshow. Click on each photo for a larger image:
---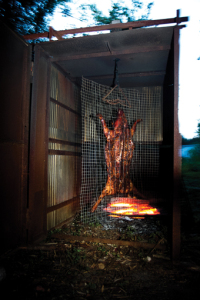 Pork Grillades
5 pounds pork butt, diced 2 cups flour 1 tsp. Zatarain's Creole seasoning 1⁄4 cup clarified butter 1 large onion, diced 1 stalk celery, diced 1 bell pepper, diced 2 cups sliced mushrooms 1⁄2 cup garlic, minced 2 cups demi-glace 2 cups stewed tomatoes 1 sprig thyme, picked 1 sprig rosemary, chopped 1 bay leaf 1 Tbsp. Worcestershire sauce Salt, pepper and Louisiana Hot Sauce to taste 2 green onions, chopped Season pork with salt and black pepper. Mix together flour and Creole seasoning. Dredge pork in flour mixture, then place in a large pan with butter on the stovetop over high heat. Reserve flour mixture. Cook pork on all sides until golden brown in batches. Remove pork from pan, add diced onion to pan, and lower heat to medium-high. Cook onions until translucent, and add celery, bell pepper, mushrooms and garlic. Continue cooking vegetables while stirring over low heat. Add 1⁄4 cup of leftover flour mixture to pan and stir in. Add demi-glace and tomatoes with juice, and raise heat to medium until liquid comes to a simmer. Add thyme, rosemary, bay leaf, Worcestershire, and pork  back to pan, and continue simmering for 45 minutes or until meat is tender. Season grillades to taste with salt, pepper and hot sauce, and serve over Smothered Grits. Garnish with chopped green onions. Makes 8 servings.  
Smothered Grits
3 cups chicken stock 1 cup heavy cream 1 cup stone-ground yellow corn grits 2 cloves garlic, minced 4 Tbsp. butter 1 Tbsp. Worcestershire sauce Heat oven to 400 degrees. In a sauce pot over high heat, bring stock and cream to a simmer, then slowly whisk in grits. Place grits in a casserole dish, cover, and cook in oven for 60 minutes. Season with salt and pepper to taste and serve. Makes 8 servings.
Recipes courtesy Roberto's River Road Restaurant