Entertaining: Backyard barbecue
While the true taste test of burgers and ribs can be assessed by the number of napkins used, who says those napkins can't be cute? Punch up the pig feast pizzazz with simple details—such as colorful napkins, creative signage and rough-hewn tables—to create a festive scene that makes firing up the grill a real treat.
"Barbecue is all about family, friends and lots of food," says Angela DiVincenti Babin of Angela Marie Events. "But adding great, casual details makes this backyard bash more special. Even hot dogs and coleslaw taste better served with a bit of style."
In addition to the main course, Babin offered guests at a recent barbecue a biscuit bar that included jams and jellies. "It stole the show!" And a bloody mary bar had spiced veggies and condiments at the ready for do-it-yourself drink mixers. A dessert bar included homemade pies, cakes and cookies. There was something here for everyone at this old-school celebration—no electronics, no Wi-Fi required for fun. Just plain, old-fashioned fare with a saucy dose of spirit.
Resources:
Paper décor and printables: Lauren Haddox Design
Flowers, styling and food: Angela Marie Events
Signage: Whatchawant Design
Tents: Doug Olinde
Vintage furniture: Timeless Vintage Rentals
Cake: The Ambrosia Bakery
Cookies: Silly Gilly Desserts
Crankin' it up, old school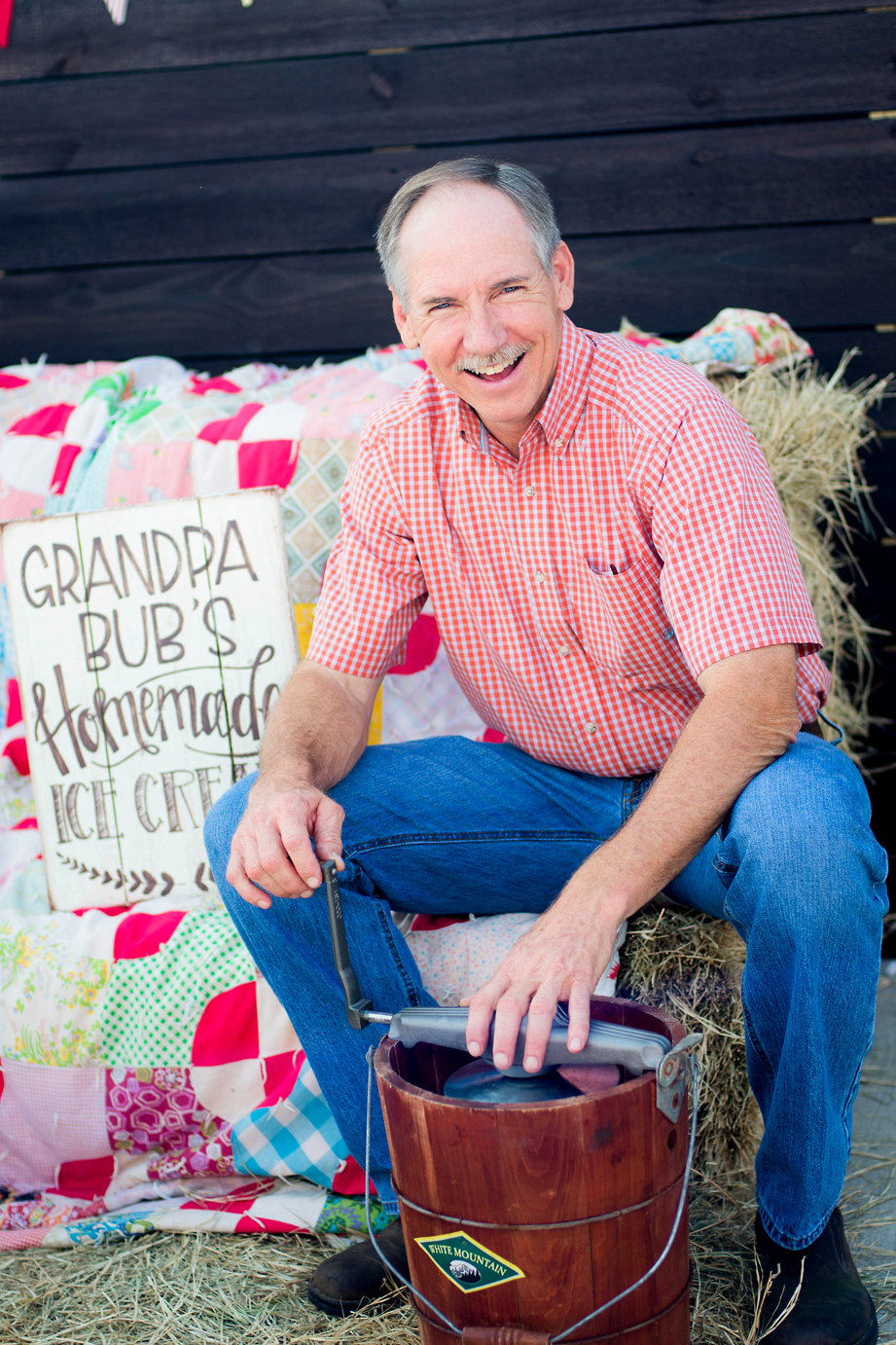 Homemade ice cream brings back memories of slow summer days in the sun. This delightful dessert is perfect after a backyard grill out. Just in time for hot weather, try this party-loving family's favorite recipe from River Road Recipes II: A Second Helping.
Vanilla Custard Ice Cream
2 quarts milk
2 1/2 cups sugar
2 Tbsp. flour
1/4 tsp. salt
8 eggs
1 (13-oz.) can evaporated milk
1 Tbsp. vanilla extract
Scald milk. In a mixing bowl, mix sugar, flour and salt. Add hot milk to sugar and flour mixture. Cook for 3 minutes. Beat eggs well in another mixing bowl. Then slowly add milk mixture to eggs a little at a time so it will not curdle. Cook over low heat until mixture coats a spoon (about 15 minutes), stirring constantly. Remove from heat and add evaporated milk and vanilla. Let cool completely before you freeze in ice cream freezer. Custard may be made a day ahead and refrigerated until ready to freeze. Makes 4 quarts.