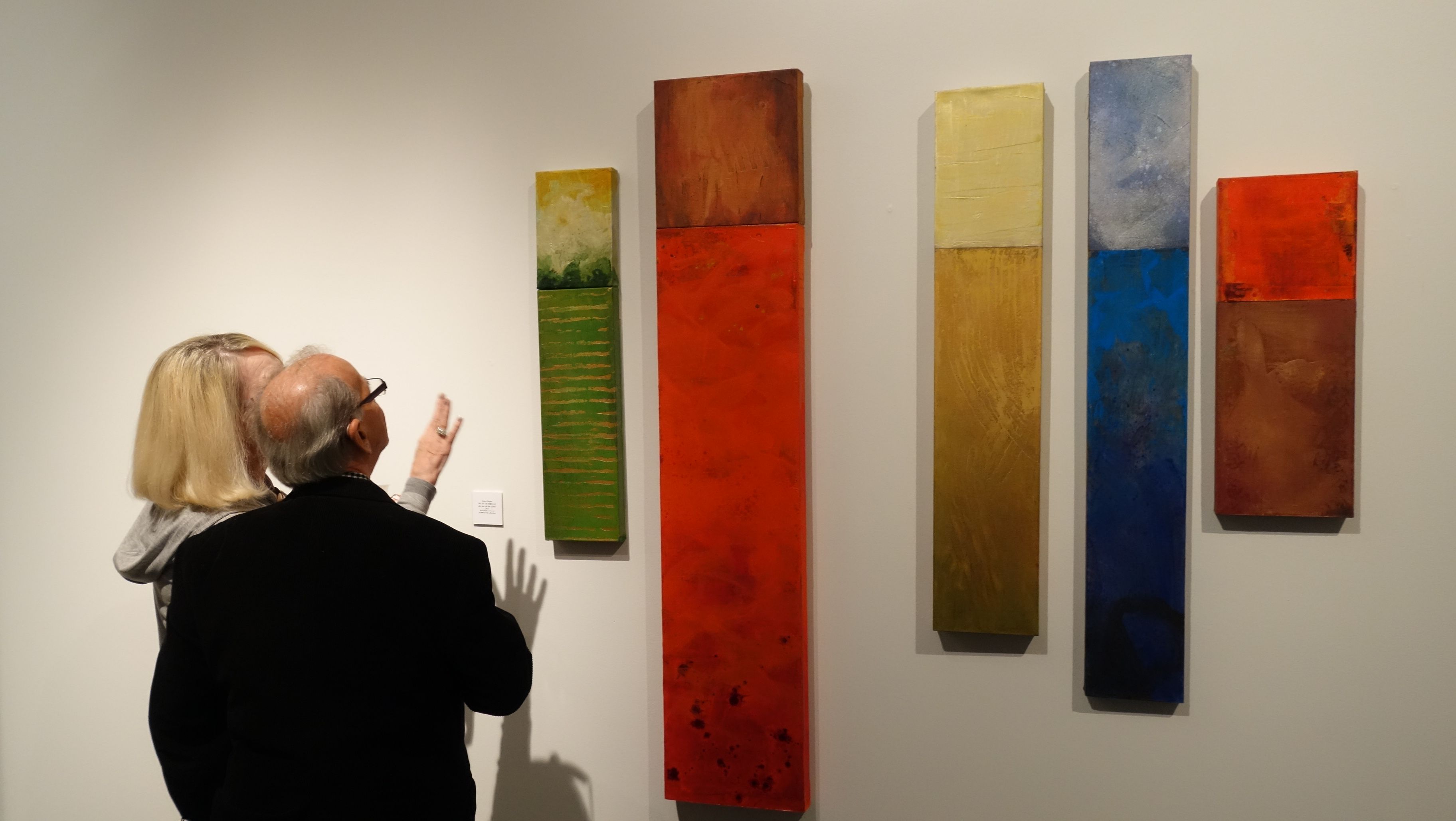 Arts around town: Talking abstract expression with Robert Rector, Songwriters strum at downtown festival, and more
A look at art-related events in the area:
---
The Gallery at Manship Theatre will host an artist discussion with Robert Rector and curator Ann Connelly on the gallery's current show, "Robert Rector: Five Decades of Abstraction," from 5:30 to 6:30 p.m. next Monday, April 25. To learn more about the exhibition and Rector's work, check out this article from the April issue of inRegister, available on newsstands now.
---
This Friday through Sunday, April 21-23, the Third Street Songwriters Festival will take over downtown Baton Rouge with several special showcases and events. Friday will include a Songwriter Workshop at the Watermark Hotel, where hopefuls can have their songs heard and critiqued by a panel of experts in the Nashville music industry, with details sent to individuals once they register online. A festival kickoff party at the Red Dragon Listening Room and a "Tennessee Whiskey" Late Night Nightcap will carry on late into the evening. Saturday's events include an industry listening panel, songwriter rounds at various locations, Manship Theatre's Hit Writer Showcase, and an after party at Blend, and Sunday closes out the weekend at Jolie Pearl. For more details on the lineup, locations, and registration for special panels, visit thirdstreetsongwritersfestival.com.
---
Next Wednesday, April 26, the Arts Council will welcome the Robert Glasper Experiment as the next act in its River City Jazz Masters concert series. Performing at Manship Theatre at 7:30 p.m., the American jazz pianist and hip-hop producer won a Grammy for his 2012 album Black Radio.
---
Theatre Baton Rouge will open its curtains for The Foreigner starting this Friday, April 21, and running through Sunday, May 7. The story follows "Froggy," a British demolition expert who brings his pathologically shy friend Charlie to his favorite fishing lodge in Georgia. When Charlie becomes too fearful to speak with strangers, Froggie tells everyone at the lodge that Charlie does not, in fact, speak any English. Hilarity ensues as guests begin to reveal their dark and damaging secrets in Charlie's presence, unaware that he understands every word.
---
Tonight, Thursday, April 20, the West Baton Rouge Museum teams up with the Baton Rouge chapter of the American Institute of Architects and the American Architectural Foundation to host Wine and Wright: An Evening Art Workshop. Guests can try their hand at drafting tools much like the ones used by Frank Lloyd Wright to design furniture and architectural elements. This free program is offered in conjunction with the museum's exhibition Frank Lloyd Wright Architecture of the Interiors. Refreshments will be served. Call (225) 336-2422, ext. 15, to reserve a space.
---
Stroll into downtown Baton Rouge's Repentance Park this Friday, April 21, for another Live After Five concert from 5 to 8 p.m., this time featuring Kristin Diable's Americana-inspired rock-and-roll and Burris' jazzy "gumbo of music."
---
Today marks the Third Thursday at the LSU Museum of Art, which means guests can spend an evening at the Exploring Photography exhibition with LSU School of Art photography professors Jeremiah Ariaz and Kristine Thompson, who will lead a gallery talk. Stick around for a beer tasting with Tin Roof Brewing Company and hors d'oeuvres from Capital City Grill. The event runs from 6 to 8 p.m. Tickets are $10 for the general public, $5 for members, and free for Contemporaries.
---
LSUMOA will host a book signing with Expressions of Place: The Contemporary Louisiana Landscape author John R. Kemp along with artists Rhea Gary and Charles Smith, in the fifth-floor lobby at 2 p.m. this Sunday, April 23. Books will be available for purchase through the LSU Museum Store.
---
Opening next Tuesday, April 25, the "Bluebonnet Swamp Magic" photography show celebrates 20 years of connecting people to nature. As part of the swamp's anniversary celebration, this art show will culminate with the presentation of Best in Theme and Visitors' Choice awards in Adult and Youth categories.
---
Fans of the movie You've Got Mail should take a peek this Friday, April 21, at LSU Opera's She Loves Me, in which enemies Georg Nowack and Amalia Balash discover that they are each other's secret pen pal they met through a lonely-hearts ad.
---
This Friday, April 21, the Firehouse Gallery will hold an artist's reception from 6 to 8 p.m. for "Recognition," an exhibition by LSU painting and anthropology major Dominique Giosa. The artwork explores the recognizable in the human face and body, and explores how far those boundaries can be pushed through evolutionary transitions.
---