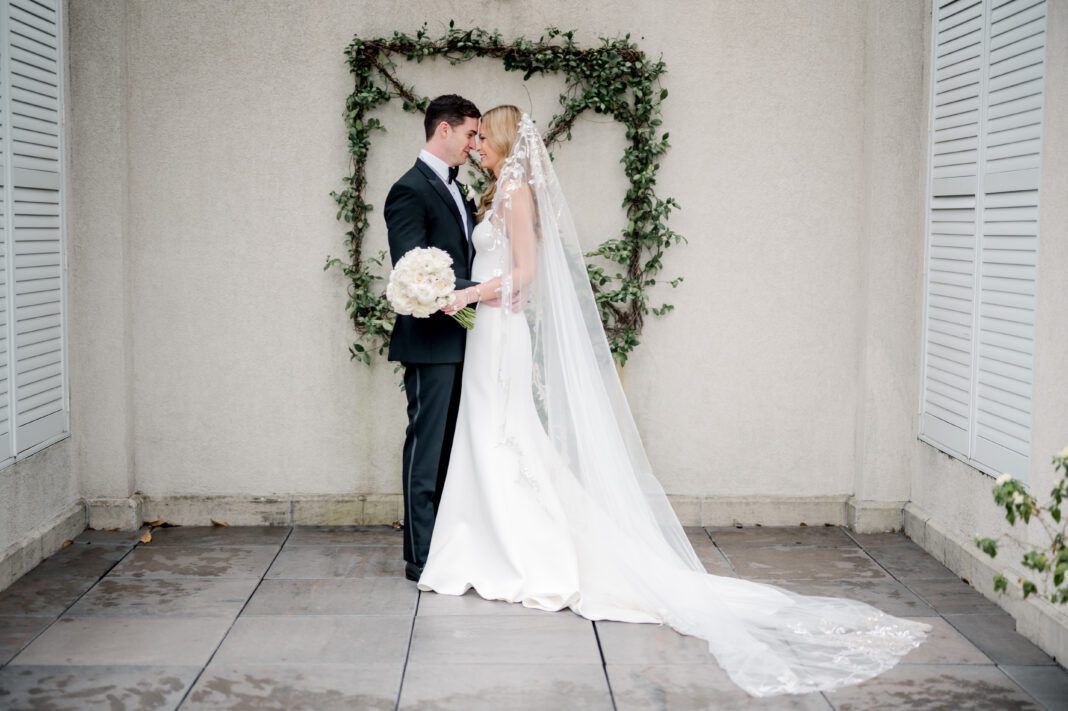 The story behind cover bride Lucy Raborn Altmyer's bridal looks
When bride Lucy Raborn Altmyer showed up to the Pedram Couture Atelier to try on her custom looks for her engagement party, rehearsal dinner and reception, she had never seen more than a vague sketch. "I trusted them," Altmyer says of designer Pedram Pasha Taheri, Freddy Gonzales and the rest of the Pedram Couture team.
And it's the trust that helped created successful looks, according to Altmyer. Working as a model for years prior to becoming a bride, she is no stranger to working with designers. And despite the stakes involved in outfits for your own bridal season, Altmyer says she felt a unique closeness to the Pedram Couture team, who allowed her to feel at ease throughout the entire experience.
"They're so fun, and we just clicked," Altmyer says. "Fashion is supposed to be fun, and they made this experience that for me. We had such a good time brainstorming different looks and vibes, and the end result is more than I could've imagined."
Despite throwing out inspiration like Old Hollywood glamour and The Great Gatsby, each of Altmyer's designs is simple at its core. "To me, it's simplicity that makes a statement," she says.
View this post on Instagram
But in order to create show-stopping looks, those simple silhouettes were given out-of-the-box upgrades such as the swooping cape on her engagement party dress, black opera-length gloves paired with her rehearsal gown and even all-over beading on her reception dress.
"I love so many things about each of the looks," she says. "They're each perfect but for different reasons."
And then there's the veil. Altmyer had already purchased her wedding gown in New York City prior to being connected with Pedram and his team by a mutual friend.
"I saw the veil in his shop and I knew that was it," Altmyer says. "It's so different. You can't look away from it. It brought life to the whole look."
The veil's intricate beading was a fitting precursor to the glitz that would follow at the reception, while also giving a nod to the relationships she built during her bridal season.
"We all really bonded throughout the entire process," Altmyer notes. "They ended up doing a rehearsal dinner look for my mom, too. It was special to have everyone involved, and to create these looks that I'll remember forever."
To read the full 2023-2024 inRegister Weddings issue, click here. And for information on purchasing wedding announcements for next year's issue, click here.