Secret garden: Steve Wilson turns the everyday into sacred in his backyard
---
A resort room booked under the garden view label typically means the traveler did not snag the choicest, and perhaps most expensive, of the rooms. Ocean view and even pool view trump garden view every time. Not so at Steve and Claire Wilson's abode. Vaulted floor-to-ceiling windows off their living room frame an exterior garden so cultivated and so lush that it would make the most seasoned of globetrotters never again leave the oasis just beyond the back door.
"I fell in the love with the old growth tree neighborhood," Steve explains, on why the Wilsons purchased the house in Magnolia Woods more than 30 years ago. "The entire backyard was grass and trees. I started the plantings around the edge, then little by little worked my way in."
That Steve had a creative vision and a passion about the foliage is no surprise. He's an acclaimed stained glass artist with instillations at more than 50 churches in Houston and more throughout Louisiana. His work can be seen at the Louisiana State Capitol, the Louisiana State Archives, Pennington Biomedical Research Center, Mary Bird Perkins Cancer Center and the new St. George Catholic Church. And he was recently commissioned to design, create and install stained glass at the new Our Lady of the Lake Children's Hospital. But prior to getting a Master of Fine Arts degree in stained glass from LSU, he graduated from the school in landscape architecture.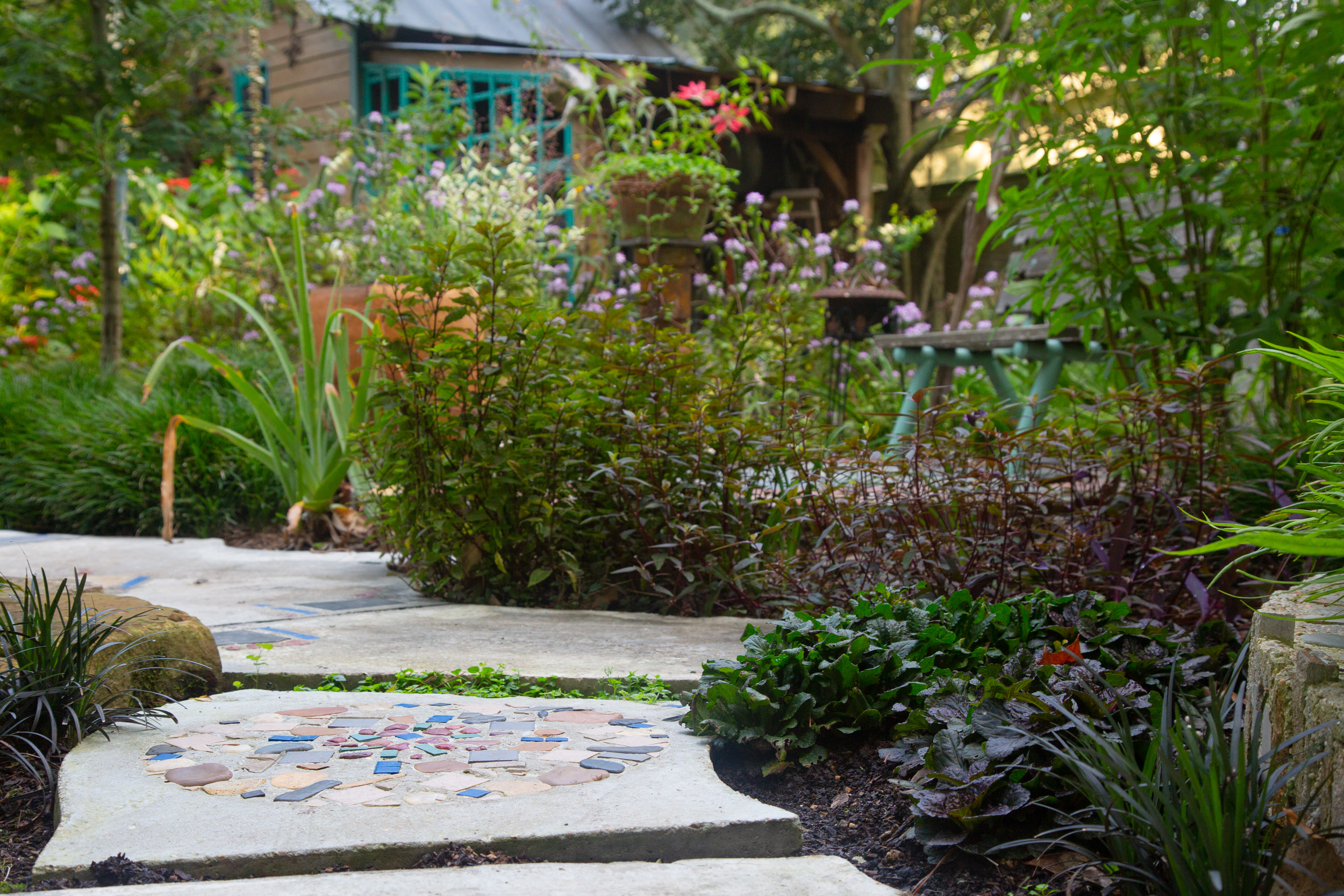 "I love detail. The way lines, shapes and colors splice together in art forms as well as in nature," says Steve, who took stained glass electives during his undergraduate study. "The spread of one species into another, serendipitous volunteers, allied with the therapeutic joy of weeding and yet the sadness of losing a terebinth all keep the garden in flux—shade to sun, sun to shade."
The flux of this artist's garden has kept him engaged with the soil on his half-acre of land for the last 30 years. Winding paths—some he poured in concrete, others stamped down in pine straw—tame the mature native plants spilling over the sides. A meandering stroll through the space reveals perennials and some pockets of annual cover, all canopied by magnolias, hickories and oaks. Towering in the corner, an elevated design studio—revitalized from its first life as a playhouse for the Wilson children—overlooks the abundant beds.
"The garden took shape over time," says Steve, surveying his latest sketch of a crucifixion design for Christ the King Catholic Church in Simmesport on an easel in the studio. "I can't sit for more than three hours up here. But what I'm working on aesthetically up here spills over down there as I make the short trek along the path between the studio and the house."
It is during these breaks in work that he surveys the garden to see what plants might need tending or moving. Or what might not be thriving where it was planted. Or what section could use better design or a piece of art. He just installed a concrete and copper sculpture he created, titled "Drink Deep my Soul" in place of a tree he lost. Other sculptures peek out from the foliage throughout the area, and long wires hold stacks of stones and hang throughout the space.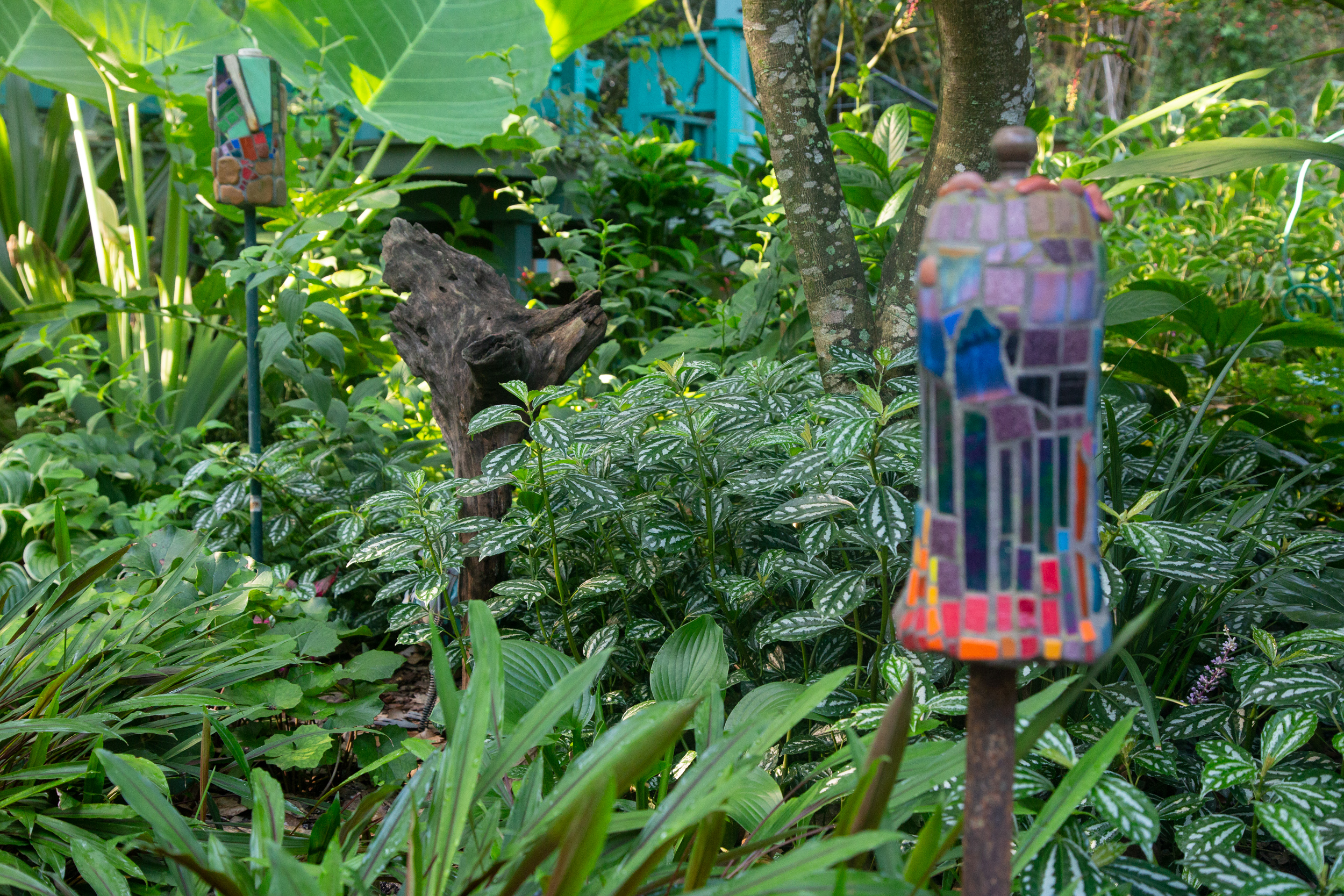 "Do you know why they are called holy rocks?" asks Steve, with a twinkle in his eye. Visitors often guess that these stones were plucked straight from the Jordan River. He chuckles in delight. "They are not really holy rocks, they are 'holey' rocks. Just rocks with holes in them that we've gathered."
This gift of turning everyday elements into something sacred is what Steve Wilson does best. While scouring the banks of the Bogue Chitto River or Middle Thomson's Creek while away for the weekend, he and Claire have collected rocks with holes in them for Steve to turn into art. What others have discarded, Steve gathers, embraces and transforms. In addition, he shares plants with neighbors and other plant lovers and is happy to receive cuttings from them in return. He recently potted a native plant, called a tickseed, that he procured from a ditch on a morning walk. And he boasts a thriving pot full of purple flowers he named the Highway 61 verbena that lured him off the thoroughfare to dig up.
"Our garden is relatively small, but its size keeps me in balance," says Steve. "The studio is where I need to be, mostly. I'm still pinching myself that after all these years, raising our three children, that Claire and I have done it through art."
---
Check out more of this gorgeous garden in our gallery below: