A year in home decorating: Check out inRegister's top 10 'Designer Tips' of 2017
2017 was certainly a year of innovation and creativity for the Baton Rouge interior design community. We at inRegister have had the pleasure of sharing some of the best and brightest ideas through our newsletter segment "Designer Tips" over the past year. Here are some of our favorites: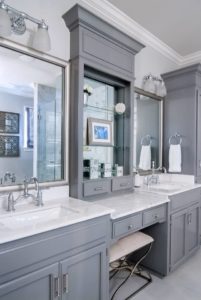 "A frequent misconception is that you need to use smaller tiles in smaller bathrooms. The opposite is actually true," says O'Neal. "Using a large-scale tile eliminates grout lines and creates the illusion of a bigger floor, plus it is easier to keep clean. From fluffy white towels to sparkling chandeliers, the sky is the limit when it comes to remodeling a small bathroom. So use that fine china in the dining room and use that fabulous mosaic tile you fell in love with in the bathroom!"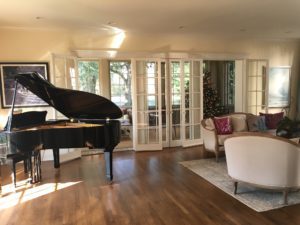 "Because green is the most dominant color of the earth, I tend us use it often—especially on woodwork, because it grounds the space and pulls your eye out toward the view, connecting you with your surrounding environment," says Kennon. "Light pastels refresh and soothe. Darker colors envelop. Pale yellows and sandy beiges, balanced with soft, atmospheric blues or sea foam water colors, evoke feelings of being at the beach. Turquoises both soothe and refresh. Light sky blues cloak the atmosphere in peace."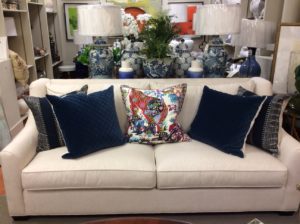 "We find that people nowadays are craving something special to change the look of a room, or to add something unique to a neutral palette," says Hardy. "Decorative pillows, for example, can lend color and texture to a space and come in a myriad of sizes, styles and fabrics. Look for unique designs featuring over-embroidery, handmade textiles, painted fabrics or embellishments, all of which draw the eye. Modern customers, familiar with a more mass-produced look, now crave things like original indigenous objects, similar in taste to other trends we see in other fields, like artisanal cheese, craft beer or small-batch whisky."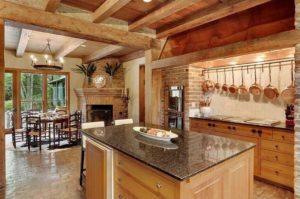 "As opposed to the ubiquitous white subway tiles, the warmth, texture and aged finish that old brick can provide is appealing to homeowners," says Smith. "It's particularly good in kitchens where it can be used effectively as a backsplash, on entire walls or even as flooring. Old brick can also be seen in bathroom tubs and showers. And then of course there are fireplace walls, arches, columns and regular flooring."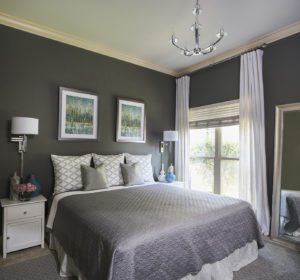 When designing a soothing bedroom, the No. 1 driver in creating a calming ambience is color," Stutzman says. "Choose a darker paint color to create a serene environment, a signal to your mind that it's time to start winding down. Both warm and cool shades will work, as long as they are on the darker end of the spectrum."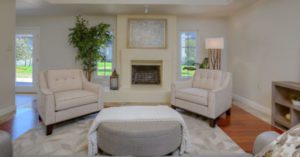 "These three steps are key to creating a home that celebrates a home's architecture and function every time:  1. Float the furniture toward a focal point. 2. Go large and light. 3. Pick your busy."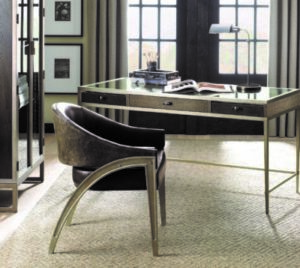 "I often go into homes where the seating is pushed against the wall, which makes furniture feel lost and disjointed," says Peltier. "Pulling your furniture closer together creates a place for conversation that feels cozy, especially when carved out of such a large area. Even in a small space, placing a desk and chair at an angle creates a feeling of purpose, not only for working, but also for capturing a focal point."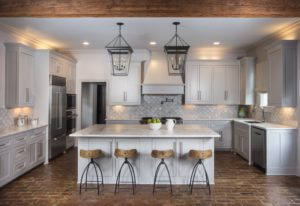 "Losing the fear of mixing different styles is your first step,"says Hicks. "To keep with the flow of the rest of the home, and to keep the antique Louisiana feel alive, using old brick floors, oversized iron lanterns and more rustic bar stools was key. We ended up with the perfect blend of old and new, and cool and warm."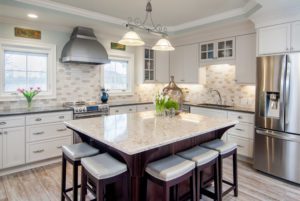 "You want a countertop that lets you know and a floor that doesn't show," says Poirrier. "For counters, a favorite is quartz due to its durability, high resistance to heat, and low porosity, which makes it impermeable to staining. Similarly, flooring manufacturers have developed the technology to imprint natural features of wood and stone onto porcelain, a modern material known for its long lifespan and aversion to staining. Using a porcelain tile with the look of wood planks or porcelain with the look of travertine in the kitchen eliminates the fear of water damage to real hardwood floors, or ruining porous travertine with red wine, while camouflaging dirt with seemingly natural color variations."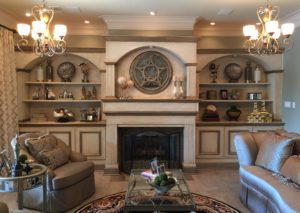 "When accessorizing, it is extremely important to find quality pieces that have the right scale and proportion to the shelf or wall you are decorating. Many homes are plagued with tiny art floating on huge walls and tons of small little figurines lined up on a shelf—the phrase 'less is more' is a great guideline to follow during this process, and larger pieces always look much better than lots of small items packed into a space. Also, don't buy any old, cheap piece just to serve as a placeholder; it will end up staying there forever! My philosophy says to leave a space empty until you find the perfect artwork or the most beautiful vase that you just must have."
For more designer tips and interior inspiration, check out inregister.com/homes.