Designer tip: Karlin O'Neal on maximizing small bathrooms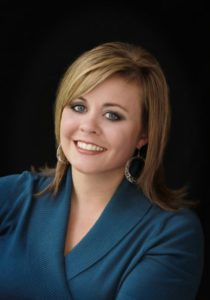 Now that the flood has passed, many homeowners in the Baton Rouge area have been facing the task of renovating older homes, which can sometimes mean small bathrooms and the fear of big design problems. But according to Karlin O'Neal, an interior decorator with Karlin O'Neal Designs – Decorating Den Interiors, a small bathroom doesn't have to mean a drab bathroom.
"One of the biggest advantages to a small bathroom remodel means smaller prices," says O'Neal. "You can splurge on materials since you need less. When renovating this small bathroom, I wanted to make sure it felt as spacious and luxurious as possible. The first step was to take a wall down and bring the shower all the way to the ceiling. Then I paired an inexpensive tile with a luxurious mosaic and take it all the way up. Using glass shower walls is also an easy way to make a small bathroom feel larger because your eye goes right through. Just keep utilizing the vertical space by adding trim to the top of existing cabinets, bringing them all the way to the ceiling and painting them a fresh color from white or gray to navy."
Being creative with storage options can also help reinvent a space.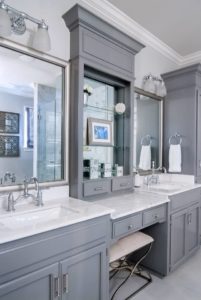 "In this bathroom, I added floating shelves with baskets to store towels, solving a storage problem using minimal visual space while also creating art," O'Neal says. "This homeowner wanted a bright and airy feel, so we used a monotone color scheme in whites and grays. If monotone is not your style, keep the palette neutral and add colorful accessories that can be changed with the seasons."
And don't be tricked into thinking that a small bathroom means smaller materials.
"A frequent misconception is that you need to use smaller tiles in smaller bathrooms. The opposite is actually true," says O'Neal. "Using a large-scale tile eliminates grout lines and creates the illusion of a bigger floor, plus it is easier to keep clean. In this remodel, I used a 12 x 24-inch pattern in a modern tile on the floor, but paired it with Carrara marble shower tiles, mixing modern and traditional for a fresh look. From fluffy white towels to sparkling chandeliers, the sky is the limit when it comes to remodeling a small bathroom. So use that fine china in the dining room and use that fabulous mosaic tile you fell in love with in the bathroom!"
To find out more about O'Neal and her designs, visit decdens.com/karlin.