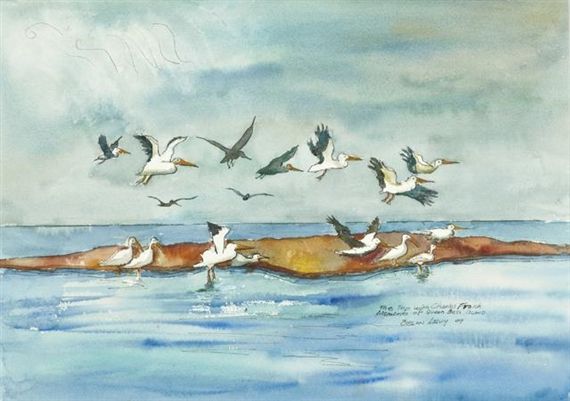 Arts around town: Swine Palace presents two versions of 'The Seagull,' BREC hosts Art in the Park, and more
A look at art-related events in the area:
---
This Friday, March 24, through Thursday, April 6, Swine Palace will present Anton Chekhov's famous play The Seagull, a story of familial strife and unrequited love on a 19th-century Russian estate. Chekhov's unique style developed a new theater theory, "Chekhovian theater," after his style of tragic realism hidden in comedic lines. A modern companion piece will run alongside the play, mocking the subtlety Chekhov has come to be known for. For a full listing of showtimes and to purchase tickets, visit swinepalace.org.
---
Participate in a unique sensory experience at Art in the Park this Saturday, March 25, at BREC's City-Brooks Community Park. The art bazaar will last from 10 a.m. to 2 p.m. and will include live art demonstrations, dance performances, sidewalk chalk contests and kids' art activities. Admission is free.
---
The Baton Rouge Ballet Theatre is hosting a block party, Dancin' in the Streets, at Perkins Rowe this Saturday, March 25. The event will raise funds for the nonprofit organization with live music, food and drinks, and multiple raffles. Raffle tickets are $5 and include prizes like a $500 Perkins Rowe shopping spree, a one-night stay at L'Auberge with a steak dinner, and a private moving screening. Tickets to the event are $55 and can be purchased at batonrougeballet.org.
---
As the first LSU Opera production of 2017, the LSU College of Music and Dramatic Arts will present a performance of Mozart's Le Nozze di Figaro, a comic opera that follows Figaro and other characters from The Barber of Seville a few years after the events of that tale. This time, Figaro is set to marry his betrothed, but the Count works to end the engagement out of jealousy. The opera will run multiple showings from tonight until Sunday, April 2, at the Shaver Theatre. Tickets can be purchased online.
---
The Arts Council of Greater Baton Rouge and St. James Place will host a Creative Aging Symposium and Art for Alzheimers Show this Friday, March 24, from 8 a.m. to 4:30 p.m. This day-long workshop will explore creative tools for healthy aging with specialized interactive sessions on music and visual arts. The first speaker of the day, Ron Levy, will talk about his late father, Byron Levy, and his work as a watercolor painter. Byron Levy taught watercolor painting as a volunteer at St. James Place for the last 10 years of his life. The lunch will feature keynote speaker Jeffrey Keller, founder and director of the Institute for Dementia Research and Prevention at LSU's Pennington Biomedical Research Center. He will talk about findings concerning the relation between dementia and art. The day will end with a reception featuring Byron Levy's wide range of art. There will also be a silent and live auction benefiting the Alzheimer's Services of the Capital Area. This event is free, but registration is available online.
---
Today, Thursday, March 23, at Ann Connelly Fine Art, stop by between 5:30 and 7:30 p.m. to celebrate artist Jill Hackney's new suite of work, "Le marais, The Marsh."
---
Next Thursday, March 30, the West Baton Rouge Museum will host a Lunchtime Lecture, "Proofs of Purchase: Documenting Enslaved Ancestors," by genealogist Jari Honora, an expert in historical and genealogical research including research for the PBS series Finding Your Roots and the Georgetown Slavery Project. The talk will focus on tracing enslaved ancestors back through generations of captivity and will give an overview of genealogical research for African-Americans in the post-Civil War period. The lecture will begin at noon.