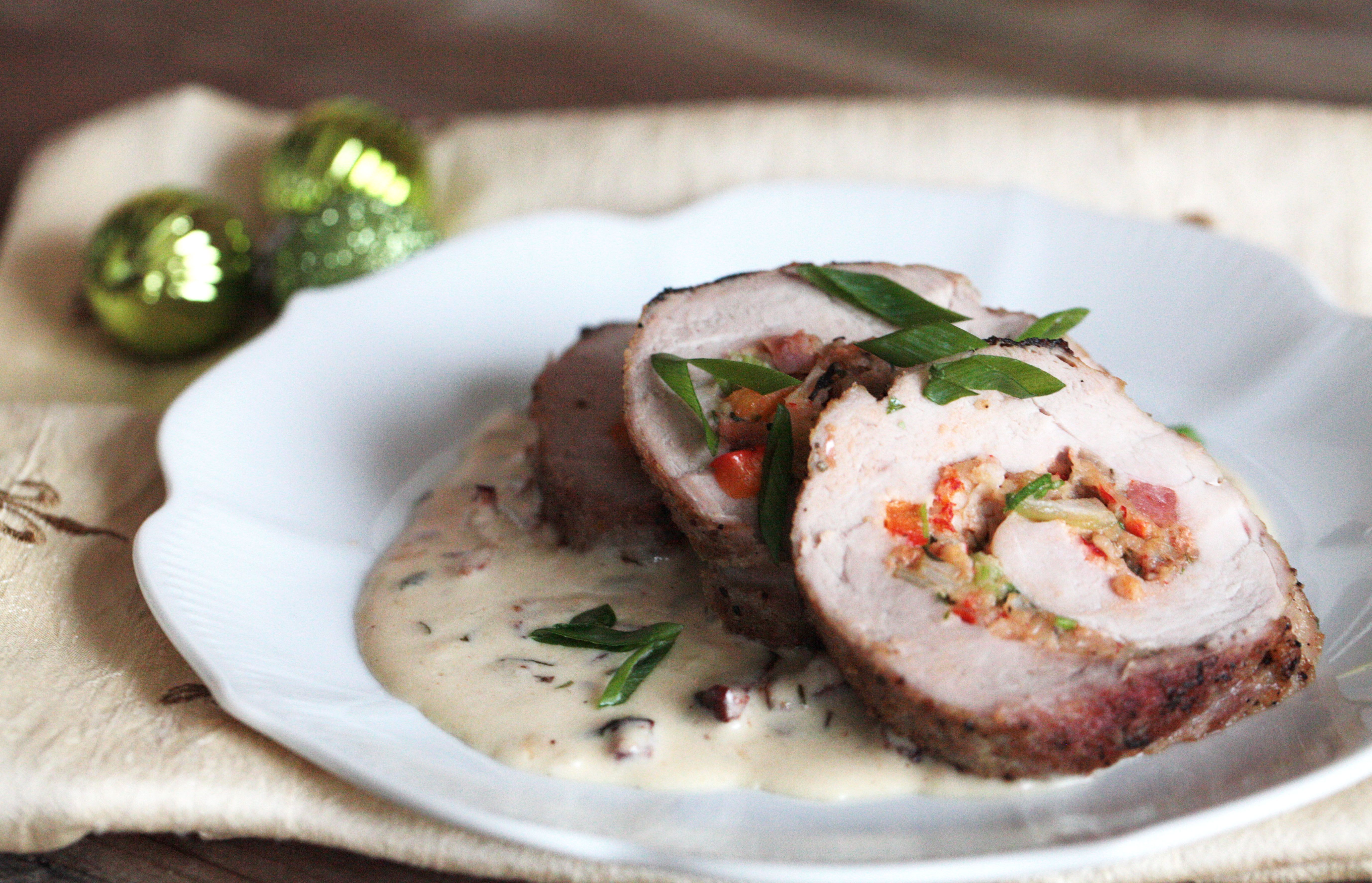 Cooking for the holidays is all about decadence and show, and this recipe definitely fits the bill. Pork tenderloin gets stuffed with a rich crawfish mixture and served with a show-stopping cream sauce. This beautiful dish has that "can't quite put your finger on it" flavor, which is achieved with the addition of tarragon and the New Orleans-born liqueur Herbsaint. The anise flavor and licorice-like quality of these two ingredients work perfectly with the smokiness of the andouille and tasso. Tarragon also helps balance rich foods. In this instance, it cuts the heaviness of the cream sauce.
Red Stick Spice Company's tarragon-forward Savory Steak and Chop Blend, with its sweet herbs, salt and pepper, serves as the seasoning for the stuffing. This blend is great to keep on hand for steaks, pork chops and chicken. Red Stick Spice Company's House Blend, with its flavors of mustard, onion, garlic and thyme, is rubbed on the stuffed pork tenderloin just before searing and roasting in the oven. Created by store manager Lisa Lamulle, House Blend is a new addition at the shop. Lisa put the blend together in response to customer requests for a savory, but not spicy, all-purpose blend. It has become a go-to kitchen staple for employees and customers alike.
Complete in under an hour, this knockout dish is a feast for the eyes and taste buds. It would be a superb focal point for a holiday buffet or dinner party. If you serve this to guests this holiday season, you should prepare yourself for two things: 1) lots of compliments and 2) no leftovers.
Anne Milneck is a trained chef and the owner of Red Stick Spice Company, which offers spices as well as loose teas, olive oils and other goodies both at its Jefferson Highway location and online at redstickspice.com.
---
Crawfish-Stuffed Pork Tenderloin with Herbed Tasso Cream Sauce
1 pkg. pork tenderloin (contains 2 tenderloins)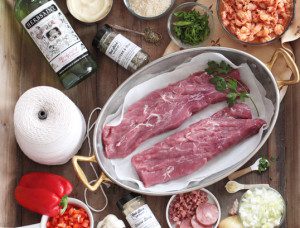 1⁄2 lb. chopped crawfish tails
1⁄4 cup finely diced andouille
1⁄4 cup minced onions
1⁄4 cup minced celery
1⁄4 cup minced red bell pepper
1 tsp. minced garlic
1⁄4 cup sliced green onions
1⁄4 cup chopped parsley
1⁄2 tsp. Herbsaint liqueur
1⁄2 cup mayonnaise
1⁄2 cup panko bread crumbs
2 Tbsp. Red Stick Spice Company Savory Steak and Chop Blend
Salt and cracked black pepper to taste
1 oz. Red Stick Spice Company House Blend
Red Stick Spice Company Roasted Garlic Avocado Oil
Preheat oven to 375 degrees. Using a paring knife, trim any excess fat, silverskin and connective tissue from tenderloin. Begin making cuts longways on the tenderloin. Make shallow cuts and pull tenderloin away from the cut. Continue making these cuts in order to achieve a flattened piece. Repeat with second tenderloin. Place tenderloins between 2 pieces of plastic wrap and pound lightly to flatten.
In a bowl, create stuffing by combining next 12 ingredients. Divide stuffing between the 2 tenderloins. Spread evenly, then roll tenderloins to create a spiral effect. Tie with butcher's twine and season on all sides with salt and cracked black pepper and liberally with Red Stick Spice Company House Blend.
Heat a sauté pan over medium-high heat, and add Roasted Garlic Avocado Oil. Sear pork tenderloins, 1 at a time, until golden. Move to a roasting pan and bake for 20 to 25 minutes or until a meat thermometer registers 145 degrees. Meat will be slightly pink. Remove from oven and allow to rest for 10 minutes. Remove butcher's twine. Slice and serve with Herbed Tasso Cream Sauce (recipe follows). Makes 6 servings.
---
Herbed Tasso Cream Sauce
1⁄4 cup unsalted butter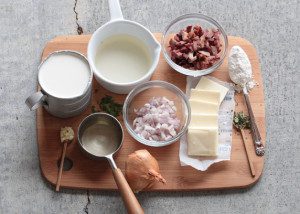 1⁄4 cup tasso, finely diced
1 Tbsp. minced shallots
1 Tbsp. minced garlic
1 tsp. flour
2 tsp. dried tarragon
2 Tbsp. white wine
1 cup heavy whipping cream
1⁄2 to 1 cup seafood stock
Salt and white pepper to taste
In a skillet, melt butter over medium-high heat. Add tasso and shallots, and sauté for 3 to 5 minutes or until shallots are wilted. Add garlic, and sauté just until fragrant, taking care not to brown garlic. Add flour. Stir and cook until flour smells fragrant and nutty. Add tarragon and wine. Stir and cook for 1 minute. Add cream and stock, and simmer to reduce by about half. Taste and adjust salt and pepper to taste.
Serve sliced pork tenderloin on a buffet with cream in a dish with a ladle on the side. To plate individual portions, pool cream on each plate and place a serving of pork tenderloin on top.