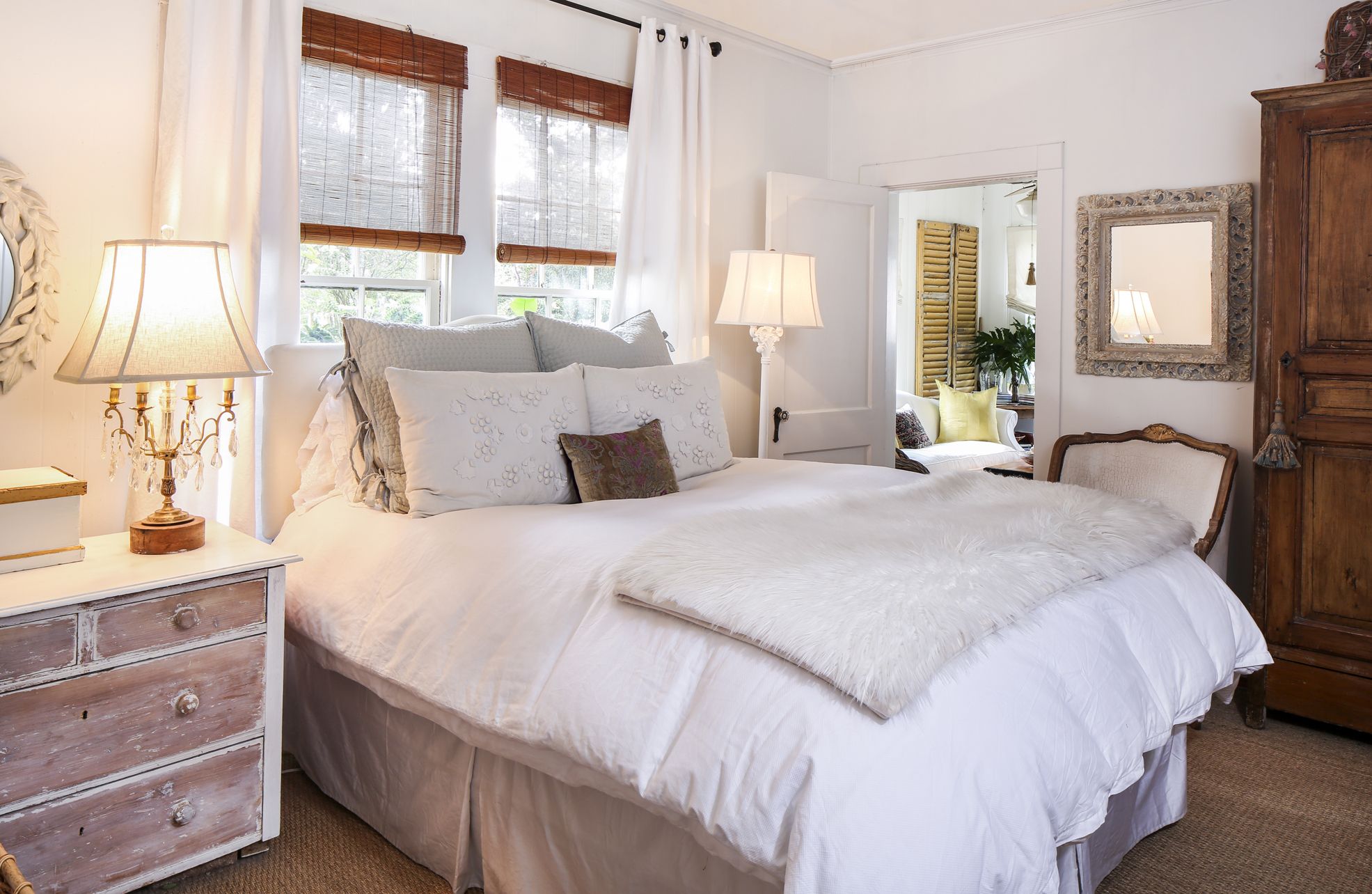 Southern chic: A cottage cutie
Fluffy white bedding, a lamp fashioned from a chandelier, and much-adored antique pieces set the cottage-style tone in the master bedroom. Photos by Melissa Oivanki.
Ruthie Allan marries a feminine decorative flair with vintage furnishings to create a home with its own kind of history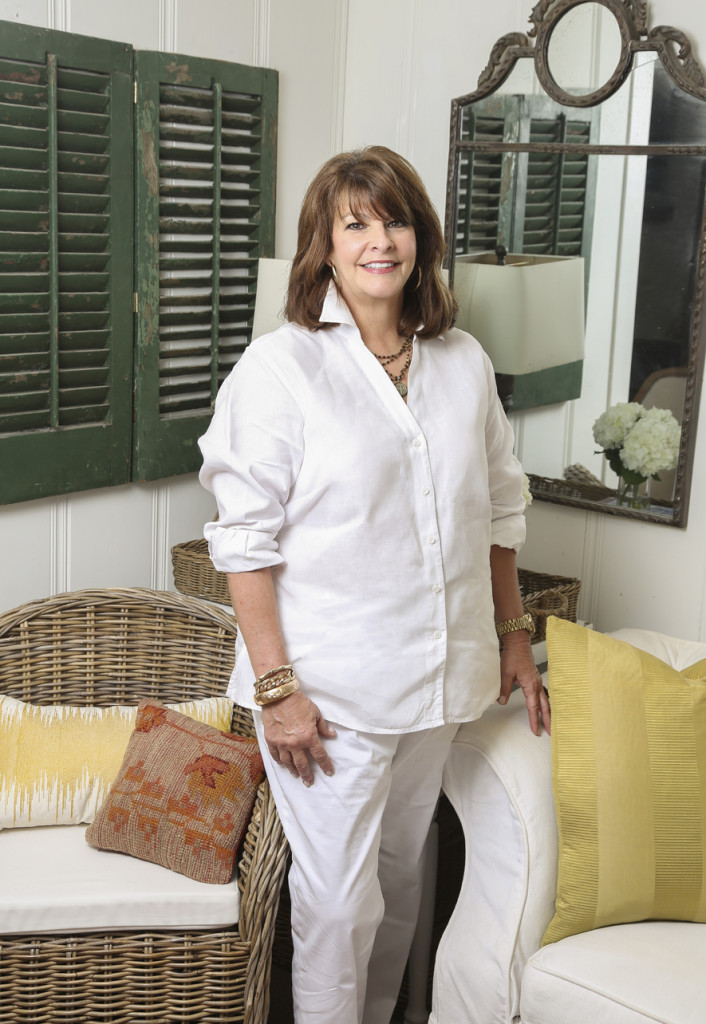 Like an old-timer sitting on a porch swing spinning a yarn, old houses tell stories. Every creaky floorboard, every loose cupboard door has a history. They've heard the sound of new baby cries, and they've seen the tears of tragedy. Abundant lives are lived within the walls of a house. A story is spun. Such is the belief of Ruthie Allan, whose cottage on Morning Glory Avenue exudes feminine Southern charm and plenty of pieces with histories of their own.
"I think it's hard to be minimalistic in an old house," says Ruthie. "Old houses need things to pull them together. The houses have a story, so the furnishings should have a story. There is not a single thing in this house that doesn't have a story of its own."
For years, Ruthie fancied herself a treasure hunter of items with histories. She and her sister Rachel Williams would scour estate sales and peruse antiques stores for items that would make her old house feel like a home. Ruthie loves to consider the lives that an old armoire or a silver spoon may have lived before her.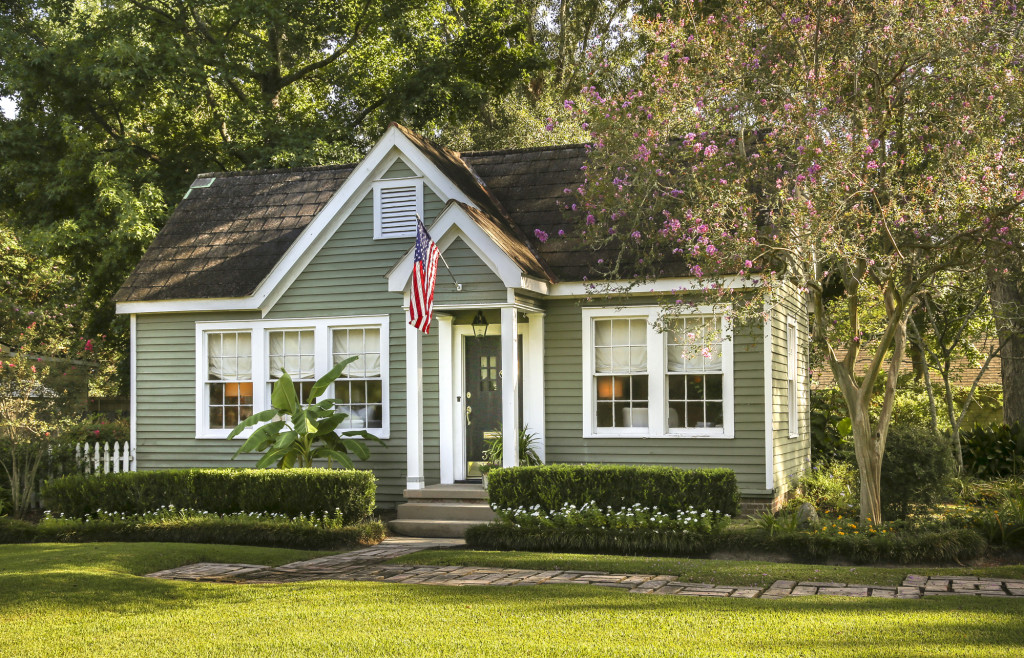 "We would go to estate sales every Saturday morning," says Ruthie. "But everyone is onto it now. They recognize the value in vintage items."
Ruthie has mixed her own vintage items—an old cabinet from a bank that serves as the dining room buffet, an Australian trunk that works double time as storage and a coffee table—with oversized furniture, favorite books and found art. She likes mixing old and new, formal and informal, period antiques with estate sale finds. And she relishes the discovery of furnishings with no sticker shock.
"Everything I get is a bargain. I don't have a really expensive thing in this house," says Ruthie. "That's my favorite. I will call friends up and say. 'I need a bargain today. Let's go find a bargain.'"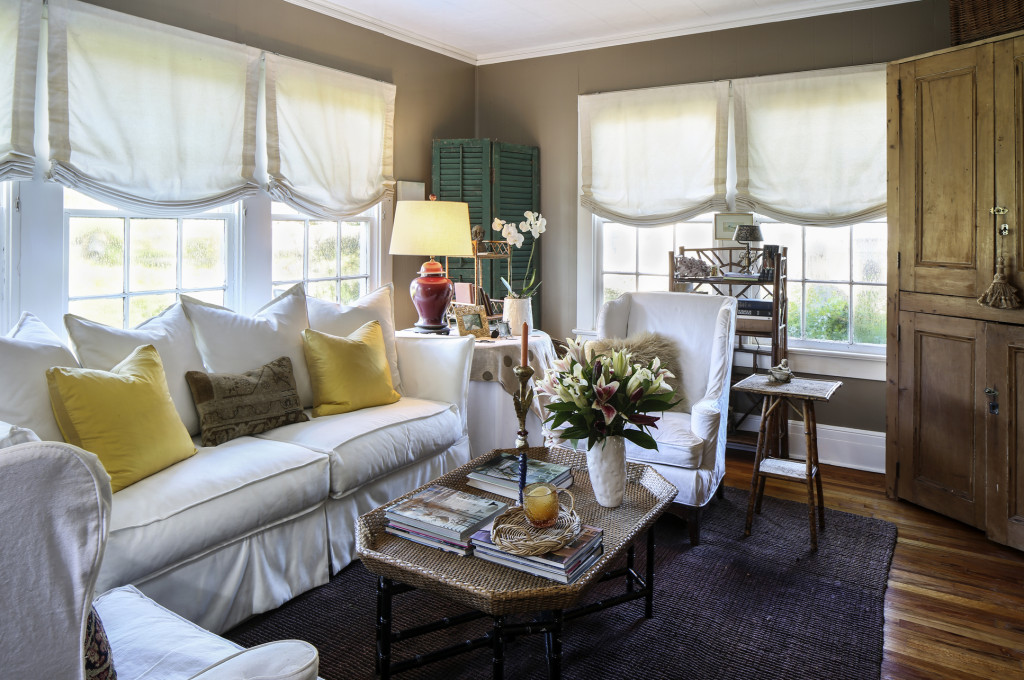 But her hunt for the next best thing does not mean she forces pieces to work. Ruthie is very deliberate in her purchases and is mindful of her space. With only 1,600 square feet to stock, Ruthie edits what she has and only buys what she truly loves.
"When I purchase something, I have three questions," says Ruthie. "Is it worth it? Where is it going to go? And can I paint it white?"
Her affinity for white is not only realized in painted furniture but in the slipcover penchant she shares with Rachel and their other sister, Julie Bergeron. Most soft goods in the house are covered with white cotton canvas slipcovers and accented with colorful pillows. Antique rugs, woven baskets, sea grass floor coverings, and old weathered shutters add additional texture to the interiors, but it's the slipcovered furniture in this cottage that gives it cohesive charm.
"Slipcovered furniture is just pretty," says Ruthie. "I like the breezy, Southern, feminine feel of white slipcovers. It's a style solution that makes sense in this kind of house."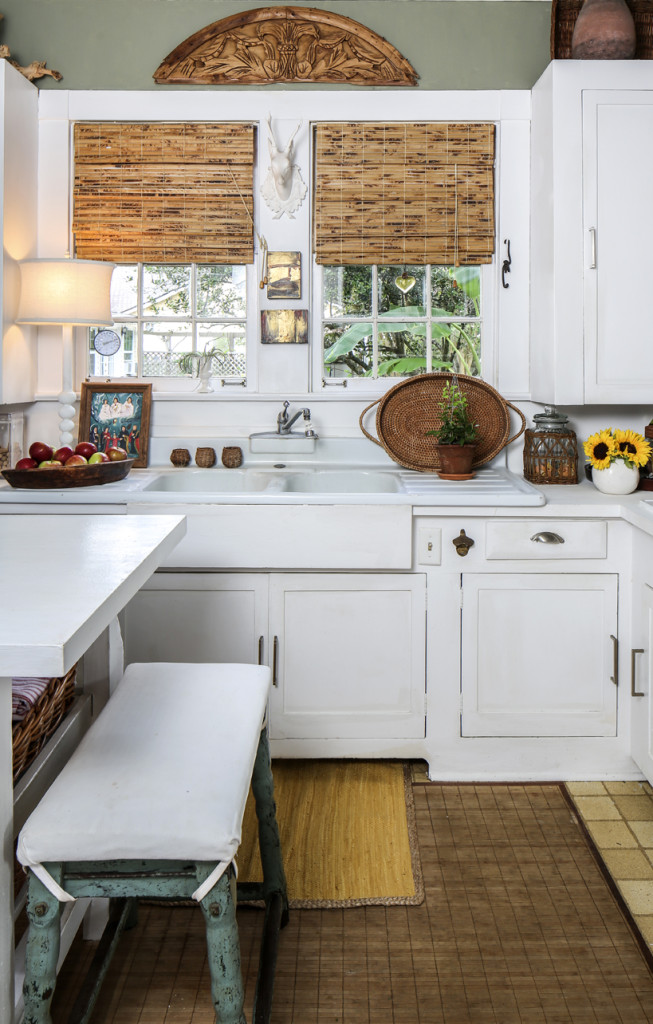 And Ruthie has had to come up with plenty of style solutions while living in a cottage, especially when it comes to storage. Every basket placed under a table is not only decorative, but it holds occasional-use items such as a sewing machine or extra fabric. Trunks hold sheets and pillows. Armoires hold personal items in additional pretty baskets. She stores high in the small closets and pantry and gets rid of things when necessary.
"When you live in a small house, buy big furniture and always go up with your storage," says Ruthie. "It's not cramped but cozy. And I buy flowers every Friday to put in my house. It keeps the interiors fresh and brings the outdoors in."
Ruthie's credits her father, Gary Allan, with instilling a love of gardening in her and her three siblings. When she moved into this house, the backyard was little more than a plot of earth with dirt and concrete. She laid out the outline for the path herself then hauled in the pebbles to fill it. She dumped the dirt to make the beds, and she planted every single plant including split-leaf philodendrons, boxwoods, banana trees and even some passionflowers. Ruthie does the heavy lifting but enjoys the spoils.
"These old houses have a life of their own," says Ruthie. "And the outside gardens are just as important as the inside interiors. Cottage homes are meant to be lived in well."
Click on the photos in the gallery below for a closer look at this home: