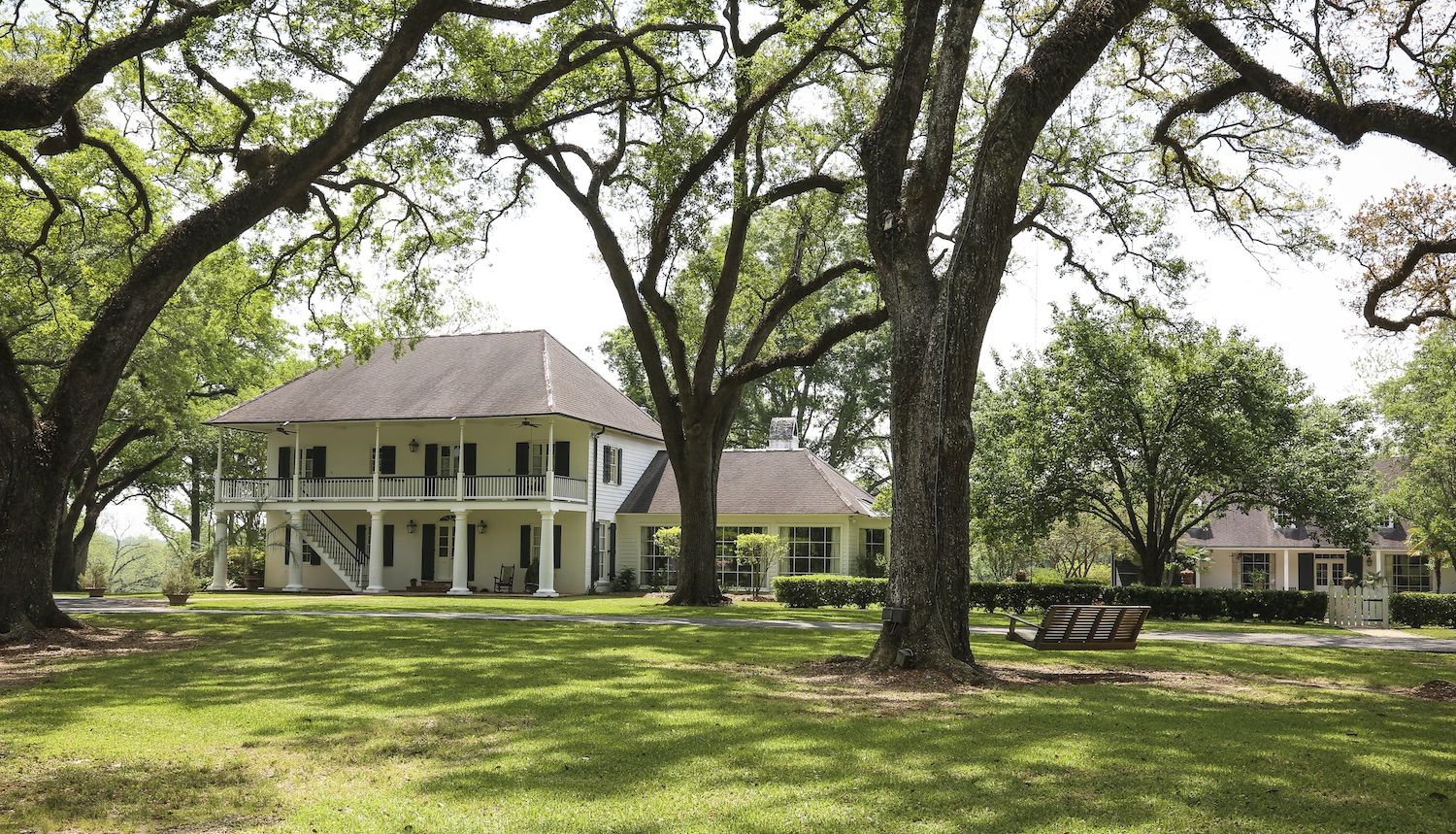 Developer Mike Wampold's family-friendly rural retreat reveals his lifelong passion for the outdoors
It is one of those perfect spring mornings, when fingers of sunlight stretch down to sweep aside lingering clouds and add a halo of pale light to the landscape. Green hills awaken from a dewy slumber, and centuries-old oak trees seem to bow in the presence of divine inspiration.
The majesty of simple moments like these is precisely what lured Mike Wampold to this West Feliciana sanctuary 26 years ago. The Baton Rouge-based real-estate developer came in search of a semblance of the idyllic outdoor lifestyle he had loved as a child in north Louisiana.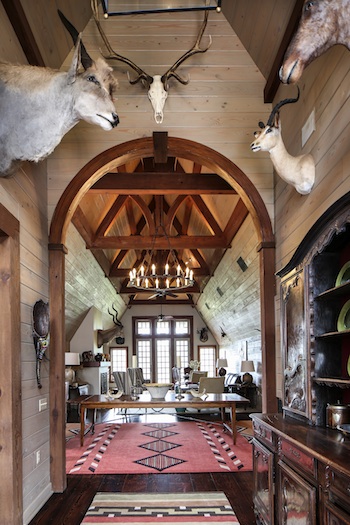 "My family had a lake house and some land on Lake Bistineau, just outside of Shreveport," he recalls. "We spent a lot of time at the lake hunting, fishing, horseback riding and boating. It was very peaceful there, and I experienced wonderful family times."
Mike's grown-up quest to recreate the settings of those magical memories led him to a hunt for "about 100 acres on some water" in the late 1980s. A friend guided him here to Woodlawn, a former corn and cotton plantation established in the 1830s just south of the Mississippi state line. It took only a single drive around the property's exterior to set his mind in motion. "With the rolling hills and the trees and the beauty of it all, I fell in love with it," he says.
Acquiring the retreat required some providential intervention. When the land was offered in a sheriff's sale, Mike showed up on the courthouse steps—but so did several very wealthy Woodlawn fans. "I had asked Pastor Donald Tabb and my sister Edie Mitchell to pray constantly for me between 10 a.m. and 11 a.m., the time of the auction," he says. "One by one, those wealthy bidders fell off, and I was the successful bidder. I was dumbfounded."
The land was everything Mike had wanted. It had lakes for fishing, dusty paths for riding horses, glimpses of wildlife all around. The house itself—a 1 1/2-story Acadian-style structure that replaced the original plantation home, which had burned down—was not quite what he had envisioned, however. In 1991 he brought in architect Al Jones to transform it into a style better suited for its setting, literally raising the roof and adding period-authentic features. The result is a 4,500-square-foot antebellum-esque house that complements its natural surroundings—and reveals the outdoors from balconies and wide windows all around.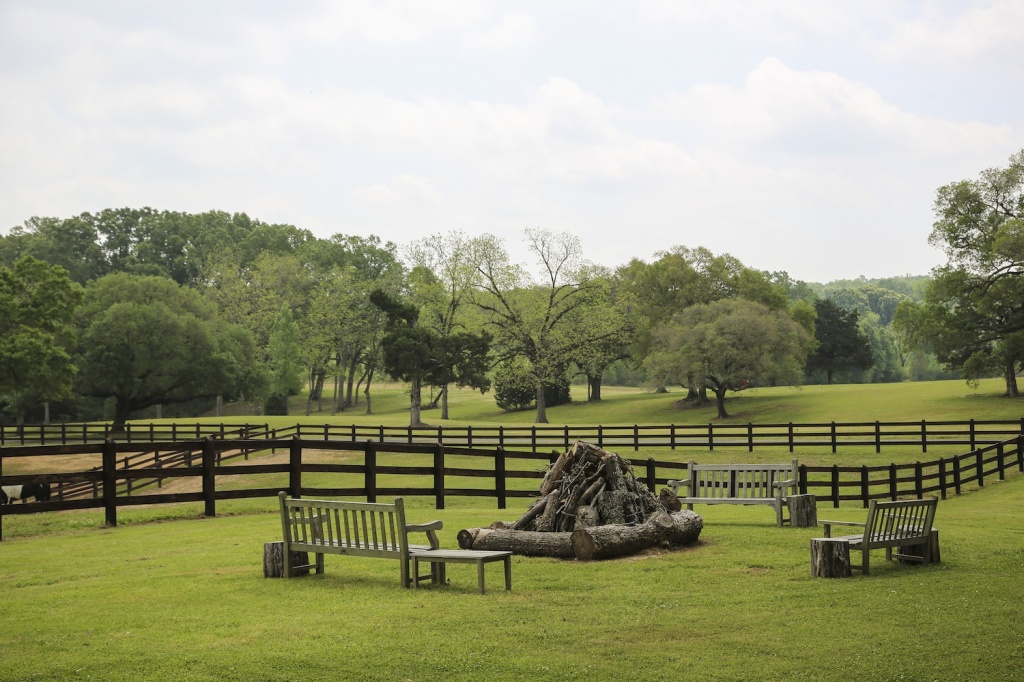 Over the years, Mike has carefully added a few elements to these grounds while preserving those that have stood here for decades or even centuries. Formal gardens originally designed by John Edgar are confined to an area beside the house and near the pool, within view of an oak allee that hints at the original driveway's location, now a grassy side lawn.
The property, which was 380 acres when Mike bought it back in 1988, has grown to about 3,200 acres through later acquisitions, providing plenty of space for recreation. In 1993, Al Jones returned to design an on-site hunting lodge, and Mike rebuilt a lake near it. "I have seven ponds that produce trophy bass and plentiful bream," he adds, along with trails that extend as far back as the breathtaking 50-foot bluffs that line Thompson Creek.
Woodlawn's most recent major enhancement, in 2010, involved renovating its second-story hayloft in the existing barn to create a cozy spot for entertaining, combined with a gallery for the most exotic of Mike's many hunting trophies. Above the fireplace, a twisted-horned kudu peers down over gatherings of friends for football games or casual parties, while other mounted animals felled by bow and arrow in Zimbabwe or New Mexico perch in corners and above arched doorways. "We have had some fun dinners and social gatherings up there," Mike says.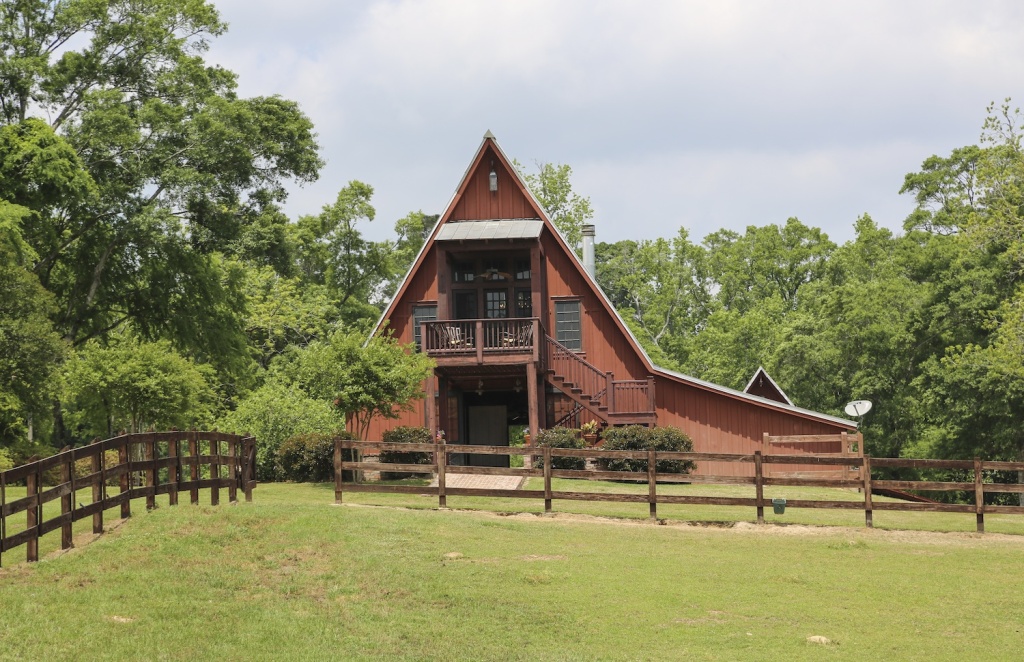 For the Wampolds, welcoming friends and loved ones is an essential part of Woodlawn's purpose. Even back on that day in 1988 on the courthouse steps, he says he realized that "Woodlawn was mine to share with others." Countless visitors have made their own memories here ever since, at events ranging from church picnics and weddings to baptisms in the pool and fishing tournaments it its ponds. Names and happy messages fill a guestbook that sits on a sideboard in the house's foyer. "Woodlawn has helped re-create those special times outdoors with family and friends," Mike says.
The most meaningful of those memory-making moments for Mike happened here in 2012, when he and his wife Kim exchanged vows at the gazebo beneath the oaks. Selecting this spot for the ceremony was an easy decision for the couple. "Kim and I, along with my family and friends, love Woodlawn," says Mike. "I have shared many good times here with family members who are no longer with us. It is a sacred, mystical place with a personality of its own. Woodlawn would have been very disappointed if we had gotten married anywhere else."
And on this clear spring morning, with the sun glinting off the glossy coat of a horse named Dude that stands and nuzzles Mike's hand, it seems this story has found its "happily ever after." Sixteen-month-old "Mik," as Milford Michael Wampold IV is called, is all cheeks and curls as Mike lifts him to greet the horse face-to-face. The toddler's giggles are evidence that he is his father's son.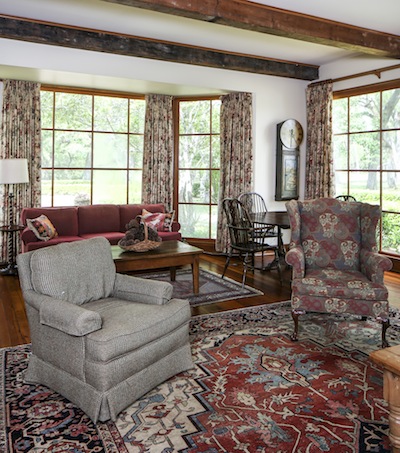 "I can tell little Mik is an outdoors boy," Mike says. "His demeanor will immediately change from fussy to overjoyed when I step outdoors with him. It's fun to watch how much he likes to roam and explore."
Mik may still be wobbling a little as he wanders this hilly ground, but Mike is already dreaming of future father-son hunting and fishing adventures. In the meantime, he'll settle for watching the expressions on guests' faces as they arrive for the first time.
"I love the effect that Woodlawn has on other people," he says. "They fall in love with it. I have seen parents having to drag their kids to the car kicking and screaming when it was time to leave. I love that part."