An ambitious redesign brings a Walden house into the future
---
It was the backyard pond that won her heart. When designer Ty Larkins' client Jennifer first saw this house in Baton Rouge's quaint, tree-lined Walden neighborhood back in 2007, the sprawling, wildlife-filled yard sold her. 
In the evenings, the pond's golden waters reflected pink and orange sunsets. In the mornings, turtles sunned themselves on the shore. This, she thought, could be an oasis.
Inside, the 1980s ranch-style split-level needed some updating. The dated finishes weren't Jennifer's style, and with limited windows and doors leading outside, the yard's beauty couldn't be appreciated from indoors. 
But it had good bones. She saw its potential.
"I loved this setting. And I thought, maybe one day, if I stay here long enough, I will really make it the home of my dreams," she recalls.
For more than 10 years, she collected inspiration. She tucked away photos and clippings from design magazines—images of midcentury hotels, Scandinavian apartments, European furniture and colorful art. She envisioned a space where she could practice yoga indoors while watching birds chatter outside her window. 
Good things come to those who wait—and then wait some more. In late 2019, Jennifer was finally ready to renovate. Until the pandemic struck. 
Supply chain and labor shortages put the project on hold. As a world in upheaval caused everyone to reevaluate life, she considered abandoning the project in favor of new construction.
By late 2020, though, she was more certain than ever what she wanted: to reimagine the Walden house into her dream home. That's when she commissioned Larkins, whose local and national projects she'd long admired, to handle the project. 
"Jennifer told me, 'You know, I love where I live, and it's hard to find the intangibles my house has: the views, the yard, the neighborhood," Larkins says.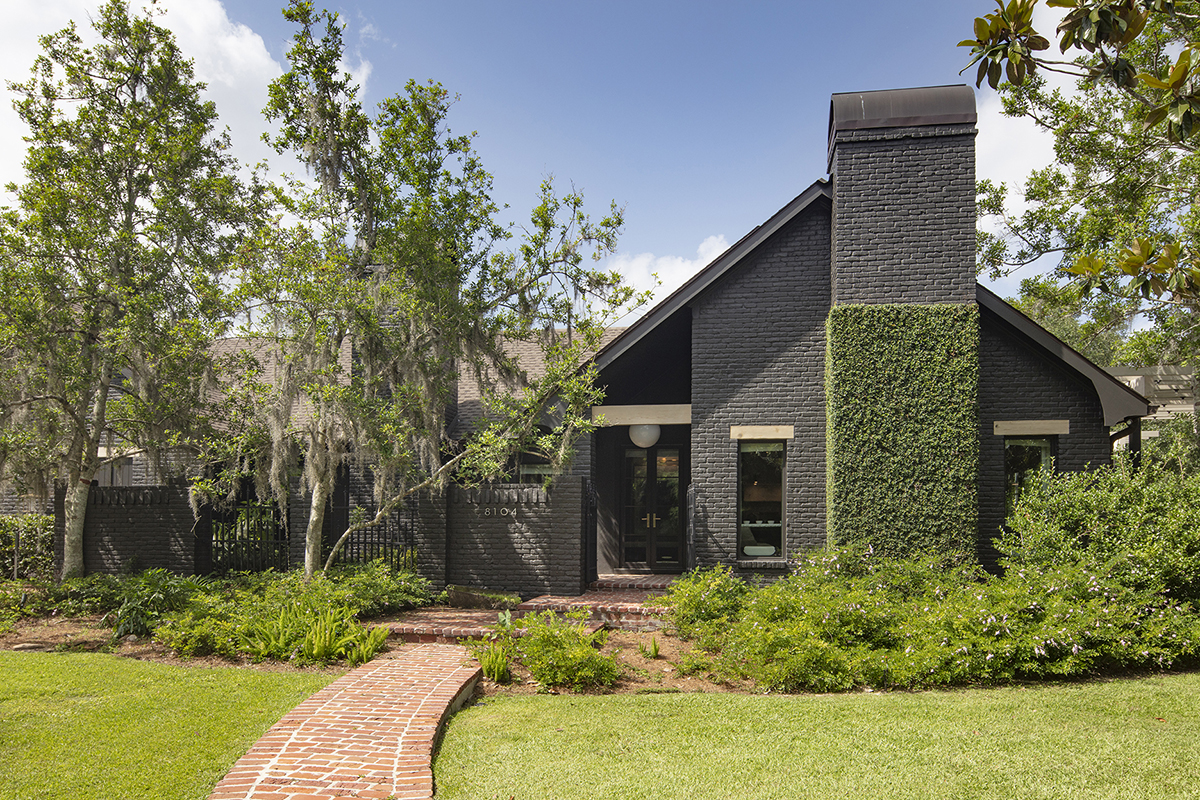 As they began moodboarding, Jennifer presented Larkins with photos of two particular spaces. If she could live anywhere in the world, she told him, it'd be an Architectural Digest-featured Stockholm apartment full of cool colors, marble finishes, built-in cabinetry and striking light fixtures. But she also couldn't get a Charleston boutique hotel she'd recently visited out of her head, with warm lighting, lounge-style seating and original midcentury character. 
Larkins promised to build her the best of both worlds, with a design he describes as "grown-up midcentury modern." 
Typical pandemic-era hurdles aside, he says the house—his first full remodel of a ranch home—would turn out to be one of his most ambitious, rewarding projects yet. 
Working with architect Lionel F. Bailey and Element Construction, the team gutted the house to the studs. They redesigned every space, turning it into the retreat Jennifer had long imagined.
"This house is a brand-new house," Larkins says. "There wasn't one room that we didn't completely reconceive."
Outside, a coat of bronze-y charcoal paint modernized the red brick, while also providing contrast to the yard's lush greenery and tranquil waters. 
Inside, '70s-style parquet floors were traded for clean, modern, engineered white oak boards. The living room ceilings, once 9 feet, were vaulted as high as 21 feet. 
Refashioning the staircase and opening a loft on the second floor provided space for a combined office and workout space. Each room was outfitted with antiques and custom furnishings. 
And most importantly, the windows, doors and exterior elevation on the property's pond-facing side were reworked to provide views of either the pond, pool or courtyard from every room. Because Jennifer likes to use every room in her house.
"If you don't use it, why do you have it?" Jennifer says. "I'll work from home, and then after work, I love to read, listen to music or have a glass of wine."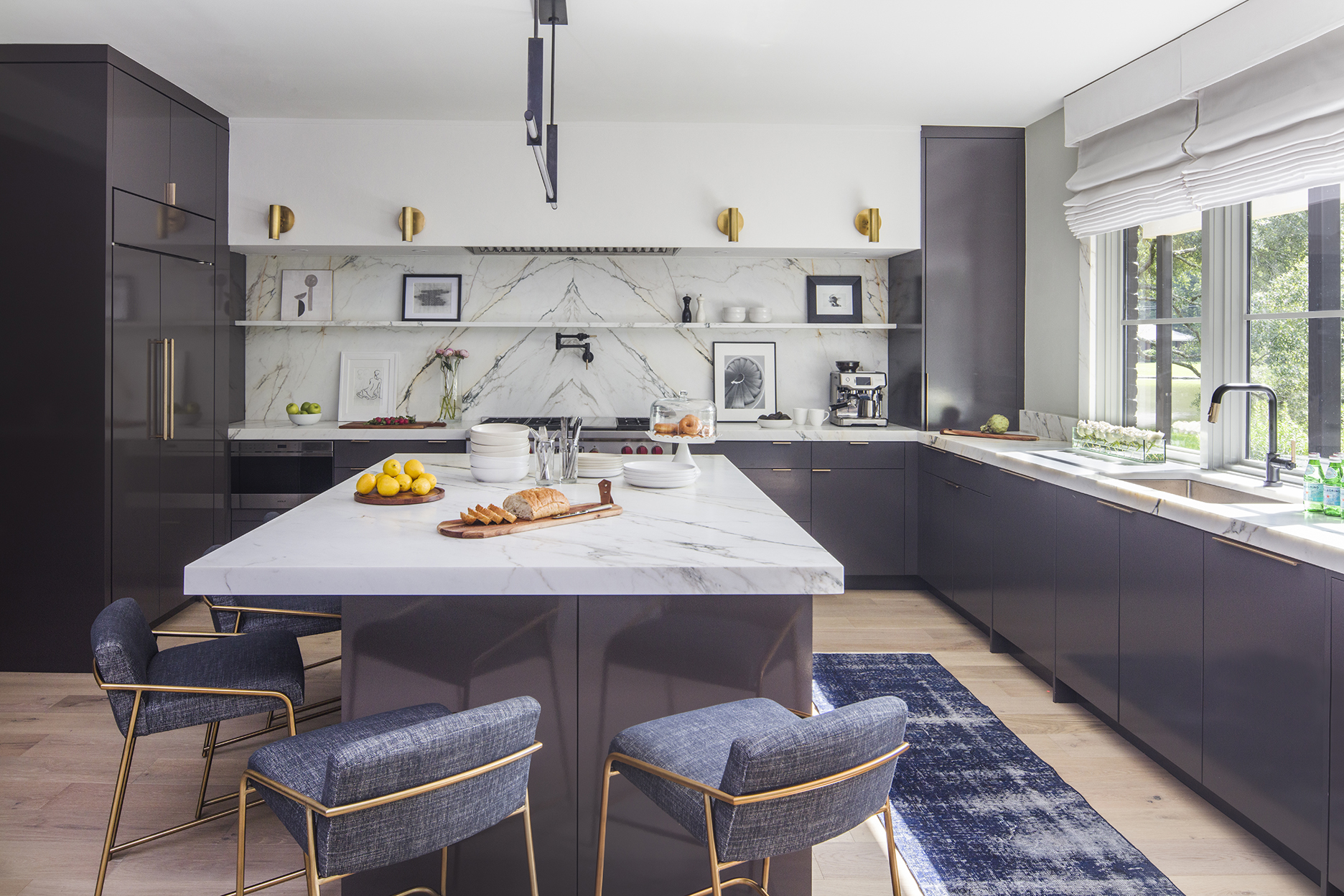 She also loves to cook and entertain. In the modern European-style kitchen, slabs of honed Calacatta Manhattan marble take center stage—not only on the counters, but on the backsplash and open shelf. The floating shelving serves as a ledge for styling artwork and accessories, but can also be used functionally to hold seasonings, oils or cookbooks. Cabinet-paneled appliances and a plaster hood for the range blend in seamlessly with the cabinetry. 
In the dining room, cube-shaped cabinets similarly provide extra hidden storage.
The kitchen was important to Jennifer for another reason: She is vegan. She wanted her home to follow the same principles that guide her own life, both on and off the dinner table. 
"I told Ty, 'I hate to do this to you, but we can't use leather in the design. And no wool, feathers, animal skin or anything that was a part of an animal.' I had some beautiful pieces of furniture taken away from me, I must say," she says with a laugh.
Larkins says it was his first time crafting an all-vegan interior, and he treated it like a fun challenge. To furnish and accessorize the house, he sourced vegan leathers and high-end synthetic textured fabrics for chairs, pillows, ottomans and even a faux cowhide rug. 
Those materials will provide peace of mind when Jennifer prepares her annual "Vegans-giving" dinner in the fall, a night of veggie-forward food and wine set to a playlist of classical jazz or French rap.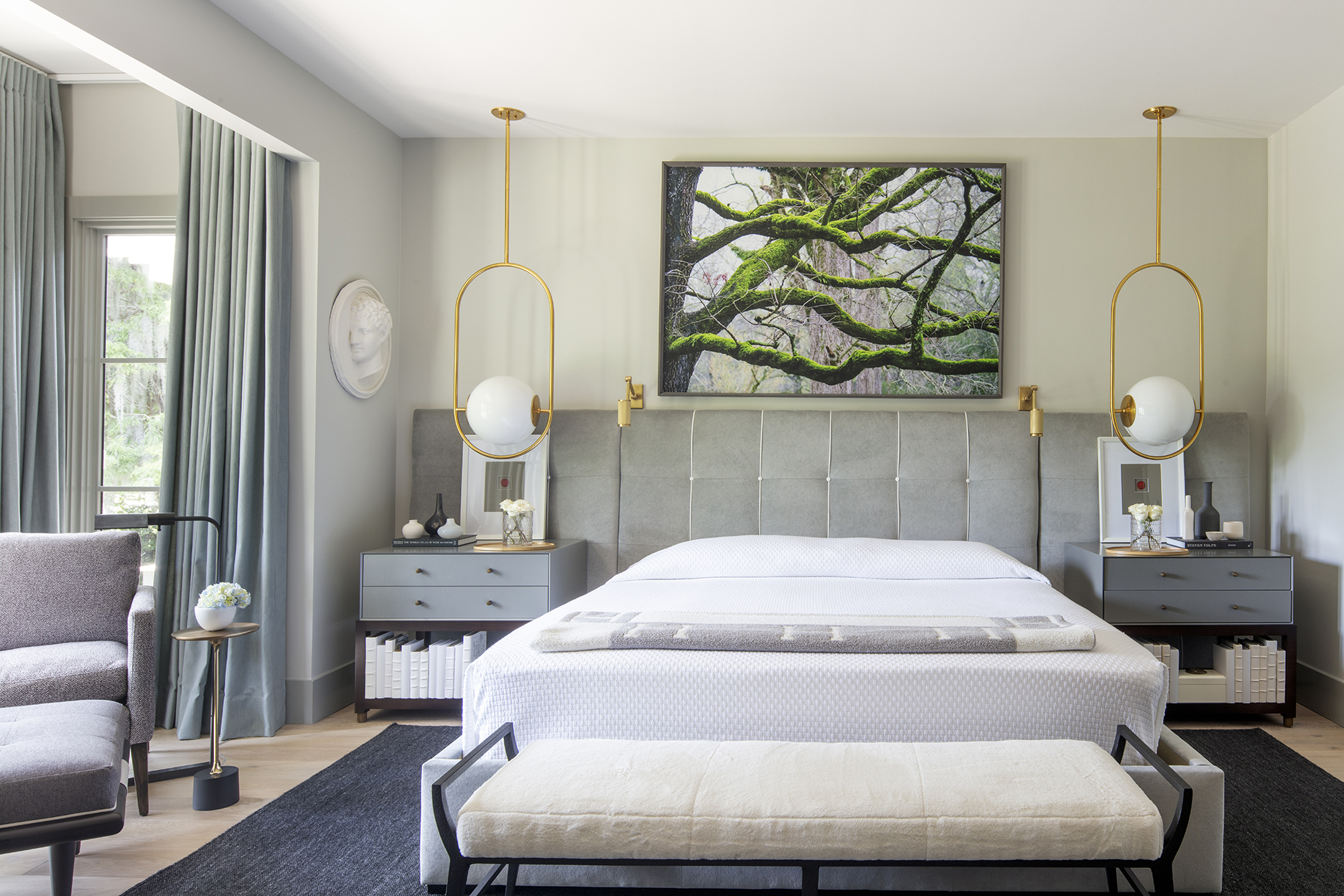 And there will be many more meals and seasons ahead to look forward to in the new home. By winter, Jennifer will be firing up a Mardi Gras playlist for Carnival season. By spring, her remodeled backyard might be fully furnished, with dreamy pergolas accented by bistro lights and trailing evergreen wisteria. 
She looks forward to having friends over for her favorite aperitif, a porto tónico. She serves the Chip Dry white port with an orange slice. 
"It's really good when the weather is warm outside," she says, "so basically all year long here." 
Just like her spectacular views, now visible from every corner of her house, all year long.
---