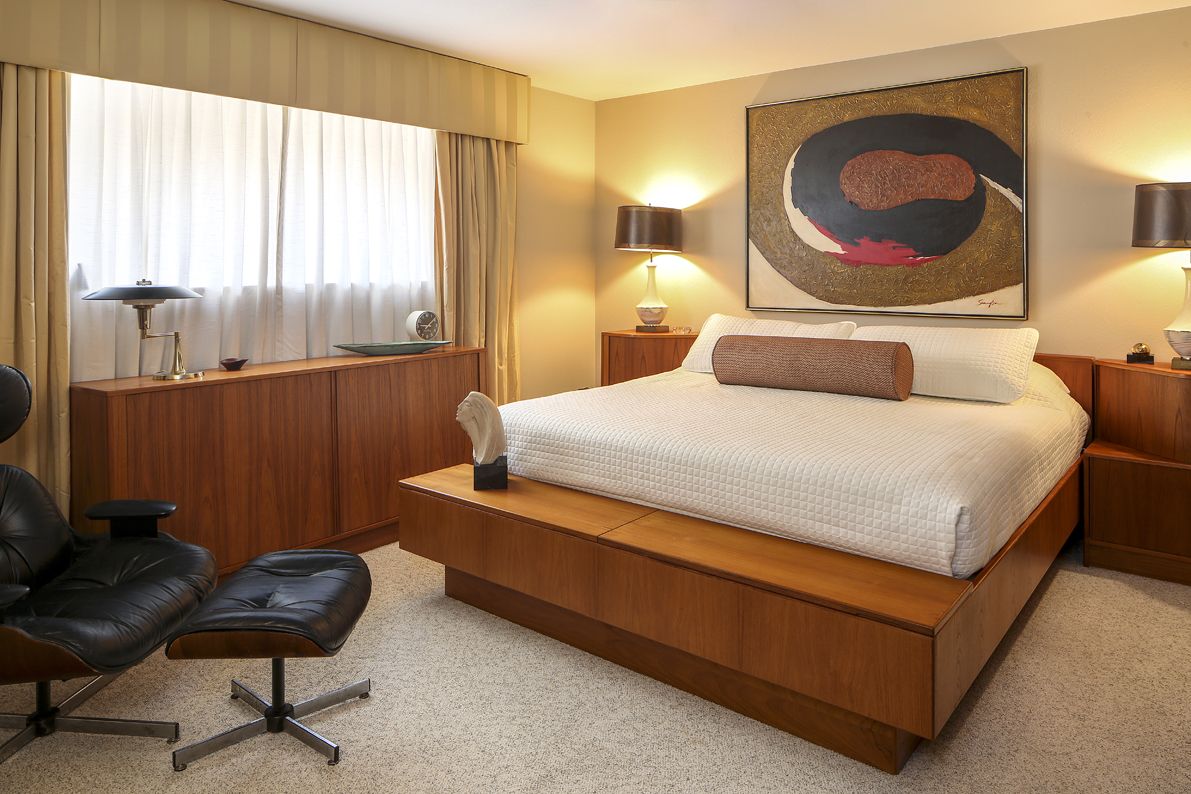 Modern romance: The Martone home's midcentury metamorphosis
Susan Martone has a new love, and its name is walnut.
She and mahogany are on the outs.
It was a sudden breakup, and very unexpected for someone who once sold antiques and who loathed the low-slung style of her midcentury ranch-style home for 15 years.
But Susan has moved on, and she's not looking back.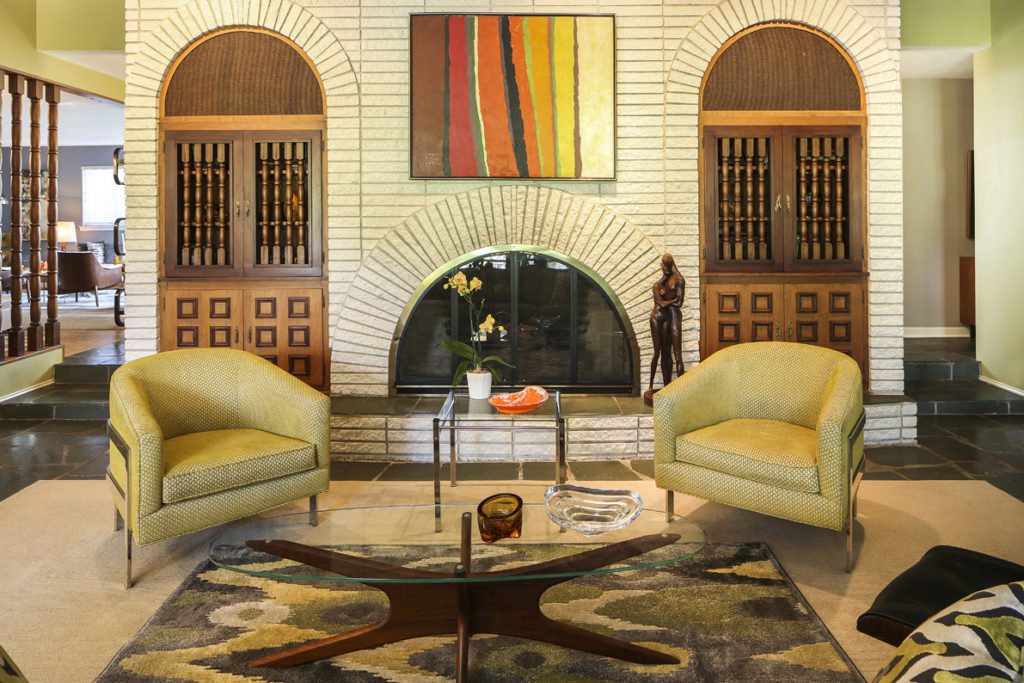 It was quite a different story when Susan and her husband Darren first toured this house in the Broadmoor-Sherwood neighborhood back in 1998. The area was ideal because of its proximity to the school their children, Chase and Cori, would attend, and they had several friends who lived nearby. But the house had a more contemporary vibe than most of the others on the street, and it almost blew the deal.
"I thought, 'I can afford this, but I don't know if I can afford the landscaping to hide it,'" Susan says with a laugh.
Despite her reservations, Susan and Darren eventually did make this home their own. But she wasn't going to let it change her own style—at least at first.
"I fought against this house for so many years," she says. She covered the green slate floor of the sunken den with heavy Chippendale furnishings, and she positioned plants to distract from the sunburst-design brick fireplace wall.
And then one day, everything changed. "Along came walnut, and it became my new best friend," Susan says.
As if a switch had flipped, she began to see beauty in the warm wood that was a hallmark of midcentury modern design. She found herself drawn to the style's clean lines and organic shapes. Just like that, she turned the energy she had once used to find fine antiques into a passion for picking midcentury gems.
"I had two houses worth of furniture in here for a while, as I was selling off all of my antiques," she says. "It's so funny that I thought I loved antiques, but now I look at them and think, 'Womp womp.'"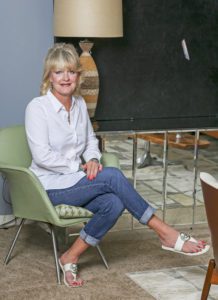 It didn't take a lot of time, but it did take a lot of searching for Martone to replace her former furnishings with mod versions that better suited their surroundings. She stalked Craigslist and became a fixture at estate sales. "The estate sale folks call me the midcentury guru," she says. "They have seen me around so much that now they let me know when they have something they think I would like."
Her taste is wide-ranging, with pieces from the 1950s through the 1980s used throughout the house. "I really wanted to throw some funk in here," says the Texas native, who notes that she got her enthusiasm for treasure hunting from her mother.
And there's a story behind every object—from the mint-condition credenza that was being delivered to a secondhand store just as she arrived to the illuminated wood and brass room divider that's on display in her now-grown daughter's room. "Those are the kinds of pieces that when you find them you almost faint," she says.
Even the Martone kids have been converted to the midcentury mindset. "When I first started doing this, Cori said, 'Mom, ugh!'" Susan recalls. "But now everything in her apartment is midcentury modern."
The midcentury items that Susan doesn't keep for herself are up for grabs at her booth at the Roundabout Mercantile. But how does she find all these gems even as more and more people are seeking this style? Simple.
"I wake up earlier than you and I stay out later than you—I will beat you to it," she says. "If you have to make a living with it, you have to buy it right. Prices have tripled just in the two-and-a-half years I've been doing this."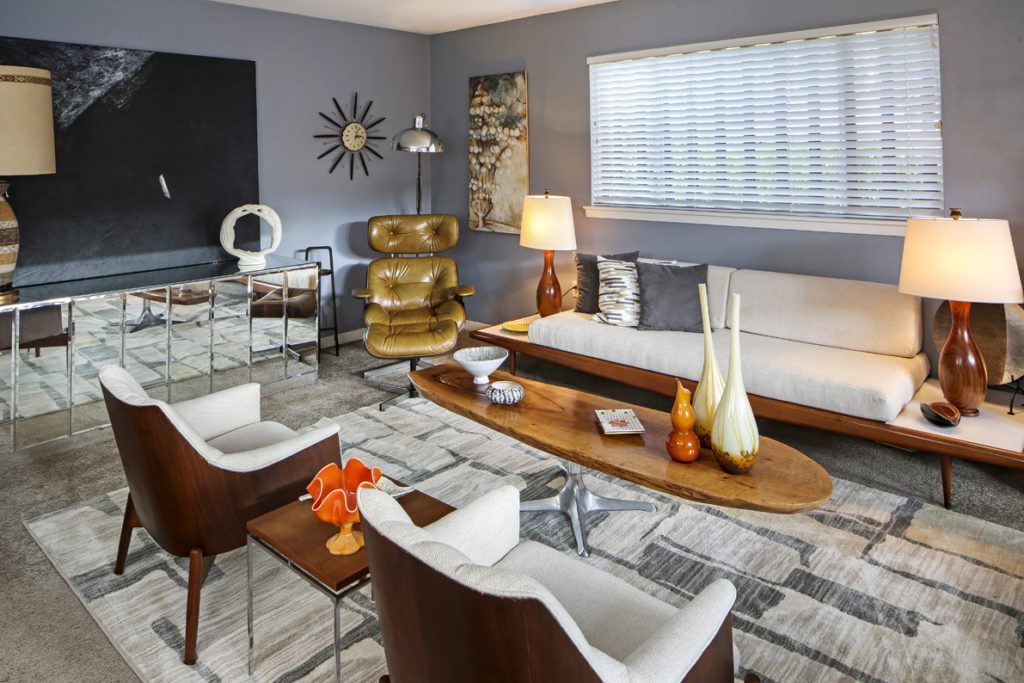 Patrons of her midcentury wares include a growing number of young collectors, as well as set decorators hunting for items to make a period movie or TV show come to life. "The crew from The Astronaut Wives Club bought a pair of 8-foot midcentury sofas from me," she says.
For her own home, Susan has turned her attention these days to hunting for midcentury serving pieces, from fondue pots to Franciscan Starburst plates to Blendo glassware in sherbet colors. But eBay is not her thing. "Everything I get is local," she says.
Whether it's a small piece for the dining table or a surprise sofa or cabinet, Susan is always open to finding something special.
"Every day I learn something new, and it's exciting," she says. "This is art, and it's beautiful to me."
Click on the photos in the gallery below for a closer look at more of this home: