Market Watch: Bold Beginnings
Go green in the new year with fresh new items for the home, including the CR Laine "Gretchen" ottoman.
It's a fresh new year with fresh new ideas for the home. At the recent High Point Market—the over-the-top design exposition in North Carolina—visitors saw plenty of bright color, graphic patterns and shiny finishes. Gone are the days of dull. Even a simple sideboard can become outstanding when painted in a vibrant hue or embellished with chrome. It's a fun time to be decorating, with inspiring designs and sky's-the-limit details.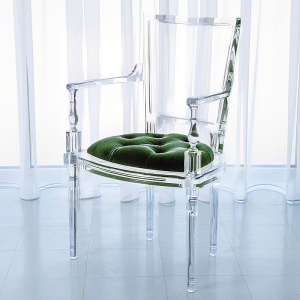 Green with Envy
Ever since Pantone announced emerald as its color of the year in 2013, one of nature's most noticeable hues has been on design pros' radar. But the latest home décor pieces don't stop at that vivid, regal tone. Chic furnishings are now popping up in fun shades, including mint, olive and even acid green. Pair green with black and gold for a classic combo. Or mix it with lilac, eggplant or turquoise for a more unexpected but equally inviting look.
---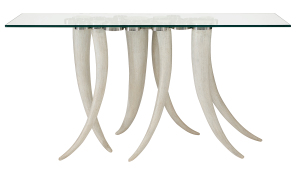 Thrill of the Hunt
Forget the fact that horns have long graced the walls of deer camps and lain across the shelves of trophy rooms. We've seen our fair share! But this new take on the campy classic makes antlers a heap more chic. Whether they are real or faux, horns are now spotted in lighting, furniture and accessories in any room of the house. And because their basic color palette is neutral, horns blend into any décor. Start small with a buffalo horn bowl on the coffee table, or go bold with a console table that uses horns as legs.
---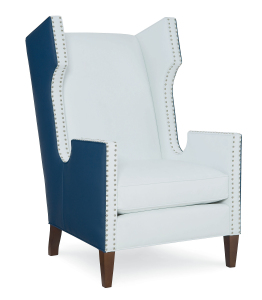 Star Studded
Nail-head trim was once reserved for oversized leather club chairs and gentlemen's libraries, but similar hardware details are now making their way into the mainstream. New finishes and shapes make the latest generation of metal studs, rivets and grommets appropriate for feminine styles and modern, angular pieces. The influence is also strong in fashion, where studs imbue shoes and jackets with a moto vibe. At home, think of these accents as jewelry for your furniture, suggesting a traced pattern or highlighting an interesting shape.