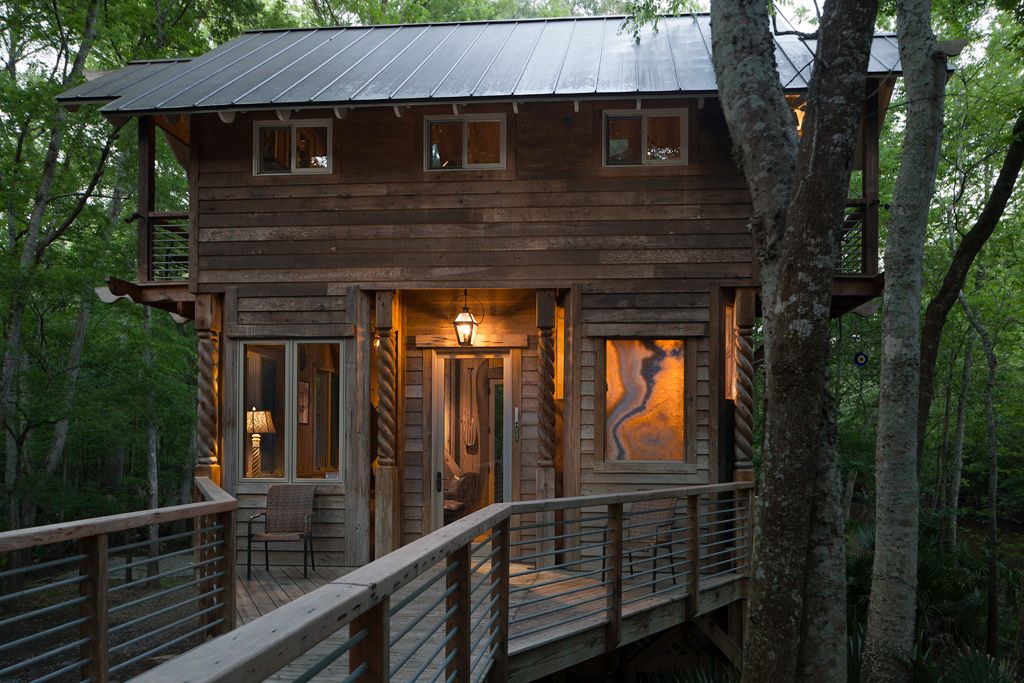 Local treehouse to appear on national TV show
Photo by Mark Bienvenu
The lazy pace of the bayou encourages visitors to Sarah and Rigsby Frederick's unique handcrafted hideaway to slow down for a while, to block out the rest of the world and savor the silence. But this weekend the world will be welcomed into this unique south Baton Rouge space, thanks to its appearance on the Discovery Channel show Ultimate Homes. The episode, titled "Southern Exposure," is set to air this Sunday, June 21, at 10 a.m.
The eco-friendly home, which Rigsby designed and built largely by hand, is constructed of salvaged cypress, sinker cypress and old pine with distinctive touches including onyx windows and balconies overlooking Bayou Fountain and woodlands. Set atop an elevated deck over a natural slough, the structure is surrounded by a dense growth of honey locust, mayhaw, oak and wild cherry trees. Ever since the couple listed the house on Airbnb.com in March, they have seen a steady influx of guests from around the country.
"I used all authentic materials," says Rigsby, "the older the better. It all comes back to raw elegance. It's finished, but it's nature. It's a living sculpture that's always in progress."
The Discovery Channel came calling only a few weeks after the house became available to rent. Producers swooped in with camera crews and even a drone to capture the residence for viewers.
For an even closer look at this unique dwelling, check out the feature story "Palmetto Paradise" in inRegister's upcoming July 2015 issue.