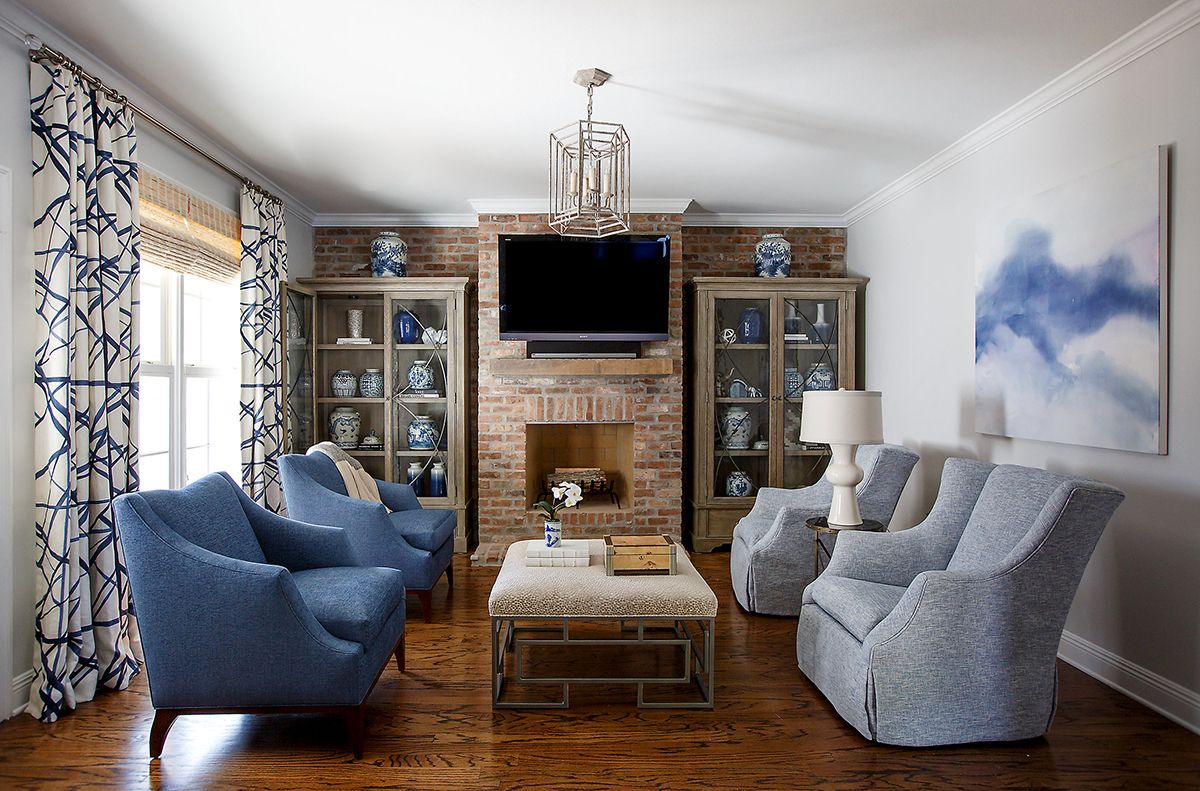 Living in a legacy: New family memories are made in the house where its owner grew up
The neighborhood still feels the same. So does the dining room table where Hunter Arrighi and his family shared many special meals. But now Hunter and his wife Leigh Beth are the parents, and their toddler son David is the one experiencing the wonder of growing up in this house full of love.
After Ann Arrighi passed away in 2015, it just felt right for Hunter to move into the house where he had spent many of his younger years. His sister and her family live just down the street, and David loves to play with his cousins.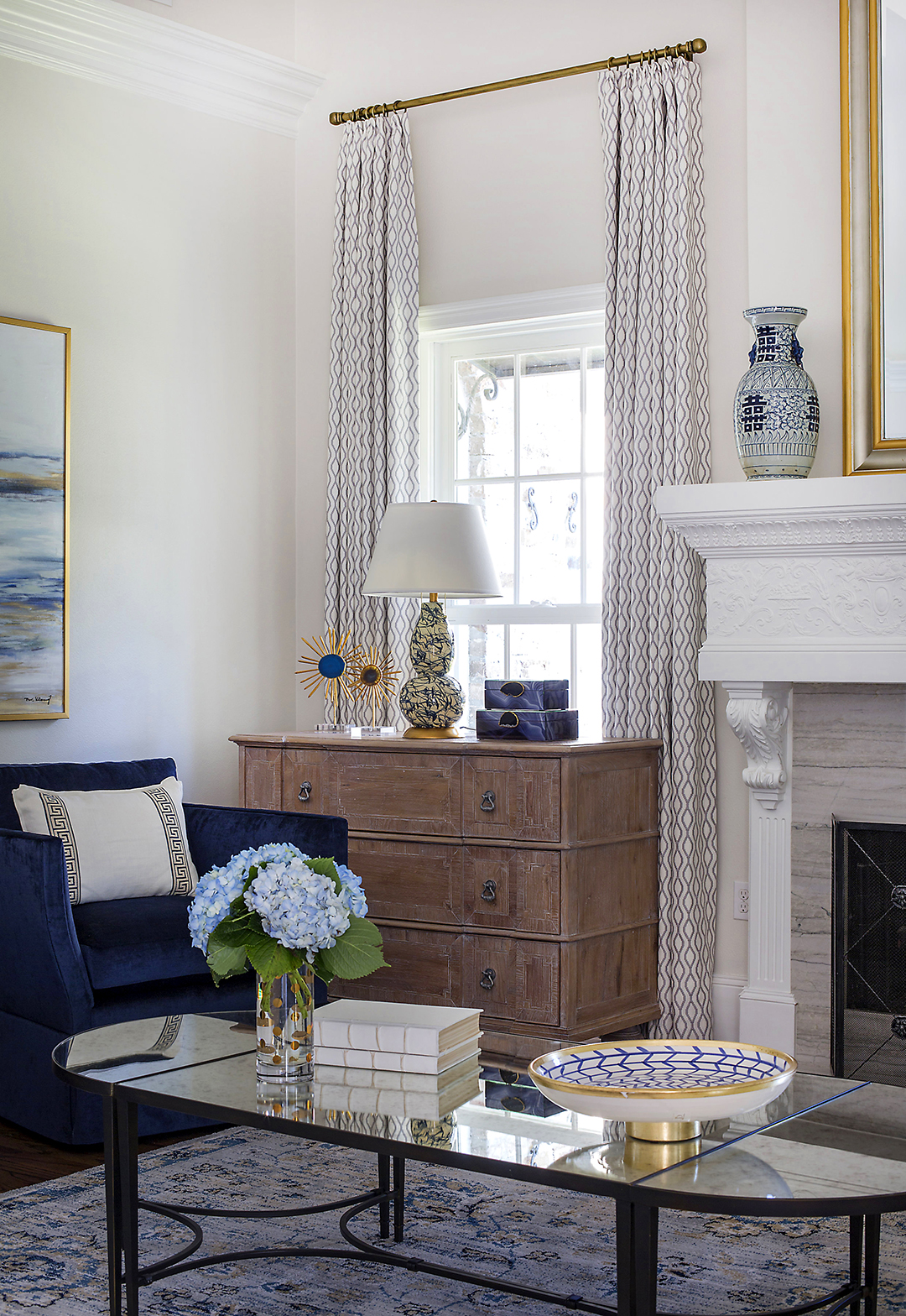 Since the 1990s-built house hadn't been updated since Ann purchased it, Leigh Beth and Hunter wanted to add some of their own personal touches before moving in. Leigh Beth had admired interior designer Rachel Cannon's work on social media, so she asked Cannon for help in fine-tuning the house to suit their style.
"This is a young family, so the house needed to reflect that—to be youthful but still classic," says Cannon.
The first area to demand attention was the master bathroom, which originally featured an oversized Jacuzzi tub, green marble tile and "mirrors all around," says Cannon, owner of Rachel Cannon Limited Interiors. Leigh Beth had a vision of classic black and white tiles for the floor here, so Cannon selected marble hexagonal tiles with black mosaic detail. In place of the old tub, she installed a freestanding oval tub with a wall of built-in cabinets behind it. The mosaic floor continues into an enlarged shower stall, which features marble-tile walls and a multiple-showerhead system that's controlled via an unobtrusive wall keypad.
The kitchen was the scene of another dramatic transformation. The existing island was reimagined with a single counter surface instead of the two-tiered version that had been here. Cannon topped the counters with White Macaubas quartzite and continued that natural stone up onto the backsplash, where its dramatic veining is more easily seen.
The redesign project also focused on visually lightening the rest of the house, which was dressed in heavy draperies and furnishings in dark colors. Walls were repainted in pale neutral shades. In the family room, Hunter's wish for a warm brick fireplace came true, along with an arched brick doorway between this area and the rear entryway.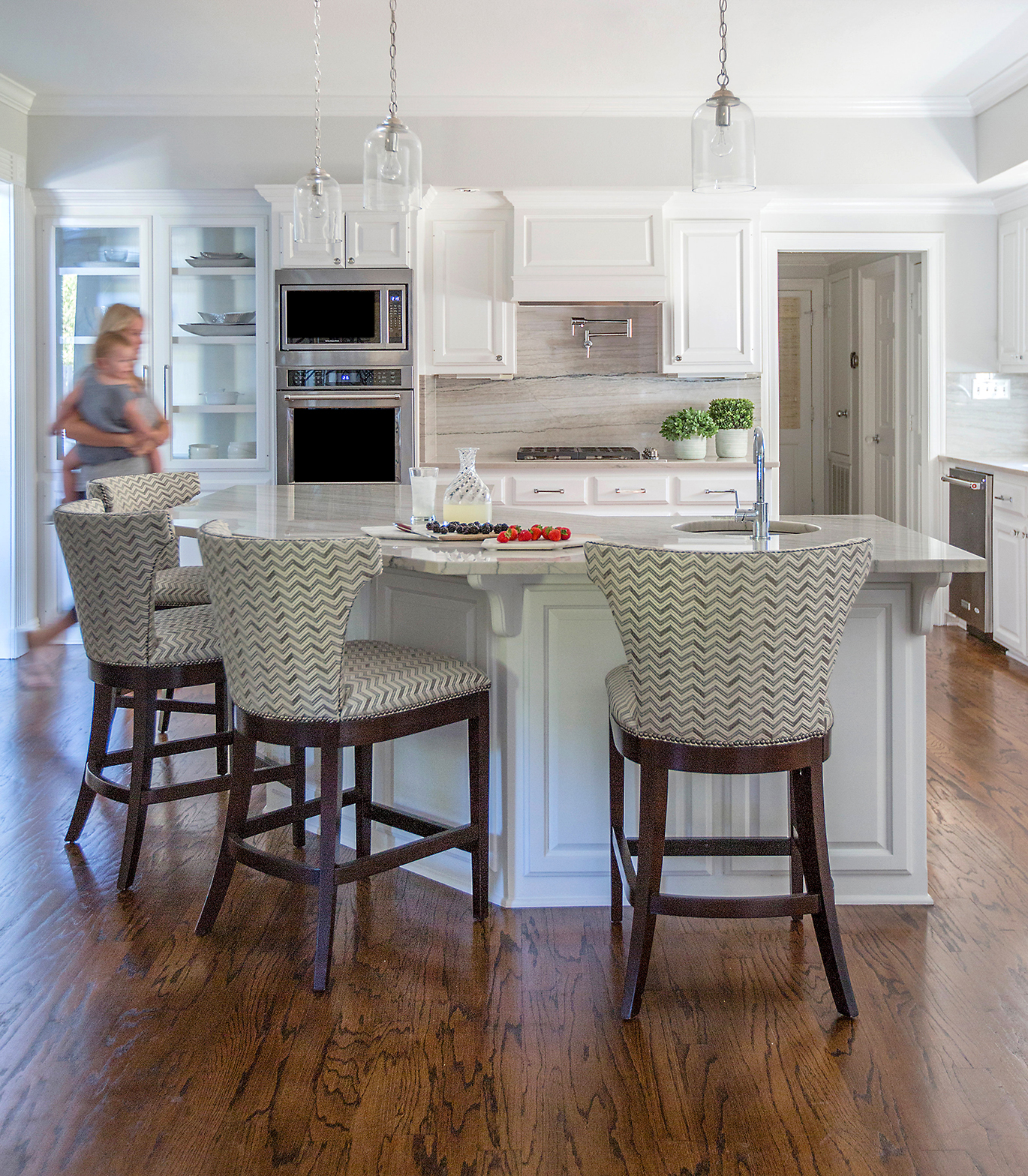 "It's a pretty traditional house," says Leigh Beth. "We wanted it to be approachable and livable for our family."
It was important to Hunter that his mother's dining room table remain, ready to serve as the centerpiece of family gatherings for generations to come. Cannon had the chairs that surround it reupholstered in a pale ikat-patterned fabric to update while still retaining the warmth of the original set. Here and in all throughout the house, the designer incorporated shades of Leigh Beth's favorite color, blue.
"I think it's a good gender-neutral color," Leigh Beth says, "a good middle ground. I told Rachel about all the things we wanted and she just ran with it and made it fabulous."
Having a toddler around and a baby on the way also informed many of the couple's key design decisions. "They wanted to have furnishings that would be as indestructible as possible," Cannon says. "We covered many of the seating pieces in Crypton fabric, which is resistant to stains and spills."
Just as the remodel was drawing to a close, the floods of last August happened, forcing Leigh Beth's parents to flee their home. Since the project had not quite been completed at that time, no one was living at the Arrighi house yet, but with a few quick final touches, both the homeowners and their flooded family members moved in at once.
"They felt fortunate that they could open their home to their extended family," Cannon says. "I thought that was great."
Leigh Beth's parents' home will soon be ready for them to reinhabit, though, giving the young family their first taste of home here as a trio—but not for long! The couple's second child, a daughter, is due in March.
"We feel so lucky to be able to raise our kids in the house that Hunter grew up in," says Leigh Beth. "Every detail is how we wanted it. It's wonderful to have this piece of his mom to carry on her memory."
For a closer look at the rest of this home, click on the photos in the gallery below: