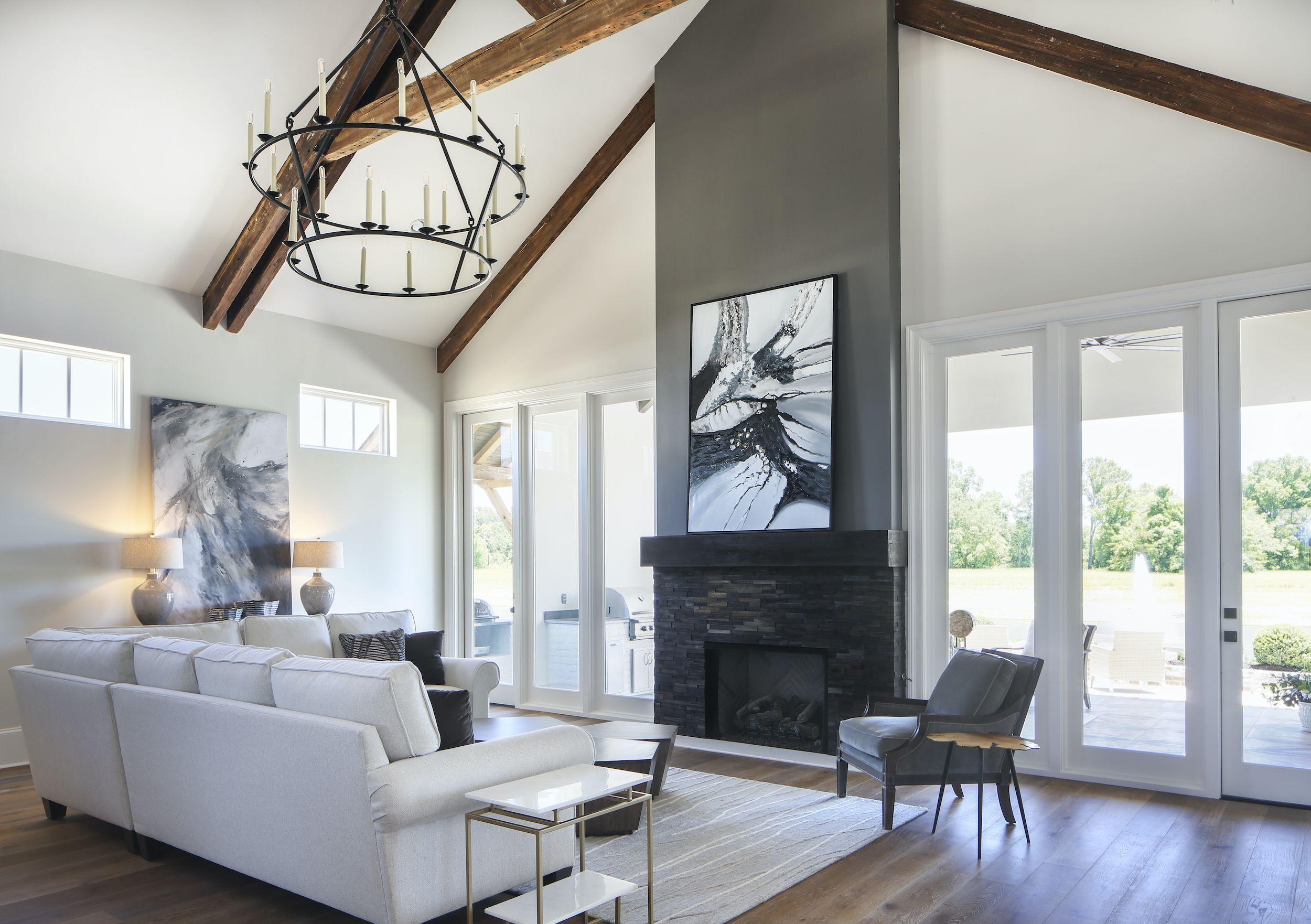 Challenges sourcing materials led to serendipitous results in a Long Farm home
On warm nights this past summer, Brian Aucoin would hover over the 48-inch range in his brand-new, expansive kitchen. He'd sip a red blend from his favorite wine producer, Prisoner, while the garlicky scent of an Italian-style dinner filled the room. 
When fall gives way to cooler nights, he'll likely turn to making hearty Cajun stews or jambalaya.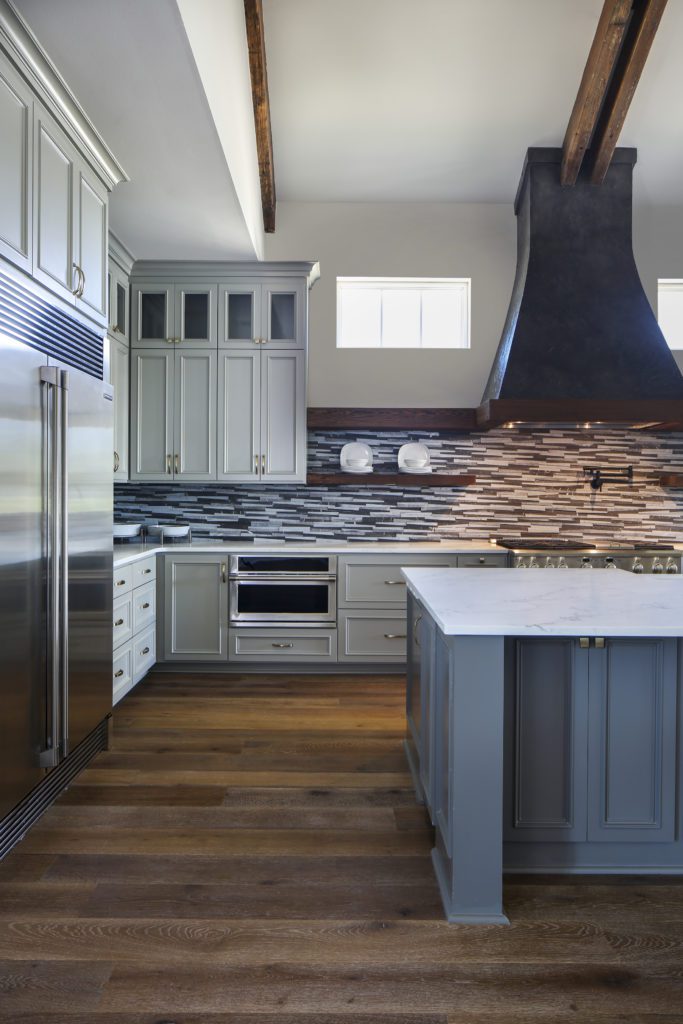 The kitchen is the heart of Aucoin's house in the Long Farm Village neighborhood. It's his own retreat after long days designing, renovating and building clients' homes for his company, Meridian Homes.
"Cooking is one of my favorite things in life," he says, "so I did a real chef's kitchen in my home."
And his home-cooked meals provide the sweetest scent after a spring filled with COVID-19 obstacles. The push to complete his family's new home—his proudest, most personal project yet—was like pulling one long all-nighter. Everything from wallpaper to plumbing fixtures was backordered or in scarce supply. 
"We couldn't get anything," Aucoin says. "We'd find a perfect light, but I'd get a call 10 days later that it wasn't available." 
Aucoin and his partner interior designer, Aimee Walker, were on a tight deadline to finish outfitting the house before this spring's Parade of Homes. When a wallpaper for the powder room fell through, artist Maria Boudreaux worked until 2 a.m. the night before the parade hand-painting a replacement design. On a wall that once might have been covered by a gray geometric pattern, there's now a bright, gold-leaf giraffe-inspired design.
"It was going to be a beautiful wallpaper, but what we ended up with was art," Walker says.
In fact, Walker and Aucoin agree most of the backup options turned out better than they could have imagined. And because they were building Aucoin's personal home, they felt more comfortable experimenting with unexpected materials and statement-making pieces.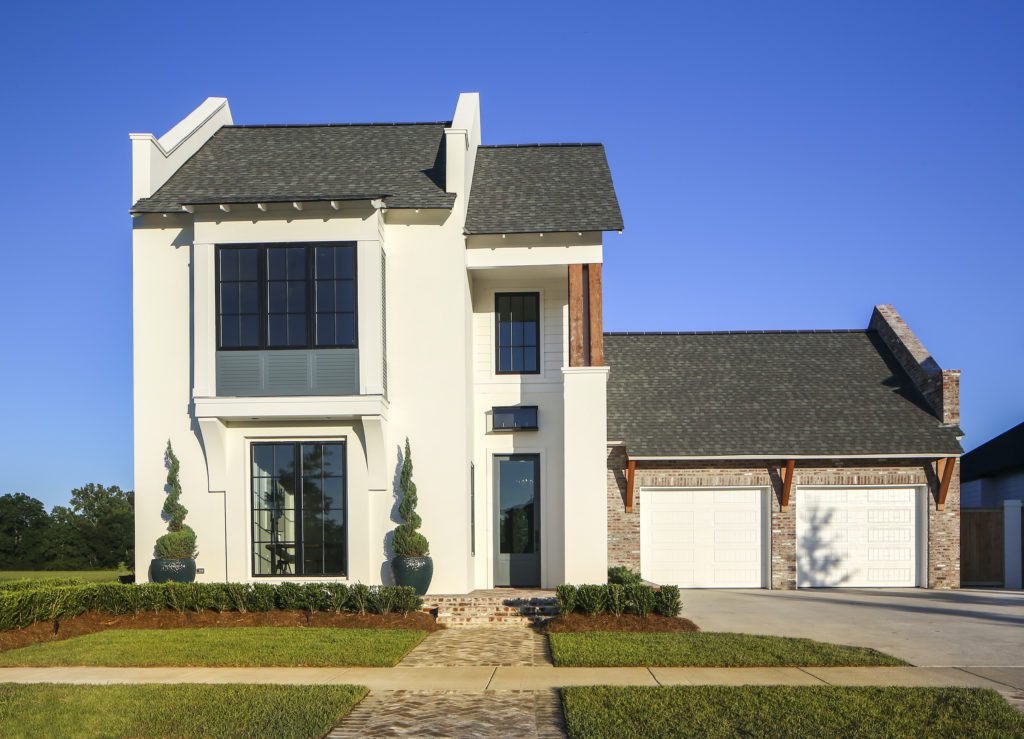 Aucoin laughs when he recalls the wood-style tile they chose on a whim for the fireplace—"a rabbit out of the hat" that turned out to be a fresh finish—and the large-scale chandeliers from Ferguson he says "make" the master bathroom and bedroom. 
It's the first house Aucoin has built for himself in 18 years. So it's special to be in a place that's tailor-made for him and his wife Dawn, along with their three kids and a Doberman named Demi.
But when asked if this is his forever home, he laughs—and gives the answer you might expect from a builder. "No, it's not," he says. "But we'll be here for at least five or six years." 
Once all of their kids have graduated college and fully moved out, he and Dawn might do something different. Until then, though, Aucoin says, they are living in a dream.  
---
Click on the photos in the gallery below for a closer look at the rooms in this home: