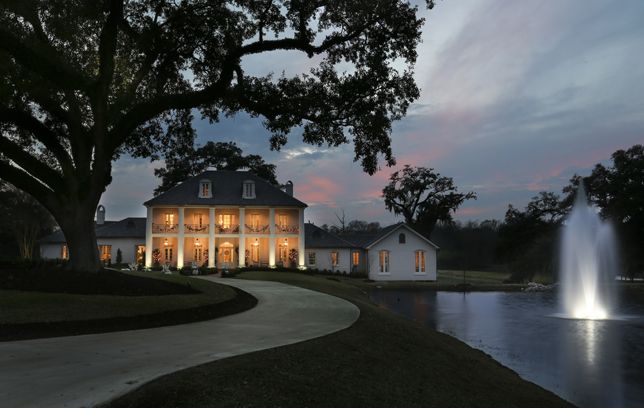 Comfort and joy: The Keller home hits a holiday high note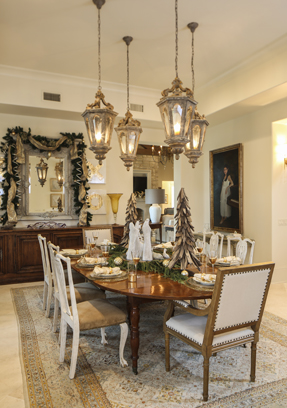 The days leading up to Christmas are always a flurry of activity: shopping for last-minute gifts, baking cookies, stockpiling groceries for the big family dinner. But last year's Christmas preparations included an additional element for Dee and Steve Keller: making sure everything was in place for the New Year's Eve wedding of their daughter Coco at their home.
"I've always wanted to have my kids' weddings at home, so this worked out beautifully," says Dee, who took on the role of wedding coordinator while arranging to serve a seated dinner for 600 in her yard and have fireworks bursting at midnight over the backyard pond.
So that the house would be ready for the nuptials, Dee opted to use a clean neutral palette of Christmas decorations; the pale, earthy colors would then make an elegant backdrop for the wedding-night floral arrangements and gold accents.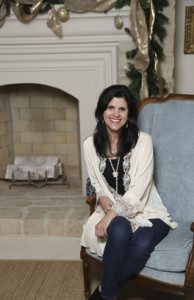 The luxe look also fit right in with the home's everyday décor. "What I strive for is comfort with sophistication," Dee says. "I like to mix abstract and contemporary art with traditional pieces. I have a lot of antiques and I like to use them, even if it's not in a traditional way."
Last year's wedding-centric Christmas was only the third the Kellers spent in this home in south Baton Rouge. They moved here in 2012 after spending several years in the Bocage neighborhood. "Living there was great—we had wonderful neighbors, and our kids had built-in playmates," Dee says. "But the kids are grown now, and I've always wanted to have some property."
This six-acre lot with its Colonial-style home was just what she had in mind. "We fell in love with this property, with the ponds and the oaks," she says.
This house itself required a major overhaul to get it in line with the couple's vision. With help from architect Chris Remson and Block Construction, "we took it down to the studs," Dee explains. The kitchen and the master bedroom swapped places. A study and closet were transformed into the new dining room. New bedrooms were added upstairs, and a new wing allowed for the introduction of a keeping room, breakfast room and large laundry/utility room.
Dee, who had a career in interior decorating before her current incarnation as a shoe designer, handled the design of the home's interiors herself. She repurposed many of her favorite antique furnishings from the old house, giving some pieces new life with fresh coats of paint to complement the home's overall neutral color palette.
Though her children are all older and out of the house, everyone still returns at Christmas. Dee hangs up the needlepoint stockings that her mother made, and she sets the dining table early so it can be enjoyed all season long. Decorating the table is a special passion for Dee, who has collected china ever since she worked in the dinnerware department at Goudchaux's as a teenager. "I love china," she says. "It's so much fun to bring it out and to set out the linens, the napkin rings, the glasses, all those pretty things."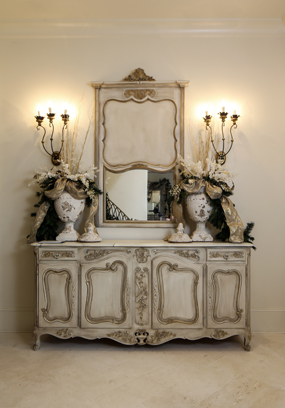 When the kids are home and visiting with their friends, Dee and Steve can retreat to their master bedroom, which with its two sofas and two desks provides ample room for them—and another special family member—to work or relax. "Milo, our rescue dog, loves to sit in here with us," Dee says. "He has taken over one of the sofas. But we love it in here—it's our cozy family late-night den."
Milo also loves to roam the property and to splash in the ponds. When south Louisiana's mild winters permit, he's likely to be found right by the side of visiting family members as they fish off the pier. Back indoors, Dee enjoys preparing a huge holiday dinner for the whole clan, no matter what other big events might be planned for a week later.
"Christmas is the most magical time of the year," she says. "The spirit of loving, sharing, rejoicing and giving is all around. It is so special to gather with family and friends to celebrate the miraculous birth of our Lord Jesus Christ."
Click on the photos in the gallery below to get a closer look at this holiday home: