Designer Rachel Cannon joins Ballard Designs for "How to Decorate" podcast
This week, Baton Rouge interior designer Rachel Cannon of Rachel Canon Limited traveled to Atlanta to sit down with nationally renowned home furnishings brand Ballard Designs and the creators of their blog How to Decorate, which provides resources for homeowners striving to create tasteful and timeless spaces. The blog's most recent feature is its weekly podcast, in which Ballard's designers meet with interior experts from all over the country to discuss the best and brightest ideas in home decorating.  Rachel's unique perspective joins those of famed designers like Suzanne Kasler, Miles Redd and Bunny Williams. inRegister checked in with Rachel to get the details on her time on the podcast and what it was like to represent the flourishing talent of our beloved Capital City.
---
What does it mean to you, as an interior designer, to be asked to participate in Ballard Designs' "How to Decorate" podcast?
It's an honor to be included alongside so many other talented designers and editors who have been on the show. It's important to expose listeners to a range of voices, and I was happy to be able to lend what is probably a more down-to-earth perspective to the mix.
How did you feel when you got the news?
I was excited! Ballard Designs has had a very long, successful run from mail-order catalog to e-commerce, and now as a big social media influencer. Getting the nod of approval from a company with such a wide audence is very gratifying.
What was the experience like?
I felt like I was just hanging out with my friends and chatting. Karen, Caroline, and Taryn (the hosts of the podcast) were incredibly welcoming and friendly, and they all have a sense of humor. We clicked right away and started making each other laugh before the audio even started recording.
What were some of your favorite tips that you shared on the podcast?
Accessories are always a stumbling block for shoppers. My favorite tip is to stay away from anything smaller than a canteloupe when you're shopping. If you end up with a bunch of small accessories, it will just look cluttered. Fewer, larger items will make a much bigger impact. Less is more!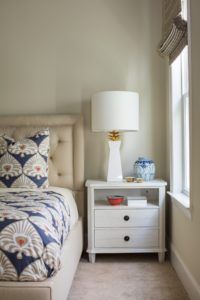 What was the best part of the whole experience?
Hearing from the ladies at Ballard about the behind the scenes of their work–like styling photo shoots for acclaimed designer Suzanne Kasler, who has a collection for Ballard. I would love to be a fly on the wall during one of those shoots!
What did you take away from your time with the designers at Ballard Designs?
As much as listeners want to hear about the glamorous, aspirational side of this business, they also want to hear some practical wisdom and do's and don'ts. There is an art to the creative side of design, of course, but if telling someone "all of your accessories are too small and that's why this isn't working" helps them, then that's an equally important contribution to the conversation.
Click here to listen to more of Rachel's suggestions and tips on Episode 43 of Ballard Design's How to Decorate podcast.