4 weeks of Thanksgiving table ideas, Week 2: Lighthearted Lunch
Next up in our fabulous foursome of fresh ideas for your Thanksgiving gathering is this casual tabletop that's set to suit family members of all ages.
Party planner Angela DiVincenti Babin of Angela Marie Events set out here to prove that you don't need fancy china and silver to present a pretty spread to your guests. For this arrangement, she relied heavily on good ol' Target, sourcing the striking black sun-shaped plates and the black-and-white striped tablecloth there. But this is no basic big-box affair. As Babin points out, it's all in the mix. Along with those easy-to-find elements, she layered an array of textiles including striped and solid napkins and Anthropologie woven natural placemats with bright borders.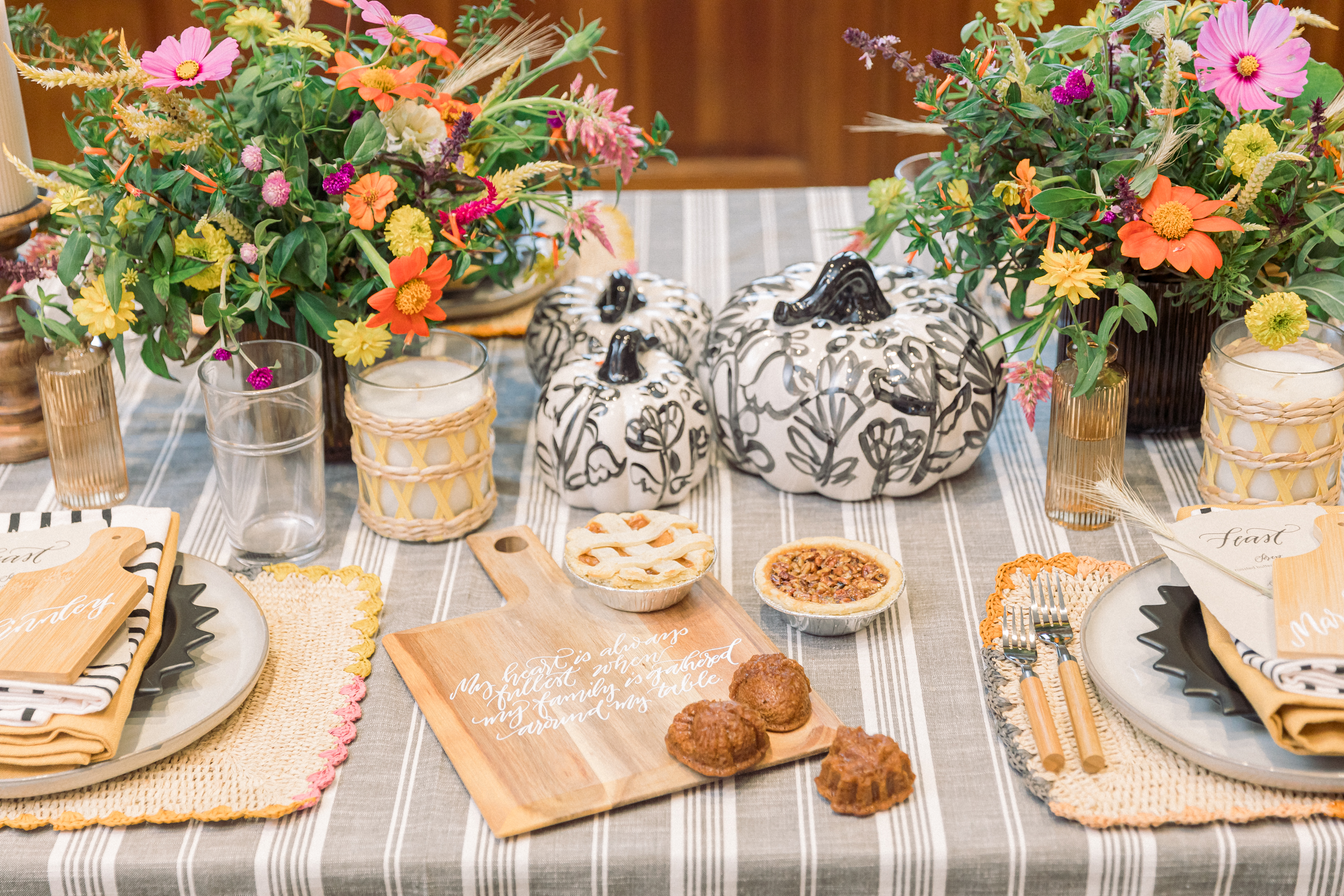 "This is a table that anyone can recreate with details found at stores around town," Babin says. "Thanksgiving doesn't have to be a formal occasion if you don't want it to be–just have fun with it, and your guests will too."
The stars of this table, though, are two locally produced details: colorful wildflower bouquets from Piper Scout Farms and painted ceramic pumpkins by Baton Rouge artist Laura Welch Taylor. (Learn more about how Taylor creates these perennially popular gourds in this story from inRegister@Home.)
To personalize the table even more, Babin placed mini monogrammed cutting boards at each place. The sweet end to this meal? Each guest also received a miniature holiday pie from Ambrosia.
---
Read the full cover story here and in the November issue, available on newsstands now. If you missed the Week 1 story in this series, click here.
Make sure you see the next two weeks of tablescapes by subscribing to the free inRegister@Home email newsletter here.