Let's gather: Four fresh ideas for setting your Thanksgiving table
The rules used to be the rules. You followed them, end of discussion: Matching dinner plates and salad plates, preferably those from your wedding-registry china. The fancy silverware, the pressed napkins. That was the way you did Thanksgiving. Everything pretty. Nothing bold enough to shock Grandma.
While an elegant place setting is certainly still welcome at the holiday table, the rules these days are written in pencil, not calligraphed in ink. Feel like mixing your good glasses with casual stoneware plates? Go for it. Spotted some pretty wildflowers in the garden? Grab those little guys and make them into a centerpiece. Guess what: Grandma might have wished she could have done the same.
To usher in the holiday season with an open-minded entertaining philosophy, inRegister asked party planner Angela DiVincenti Babin of Angela Marie Events to dream up an array of four distinctive tabletop designs to suit any style. Yes, you will find Grandma's china on some of these tables, but others take a decidedly laid-back approach. After all, some rules were made to be broken.
---

For those whose holiday vibe leans toward the casual, Babin offers this playful take on the time-honored Thanksgiving gathering. Playful, she promises, can mean unforgettable—especially with black sun-inspired plates sourced from everyone's favorite grocery-slash-décor store, Target. That's also where she found the striped tablecloth, which serves as the biggest statement maker in a symphony of textiles including woven placemats from Anthropologie and two types of napkins. Individual-size wooden paddle cutting boards serve as reusable place cards. The colorful floral centerpieces here—a rainbow of zinnias, marigolds and other humble blossoms—are straight from the fields of Nick and Laura Taylor's Piper Scout Farms, while Laura's painted ceramic pumpkins complete the scene.
---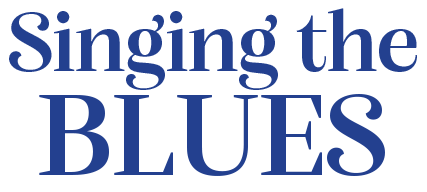 Pumpkin spice might be nice this time of year, but we're all in for the trend of covering every surface—including our Thanksgiving table—in rich blue hues. A velvet cloth sets a sophisticated mood for this meal, especially when topped with two types of vintage china—Haviland's "Rajah" and Noritake's "Beverly," both from Capitol Vintage Charm—as well as larger blue stoneware plates. The interplay of textures continues with napkins in pale blue velvet and in monogrammed white cotton, as well as wicker chargers and vintage copper measuring cups. The centerpiece was inspired by an old-fashioned cornucopia and features the bounties of the fall garden, from vibrantly colored roses and hydrangeas to artichokes and pomegranates, all spilling from a basket sourced from Michael's.
---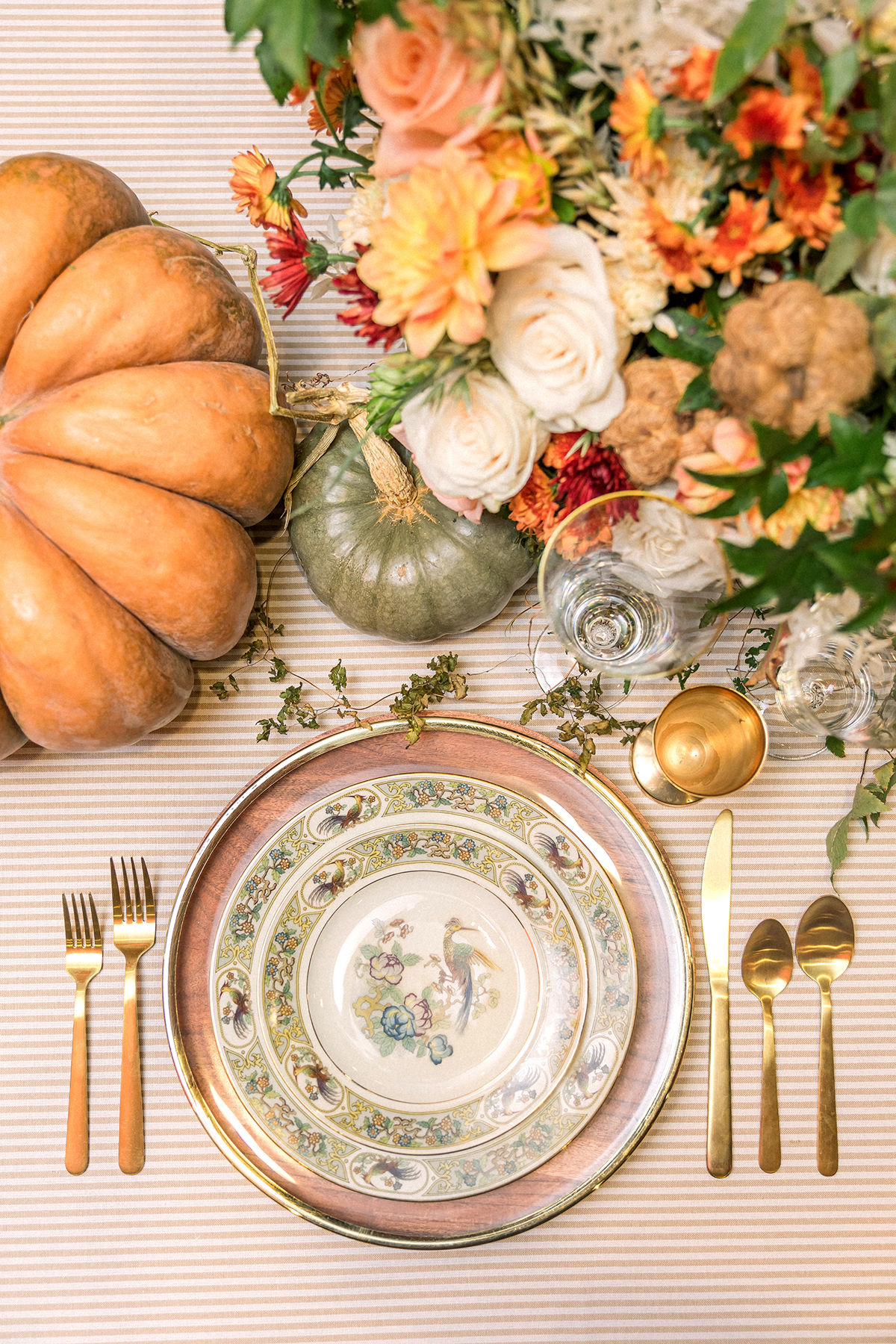 This one's for the birds! Inspired by vintage EPIAG "Fantasy Bird of Paradise" porcelain plates Babin sourced from her friend and Baton Rouge native Stacy Harvie of Capitol Vintage Charm, this table comes together with an eye toward traditional tastes. Babin paired the pretty porcelain pieces with two chargers, one of wood and another of gold-rimmed glass. She presented two menu card options, a more formal version with a beveled edge and a second with a more organic feel thanks to its deckled border. The centerpiece combines pumpkins in muted tones with foraged greenery, an array of peach- and maple-hued roses, bleached Italian ruscus, and dahlias that have been specially spray-painted in a copper color. Other details include wicker-wrapped chianti bottles, candlesticks from Anthropologie, and vintage gold goblets. The backdrop for it all is what Babin calls a "minimalist Southern tablecloth" in a demure neutral stripe. "I like eclectic—that look of mixing the new with the old," Babin says.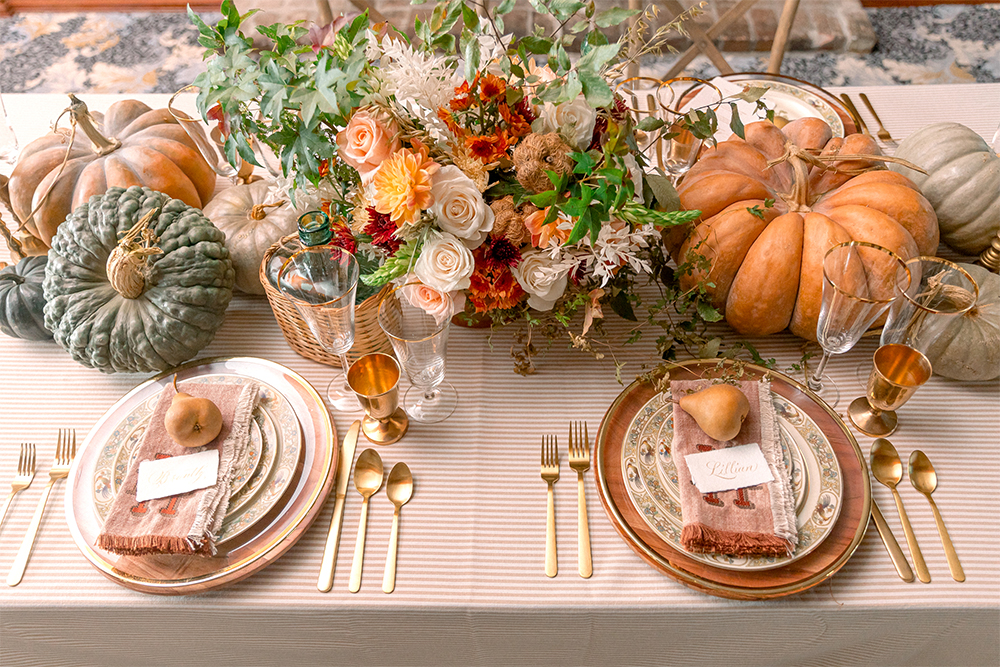 ---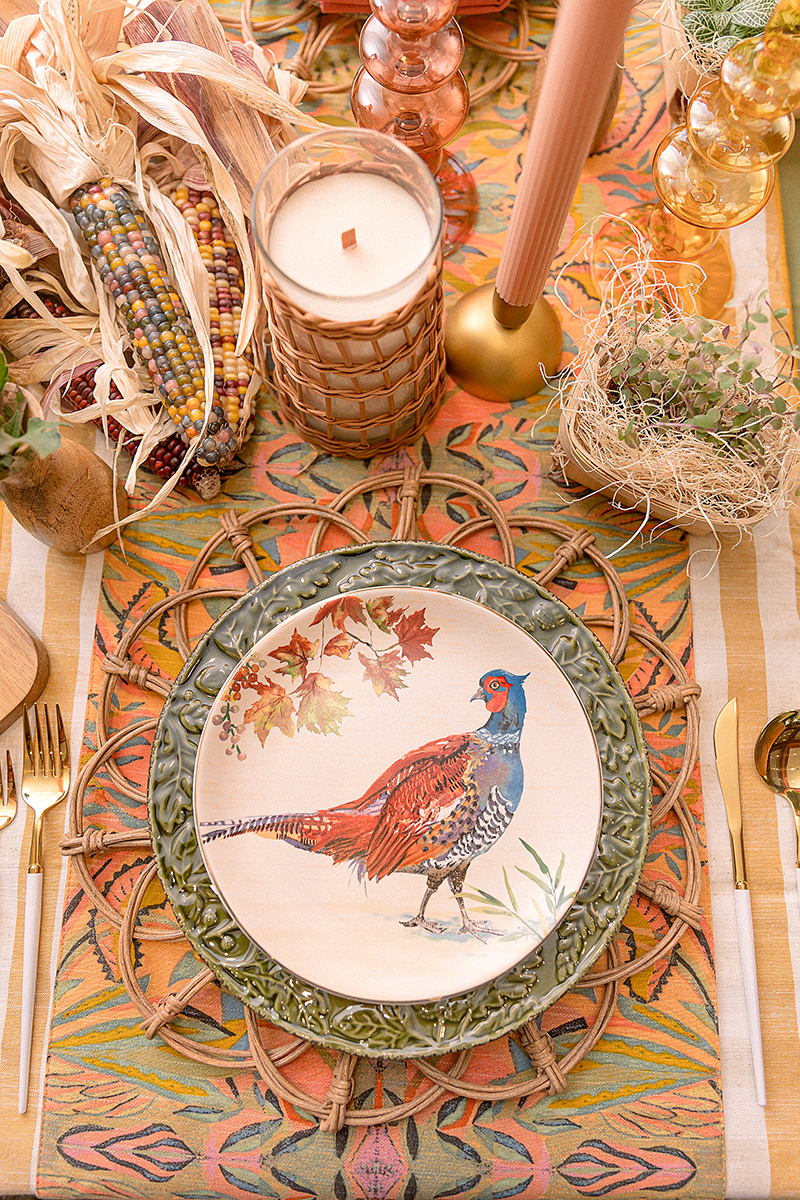 The season's harvest inspired this earthy table, with organic details including seed-packet place cards, flint corn still in its dried husks, and tiny plants nestled in baskets. At the center of it all is a potted plant from Whole Foods—"You don't always have to make a flower arrangement," Babin notes—tucked into a terracotta pot from Target. At each place, a rattan Southern Living charger from Dillard's is topped with an embossed green dinner plate and a bird-themed plate, both from Hobby Lobby. Babin covered the table in a sage green cloth and then used table runners, though not in the expected way; instead, she layered two styles and oriented them across the table's width so they serve as outsized placemats. Copper Moscow mule mugs add an unexpected contrast in textures in this natural scene. "The art of design has changed now that we have so many resources at our fingertips," Babin says. "You can mix the high-end with something very inexpensive and get a look that's all your own."
---
Resources
Planning and design: Angela Marie Events
Floral design: Angela Marie Events
Venue: Country Club of Louisiana
Wildflowers: Piper Scout Farms
Small plants: Louisiana Nursery
Vintage plates: Capitol Vintage Charm
Handpainted pumpkins: Laura Welch Taylor
Chianti bottles and copper cups: Rescued Revisions
Whimsical paper: Proper Prints
Formal paper: Paperwhite Stationery Boutique
Vinyl: Sharon Benton Designs
Monogramming: Lemon Paisley Boutique
Miniature pies: The Ambrosia Bakery
Botanical shortbread cookies: Alma Kitchen