Where are they now? Catching up with past winners of Forum 35's Art Melt
Next weekend, Louisiana's largest multi-media juried art show will return to Baton Rouge for its 15th year. Forum 35's Art Melt will open to the public on Saturday, July 21, at the Capitol Park Museum Gallery. The event is part of Forum 35's effort to promote professional Louisiana artists in a community-centered venue, and to share the best of the local art scene with the public.
inRegister reached out to the show's past first-place winners to learn about their Art Melt experience and how the win has affected their respective artistic journeys.
---
Brittany Sievers, 1st Place at Art Melt 2015
Brittany Sievers, a native of Indiana, was completing a Masters in Fine Arts degree at LSU when she entered Welcome Mat into the 12th annual Art Melt competition. "I wasn't expecting to win at all!" she says. "I was so incredibly surprised and humbled."
Welcome Mat is a portion of a larger installation called 10,656 Palms, which also garnered Sievers prestigious recognition with the International Sculpture Center's 2015 Outstanding Student Achievement in Contemporary Sculpture Award. The sculpture was formed entirely out of red clay imprints of Sievers' hands.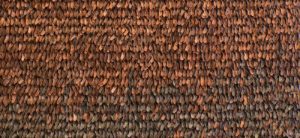 "Winning [Art Melt], I got such a positive response to my work," she says. "I met so many different artists working around this area, and it was great to see that my work could stand on its own outside of academia."
Today, Sievers still works with clay and sculpture, but she has added an additional element: hand-spun yarn. She says, "I'm doing a lot of texture painting, and putting a lot of focus on the materials and their sources." She is now a professor of art and art history at DePauw University and Vincennes University in Indiana.
Read more about Sievers and her work in this article from our February 2017 issue. 
---
Collin Richie, 1st Place at Art Melt 2016
If you live in Baton Rouge, you've probably seen Collin Richie's photographs in local magazines, advertisements, weddings, and more. Marked by creativity and professionalism, his business in commercial photography has expanded impressively in content and range over the past several years.
Entering the 2018 show for the seventh year in a row, Richie says that his win two years ago was a major affirmation for him as a creative person. "Most of my work tends to be commercial commission," he says. "So having something that certifies what you are doing as art, especially in a career where that is sometimes diminished, it just made a huge impact for me."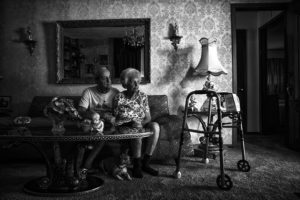 His award winning photo, 60 Years, was part of a project documenting end-of-life patients at Heart of Hospice. The photo is taken of a couple who have been together for 60 years, who met when his Naval ship came into the harbor in New Orleans. It was later part of an exhibit held at the LSU Student Union Art Gallery called "My Last Days."
Only a month after receiving his award, Richie embarked on an even bigger project that would garner him further affirmation as an editorial photographer and as an artist. Started as a photo story assignment for inRegister and turning into a project that attracted national attention, Humans of the Water documented the people of Louisiana affected by the 2016 floods.
Today, Richie's work is ever growing and ever changing. As he prepares for this year's Art Melt, he says that his plaque from 2016 is still the centerpiece in his office. "It just re-affirmed me as a creative photographer and gave me a ton of self-confidence," he says. "A lot of artists have a constant struggle with self-worth, and this just gives you something so concrete to be proud of."
---
Demond Matsuo, 1st Place at Art Melt 2017
Demond Matsuo, a native of Morgan City, took his first painting class as an undergraduate at LSU. After taking a few more classes, "I ran away to India and Turkey." During his time traveling, he visited gallery after gallery and found himself deeply inspired by the art of other places.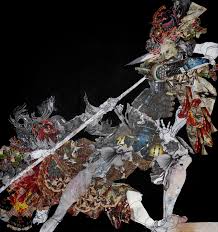 "My work is something of a combination of inspirations from Japanese and Dutch art," he says. "You'll see that lot of my work has a carpet-feel, and that comes from those beautiful carpet patterns all over Turkey."
Last year, at his girlfriend's suggestion, he attended the Art Melt preview party, and couldn't have been more surprised when they called his name as the show's winner. "My girlfriend entered me without even telling me," he laughs.
The winning piece, called Hair Tengu, is a collage of patterns depicting two figures in the heat of battle. It is part of a collection called Haiku with Abandoned Ghosts, and like most of his work, is set against a black background."I like to spotlight my art," he says.
Matsuo says that one of the things he particularly loves about Art Melt is that it brings laypeople into the exhibition. "People who don't really go to regular galleries come and see your work, sometimes just people who are walking downtown." He says that the award helped him to feel as if he were making good decisions in his work.
Today, when he's not working at City Park playing tennis or reading rare art books at the library, Matsuo continues to pursue his work in collage and painting. "I am having so much fun working on my stags," he says. "I like surprising myself, and each time I think they get better." Ultimately, Matsuo says that he hopes to bring his work to shows in Asia and Europe, "I'd love to see what people there think of the way I've approached their themes and images."
---
Art Melt's 2018 winners will be announced at an exclusive Preview Party on Friday, July 20, at the Capitol Park Museum Gallery. To purchase tickets, click here. The exhibit's public opening will be held from 4 to 9 p.m. on Saturday, July 21, and will be on display for six weeks. Visit forum35.org/artmelt for more information.