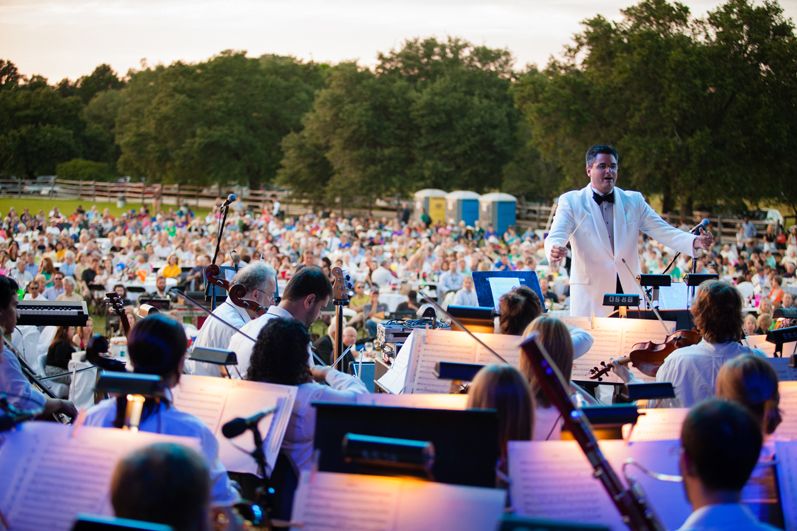 Music in the meadow: Strings and horns move out of the orchestra pit and into the limelight
Who says symphony swag must be buttoned-up and toned-down formal fun? Organizers of the Baton Rouge Symphony Orchestra decided a few of years ago to remove the stigma of inaccessibility and bring the music to the people. Outdoors. In the field. And they decided to give the people popular music—familiar tunes—that made them want to dance and sing along. It's not your grandmother's night at the symphony. Unless your grandmother likes to jam.
"The Pops music in general allows us to reach a bigger footprint than a traditional symphony concert," says David Torns, associate conductor of the Baton Rouge Symphony Orchestra. "We are reaching a different audience in a more casual setting. It's grown in popularity every year."
This annual outdoor concert launched in 2012 at the LSU Rural Life Museum. Last year, American Idol contestants joined the orchestra onstage and wowed the crowd. This year, a Beatles tribute band will be twisting and shouting, along with the orchestra. Costume changes by the band will add to the evening's excitement.
Tables of 10 can be purchased, but individual tickets are also available for those who just want to pull up a lawn chair and enjoy the show. The Classical Mystery Tour will take place Sat., May 7, at 7:30 p.m. Visit brso.org for more information. Coo coo cachoo.