Warm welcome: Hearty dishes from a Capital City newcomer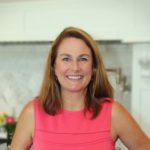 One snowstorm too many and a job offer that came at just the right time led my husband and me to Baton Rouge for an exploratory visit last spring. Walking through the tunnel to the rental cars at BTR, I felt my bones defrost and my smile broaden. Then he took me to Juban's, and West Virginia didn't stand a chance.
Our former town is Charleston (the other Charleston), capital of West Virginia, known for its Appalachian cuisine, a literal melting pot of hearty foods. But this … this was like two-stepping into a new world of rich seasonings and spices. And then there was all that fresh seafood. I was ready to call this place home after that first spoonful of gumbo.
We went to the Red Stick Farmers Market on Saturday. The air fragrant with Ponchatoula strawberries, we strolled the market with the brass band beckoning. "Let's do this."
Change is hard, but good. There was no looking back. We traded rustic mountains and maple syrup for scenic swamps and sugar cane, and arrived just in time for school to start, uprooting our youngest daughter. She introduced us to some twangy Baton Rouge-themed songs (cue Guy Clark and Garth Brooks) and wrote her first English paper titled  "16 Years." Thank goodness it happily concluded with, "It's good to be forced outside your comfort zone. I'm glad we moved."
We got swept up in the magic-carpet welcome mat that is Baton Rouge. Try telling a stranger you're new to Louisiana and get ready for an outstretched hand and some outrageous Southern hospitality. This is our festival of firsts: crawfish boils, king cakes, carnivals, parades, festivals, satsumas and all things LSU Tigers! My head spins with delight.
In my kitchen, it's a thrill to cook with the local bounty and flavors. My doorstep fills with citrus gifts from generous neighbors and my new juicer has barely had a moment's rest. Fresh squeezed—there's nothing like it. When I said "yes" to Louisiana, somehow the citrus bounty was a mystery. It has become a staple at every meal.
I discovered Iverstine Farms early on, first at the farmers market and now in their butcher shop on Perkins Road. I used to order free-range chickens from California that were delivered to my door in WV. Now I can pick up a chicken whenever the mood strikes and shake the farmer's hand in the process. When I need dinner to cook itself and also score some encore dishes while I'm at it, roast chicken is on the menu.
I was born in the kitchen and fell in love with cooking at my mother's knee. Swirling in the spicy new (to me) genres of Cajun and Creole, every day is a culinary adventure. With fork, spoon, camera and notebook in hand, I couldn't be happier to explore this fabulous food frontier. Thank you for the warm welcome. It's a delicious pleasure to call Baton Rouge home.
Find April Hamilton's food blog, along with her cookbook, at aprilskitchencounter.com.
---
Roast Chicken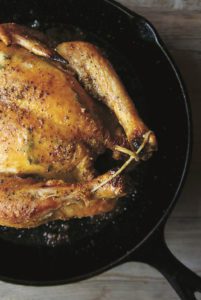 Popping a whole

chicken into your oven for an hour or so to roast perfumes your whole house with the comforting fragrance of home cooking. It's a call to the table setters to come to the kitchen and break bread. I love to roast a chicken on Sundays and create encore dishes with the leftovers during the week. Few things are as easy or as satisfying.
1 whole chicken, 4 to 5 pounds
1 Tbsp. soft butter (not melted)
Finely grated zest of 1 lemon, the lemon quartered after zesting
Stripped leaves from a few branches of fresh thyme
2 tsp. coarse sea salt, divided

1

⁄2 tsp. ground pepper, divided
Heat oven to 425 degrees. Remove chicken from its packing and remove/reserve neck and giblet packet. Pat chicken dry with paper towels, and place it breast side up in a large ovenproof skillet or small roasting pan (I love the cast iron skillet).
Combine soft butter with lemon zest, thyme, 1 tsp. salt and
1

⁄4 tsp. pepper. Gently loosen skin of breast and leg and spread this seasoned butter up under skin, then massage top of skin with your buttery fingers. Sprinkle chicken with remaining salt and pepper, then pop lemon quarters into cavity.
Roast for 15 minutes at 425, then reduce heat to 375 and continue roasting for an additional 50 minutes to 1 hour, until chicken is golden and, when slightly tilted, cavity juices run out clear. Remove from oven and let rest for about 10 minutes before carving*. Makes 4 servings plus enough for some encore dishes.
*When carving a whole chicken, reserve bones and set aside with neck from cavity packet to make stock for soup. Wrap and refrigerate for up to 3 days or freeze for 3 months.
---
Spicy-Sweet Market Salad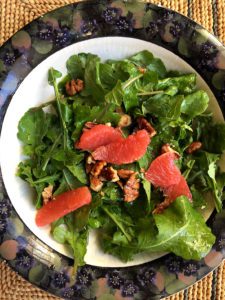 Green

onions

, the year-round confetti as popular as Mardi Gras beads, are a new staple for me. Steeping them first in citrus tames the burn and adds depth and texture to a quick vinaigrette. Choose your favorite greens from the farmers market, then add jewel-like citrus supremes and some crunchy pecans for an unforgettable salad.
Vinaigrette:
1 green onion, finely minced to make about 2 packed Tbsp.

1

⁄4 cup fresh grapefruit juice
2 tsp. sugar cane syrup


1

⁄8 tsp. cayenne pepper


1

⁄4 tsp. coarse sea salt


1

⁄4 cup extra-virgin olive oil
Whisk together green onion, grapefruit juice, cane syrup, cayenne and sea salt in a bowl or glass measuring cup, and let sit a few minutes to mellow green onion. Gradually drizzle in olive oil, whisking constantly to blend. Serve over your choice of salad greens, garnished with roasted pecans and grapefruit supremes.