Take a look inside the soon-to-open Plantry Café
Two years in the making, the Plantry Café is finally set to open for lunch on Monday, Oct. 9 at 54545 Bluebonnet Boulevard in the space formerly occupied by Kabuki Sushi and Japanese Steak House. The new plant-based restaurant, bar and tearoom is the brainchild of Katie Crifasi, a physician and Baton Rouge native.
Inside, diners will find a dreamy, trendy design and a menu that's largely organic, vegan and gluten-free.
Deep blues and greens, tea pots and a Beatrix Potter-ish rabbit logo suffuse the place with a vibe that lands somewhere between stylish and storybook, helped along by a salvaged tree from rural St. Francisville positioned in the main dining room that Crifasi had sanded, stained and crowned with faux foliage. An expansive bar features lantern lighting and a dramatic marine-blue backsplash of glossy, textured brick. When happy hour eventually opens, it'll be a great place to sample a natural wine flight.
"I wanted something that felt comfortable, that didn't feel commercialized," says Crifasi, who sourced design inspo from the Windsor Court and Four Seasons hotels in New Orleans, as well as Pinterest, estate sales and restaurant field trips.
Despite a hefty schedule as a full-time family medicine physician, Crifasi found time to oversee the space's transformation, even coming up with an origin story for the cafe's rabbit mascot, a veterinarian bunny named "Hareold," who just happens to opens a restaurant. The tale is inscribed on framed panels near a cozy settee and faux fireplace.
Once it's fully up and running, the 100-seat concept will offer several different experiences, Crifasi says. Patrons can tap into a plant-based meal delivery service. Others can order from a catering menu, which offers both savory dishes and cakes and baked goods. As for dine-in options, Crifasi plans to begin with weekday lunch service, followed by high tea, Friday dinner, happy hour and—maybe down the road—breakfast.
While menus and details are still being refined, it's a pretty good bet you'll see dishes like the buffalo maitake mushroom burger, a personal favorite of Crifasi, who has been following a plant-based lifestyle since the end of medical school. By then, she says she'd seen plenty of data, along with real life cases, supporting its benefits. The mushrooms are breaded in garbanzo and almond flours and air-fried, giving them a pull-apart texture. Then they're doused in buffalo sauce and perched on a pretzel roll with slaw and cashew ranch dressing.
Crifasi says she'll also likely serve beet ceviche, made with vinaigrette-marinated red beets layered with hearts of palm and avocado mash. More than anything, she says she hopes to introduce local diners to creative plant-based dishes that don't rely on synthetic meat substitutes.
"It's really to show people what you can do with plant-based foods," Crifasi says. "I think the South, and Baton Rouge in particular, is limited in what they've been exposed to. People generally seem to think that if you're eating plant-based you're eating imitation chicken. You can actually do a lot with food without trying to pretend it's something else."
The lunch menu will likely feature a core menu of five sandwiches, rotating soups and salads and a cheese board made with cashew cheeses from Bandit, a Philadelphia vegan cheese vendor.
The far side of the restaurant features a separate room with former hibachi tables now outfitted with decorative glossy black-and-white epoxy surfaces and flanked by black-and-gold chairs. Soft draperies add splashes of color, and one wall is bedecked in arched nooks that hold different patterns of estate sale china. The tables are intended to give patrons a place to enjoy "communal experiences," according to Crifasi. That includes wine tastings featuring her line-up of mostly organic, natural wines and high tea with all the trimmings on Sundays.
Serving high tea, in fact, is a big part of Crifasi's plan for the restaurant. She says it'll be rolled out after her staff has lunch service down.
"High tea is one of the things I really want to put a lot of effort into," she says, envisioning an elegant service akin to what's offered at the Windsor Court or Ritz-Carlton in New Orleans—just without the hour drive, valet parking and animal products, she says.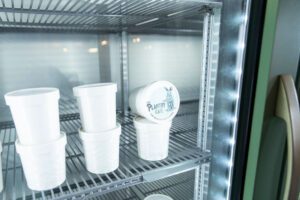 Expect to see teas from high-end tea purveyor, Tea Forté, whose dainty pyramid infusers are topped with a diminutive gilt leaf. Sip from a china cup and munch on classic tea sandwiches, like cucumber and 'cress, along with gluten-free vegan biscuits and sweets. Crifasi is especially proud of her scone recipes, made with almond flour, and served with boutique jams from the Canadian company, The Preservatory.
The bar's capacity and elegance portends the possibility of an exciting beverage program, and sure enough, Crifasi is planning to serve sulfite-free, sustainably produced wines, craft cocktails and zero-proof alternatives in forthcoming happy hours. Look for wine flights and half-pours that allow patrons to sample new brands without overindulging, she says.
The Plantry Café is at 5454 Bluebonnet Blvd, Suite B. For updates, visit plantrycafe.com.
---
This article originally appeared in 225 magazine's 225 Daily newsletter.