A literary feast: Favorite new books on food and entertaining
If it's true that you taste first with your eyes, readers of the latest Southern books on cooking and entertaining will be satiated before they ever actually take out a mixing bowl. It's no secret that Southerners know how to make loved ones feel welcome through gatherings both gala-size and everyday intimate, and these volumes share the secrets to savoring each moment in style.
---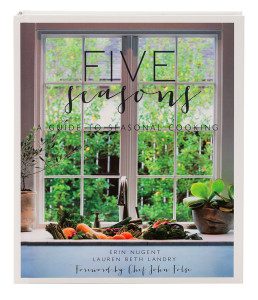 Five Seasons: A Guide to Seasonal Cooking
By Erin Nugent and Lauren Beth Landry
When it comes to cooking the most flavorful meals, fresh is best. Find what's in season and you'll find a fantastic start to any dish. That's the idea behind this new book from a pair of young Baton Rouge-based foodies. Drawing from European travels and Landry's experience as owner of the Country Table produce delivery service, they prove that, as Chef John Folse writes in the book's foreword, "the best food comes straight from the goodness of the earth." The recipes include elevated dinner-party dishes like Spinach-Stuffed Portobellos and Eggplant-Fig Caponata Bruschetta.
---
By Tammy Algood
For generations, gathering for Sunday dinner—not "lunch," thank you very much—was an honored ritual. This chance to slow down and give thanks might now feel mostly like a relic, but Tammy Algood aims to lure families back to the table. The Nashville-based author serves up Sunday memories from dozens of Southerners, along with recipes including Church Ran Long Spring Pea and Ham Soup, No Need to Knead Wheat Bread, and You Be Sweet Roasted Carrots. "Unlike any other day of the week, an old-fashioned Sunday dinner is reserved for nothing less than feasting," Algood writes.
---
By Lela Rose
Dallas native and fashion designer Lela Rose is known for styles full of whimsy and vivid color. So it makes sense that her vision for entertaining would be equally fanciful. A rooftop pig roast with farmers-market flowers in Mason jars. A ladies' tea where tequila-spiked drinks are served in handpainted cups. A Sunday supper served on chartreuse linens with accents of branches and persimmons. For each of nine featured fêtes, Rose offers a menu full of fun dishes, her tips for setting the scene, and gorgeous photos that could inspire a little whimsy in anyone.
---
By Nicki Pendleton Wood
Ever wondered why entertaining seems so effortless for some hostesses? Chances are they've learned a handful of Southern secrets to making guests feel at home. Those tips are just what Tennessean Nicki Pendleton Wood offers here—tricks for perfecting every aspect of the party, from décor to music to conversation. But as with every good gathering, the food is the star, and the book is filled with Dixie dishes both classic and contemporary. "The best bit of advice is this: Don't wait to entertain," Wood writes. "Have people over whenever you can, however you can."
---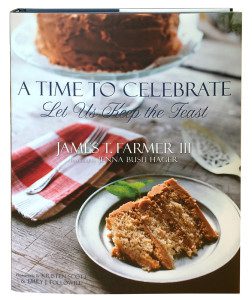 A Time to Celebrate: Let Us Keep the Feast
By James T. Farmer III
"My sympathy goes out to other geographic locales not automatically associated with the word 'hospitality,'" writes Georgia designer and food personality James T. Farmer III. After all, he points out, the city of Savannah even hosted a Civil War party for the Union army as thanks for sparing them from fiery ruin. Farmer offers many excuses to celebrate today–from a toddler's birthday oyster roast to a retirement party to a simple Sunday night at home.
---
A Confederacy of Dunces Cookbook
By Cynthia LeJeune Nobles
As author Cynthia LeJeune Nobles attests, food itself is a character in John Kennedy Toole's beloved New Orleans novel A Confederacy of Dunces. "Scenes unfold through clouds of doughnut sugar, rivers of Dixie 45 beer, tangles of spaghetti, and mounds of empty erster (oyster) shells," Nobles writes. Her ode to Ignatius J. Reilly aims to "memorialize the foods, both the nutritious and the wickedly unwholesome, that are important to the book's characters"—from the heavenly hash served at D.H. Holmes to four different hot dog dishes inspired by Reilly's favorite street food.
---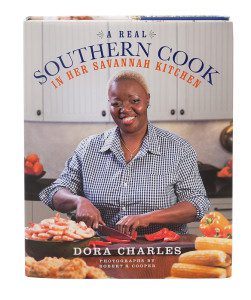 A Real Southern Cook in her Savannah Kitchen
By Dora Charles
Dora Charles' name is tied to the scandal surrounding culinary personality Paula Deen, but the former Lady & Sons kitchen manager has serious cooking chops of her own. Charles never wrote down a recipe until she penned the instructions for Panfried Chicken, Oven-baked Savannah Red Rice, and other down-home dishes on these pages. "My grandmother trained my eyes, my ears, my hands and my taste buds and taught me to layer in the flavors, and to cook slow, with a lot of love," she writes. "If you can do that, you really know how to cook in your bones."
---
By John Besh
In Chef John Besh's latest cookbook, he focuses once again on the city he loves most. But while My New Orleans presented elaborate examples of his favorite meals, this new volume takes a simpler approach. "Today, I cook more like a scruffy, grizzly, bearded dad," he writes. "I worry less over the particular town the sausage is made in, and care more about the soul of each dish I want to feed to those I love most." While his cooking may have evolved, the new dishes are as festive as ever, from "easy apps" like crabmeat ravigote to five flavorful gumbo variations.
---
By Aaron Franklin and Jordan MacKay
When your ode to smoked meat is subtitled a "manifesto," you are clearly passionate about the pit. Aaron Franklin, owner of the wildly popular Franklin Barbecue restaurant in Austin—where customers wait hours in a line to dine—is devoted to the details of achieving perfectly cooked ribs and briskets. In this book, he shares "everything I know about barbecue"—from choosing or building a smoker to lighting the fire to mixing the sauce. "Sweat the details," he advises, "and you'll end up producing barbecue that would make the most seasoned of pitmasters proud."