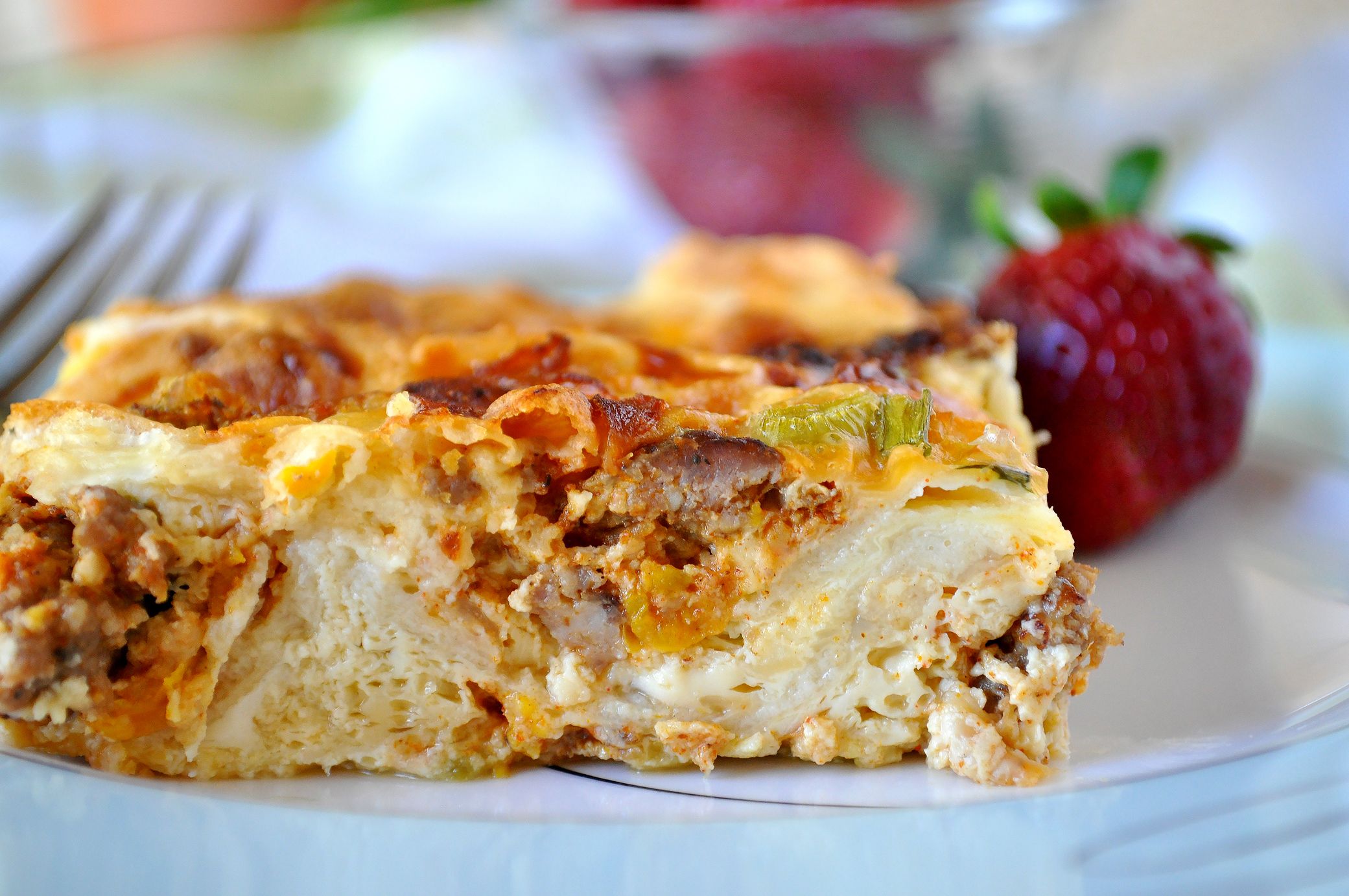 Holly's Scoop: Morning with Mom
With Mother's Day around the corner, a little pampering is in order for the invaluable and tireless work of a mom. And what better way to celebrate this special person then with the perfect trim and terrific brunch menu. Whether you are cooking for a few or have a house full of guests coming over, brunch is a great way to entertain. Consider moving the meal outside to the patio or porch for a colorful celebration complete with the natural beauty of spring.
My Mexican Breakfast Bake is the perfect blend of savory brunch flavors. I love to make this dish ahead of time, mixing the ingredients together the night before and then quickly popping it all in the oven when I wake up. Kids can even get in on the action, helping to whisk together the eggs and spices. Look for turkey sausage in the grocery store to save on calories and fat. I also love to cook with reduced-fat cheese because I cannot taste the difference.
Just wait until you try my absolute favorite morning treat, Yummy Yam Praline Coffee Cake. Trust me, this will start your Mother's Day off right. You will fall in love with the combination of naturally sweet Louisiana yams and tart cranberries. Do not let this dough intimidate you, as it's so easy to work with and you can pat it out with your hands.
And don't forget the brunch sips. With Pomegranate Champagne Punch, a few easy ingredients are all you need to make your Mother's Day brunch extra special. Pomegranates are low in calories, high in vitamin C and potassium, and a good source of fiber, so this drink is healthy, too.
Try these terrific recipes and tips to make your brunch celebration a simple, delicious and memorable Mother's Day meal!
Holly's hints for an elegant and effortless brunch:
• Make your menu a balance of sweet and savory. An egg-based casserole is an ideal main dish, while a coffee cake or light pastries are always appreciated.
• Fresh fruit is an easy addition to the menu and can be picked up already cut at the grocery store.
• Set out pretty plates, glasses, napkins and silverware the night before. For a fun touch, tie napkin-wrapped utensils with ribbon. One convenience of a brunch menu is that a fork is often the only utensil your guests will need.
• To save time, assemble the casserole in advance and refrigerate, and it will be ready to pop into the oven in the morning.
• Set up a separate coffee bar station, with flavored creamers to cater to any whim. Add extra touches such as cinnamon, sugar cubes, whipped topping and chocolate morsels. You may also want to have teas, juices and decaffeinated options available.
• Serve the food buffet style, and keep the meal casual and fun.
---

Mildly Mexican Breakfast Bake
With bright colors and bold flavors, this overnight sensation will wake up the morning taste buds.
8 oz. ground breakfast turkey sausage
1 onion, chopped
1 red, green or yellow bell pepper, cored and chopped
2 cups baby spinach
1 tsp. minced garlic
1 (4-oz.) can chopped
green chilies
4 eggs
6 egg whites
2 cups fat-free half-and-half
2 tsp. chili powder
1⁄2 tsp. ground cumin
1 1⁄2 cups reduced-fat shredded Mexican
blend cheese
5 (8-inch) 98% fat-free flour tortillas, cut into quarters (use corn for gluten-free option)
1⁄2 cup chopped green onion
Coat a 9 x 13-inch baking dish with nonstick cooking spray. In a large nonstick skillet, cook and crumble sausage until it starts to brown. Add onion and bell pepper, cooking until sausage is done and vegetables are tender. Add spinach, garlic and green chilies; cook until spinach wilts, about
2 minutes.
In a large bowl, whisk together eggs, egg whites, half-and-half, chili powder, cumin and cheese. Spoon a third of the sausage mixture into baking dish. Top with a third of the tortilla quarters and a third of the cheese and green onion. Repeat layers, ending with green onion. Pour egg mixture evenly over casserole and refrigerate, covered, for at least
6 hours or overnight.
Heat oven to 350 degrees. If using a glass baking dish, place in cold oven. Bake for 50 to 60 minutes or until bubbly and golden brown and a knife inserted into custard comes out clean. Makes 8 (1-cup) servings.
Nutritional information per serving: Calories 309 | Calories from fat 35% | Fat 12g | Saturated fat 4g | Cholesterol 151mg
 

Sodium 751mg | Carbohydrates 29g | Dietary fiber 3g | Sugars 7g | Protein 23g
Dietary exchanges: 1 starch,

1

⁄2 fat-free milk, 1 vegetable
---

Yummy Yam Praline Coffee Cake
This sweet-meets-tart coffee cake starts with a classic Southern staple, biscuit baking mix.
2 Tbsp. butter, melted
1⁄2 cup plus 3 Tbsp. light brown sugar, divided
2 Tbsp. light corn syrup
1⁄2 cup chopped pecans
2 1⁄2 cups biscuit baking mix
1 (15-oz.) can sweet potatoes, drained and mashed, or 1 cup mashed Louisiana yams (sweet potatoes)
1⁄3 cup skim milk
1 tsp. ground cinnamon
1⁄4 cup dried cranberries
Preheat oven to 400 degrees. Coat a 9-inch-square baking pan with nonstick baking spray. In bottom of prepared pan, mix together butter, 1⁄2 cup brown sugar and corn syrup. Spread mixture evenly in pan. Sprinkle with pecans.
In a large mixing bowl, beat together biscuit baking mix, sweet potatoes and milk until dough forms a ball. Turn dough onto a surface heavily dusted with baking mix, and roll or pat into a 12-inch-long rectangle.
In a small bowl, combine remaining 3 Tbsp. brown sugar with cinnamon. Sprinkle brown sugar mixture and cranberries evenly over dough. Roll up dough jellyroll style from longer side. Cut crosswise into 1-inch pieces and arrange on top of the pecan mixture in pan. Dough will spread when baking.
Bake for 25 to 30 minutes or until golden brown. Remove from oven and immediately run knife around sides; invert onto a serving plate, scraping any brown sugar mixture from pan to top cake. Makes 16 servings.
Nutritional information per serving: Calories 184 | Calories from fat 30% | Fat 6g | Saturated fat 2g | Cholesterol 4mg | Sodium 254mg | Carbohydrates 31g
 

Dietary fiber 1g | Sugars 16g | Protein 2g | Dietary exchanges: 1 starch, 1 other carbohydrate, 1 fat
---
Pomegranate Champagne Punch
Move over, mimosas—this is the perfect punch for toasting to Mom.
1 bottle Champagne
1 cup pomegranate juice
1 1⁄2 cups sugar
3 cups water
1 cup lemon juice
In a large pot, combine all ingredients and bring to a boil. Cool and refrigerate until ready to serve. Makes 8 (1-cup) servings.
Nutrition information per serving: Calories 235
 |

Calories from fat 0% Fat 0g | Saturated fat 0g | Cholesterol 0mg | Sodium 11mg Carbohydrates 46g | Dietary fiber 0g | Sugars 43g

 

Protein 0g | Dietary exchanges: 3 other carbohydrate