Holly Clegg's healthy meals for men
---
I have a husband, son, brother and grandson, so guys and food are on my radar. We know men cook for different reasons: relaxation, necessity or just because you have to grill. But what about cooking for your health? How do you keep a healthy heart or get control of your diet when you find yourself at a sports bar surrounded by beer and burgers?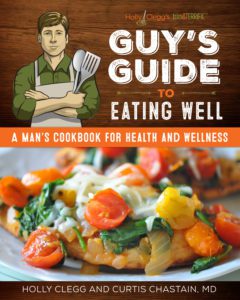 I decided the men in my life could use some assistance in the kitchen. The newest edition in my Eating Well series, titled Guy's Guide to Eating Well, focuses on men's health and wellness. I was thrilled to partner with Dr. Curtis Chastain, a local physician who specializes in men's wellness, for this book. We worked together to provide tools to eat better and to help prevent and control a variety of medical conditions.
My Honey Mustard Pork Tenderloin and Sweet Potato Biscuits are found in the chapter on controlling gastroesophageal reflux disease, or GERD. By choosing high-fiber, unprocessed whole foods, lean meats, fruits and vegetables, you can start reducing your weight and in turn reducing your risk for GERD. These two recipes avoid the common high-risk "trigger" foods for GERD, which include high-fat foods, caffeine, chocolate and more.
Breakfast, snack or dinner—these easy biscuits are the real deal, and stuffing them with this subtly sweet and herb-flavored pork tenderloin makes for a perfect meal.
---
HONEY MUSTARD PORK TENDERLOIN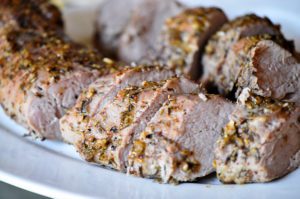 Ingredients:
2 Tbsp. Dijon mustard
½ tsp. minced garlic
½ tsp. dried rosemary leaves
½ tsp. dried thyme leaves
¼ tsp. pepper
2 Tbsp. honey
2 (1-lb.) pork tenderloins, trimmed of fat
Preheat oven to 350 degrees. Line a baking pan with foil, and coat with nonstick cooking spray. In a small bowl, mix together mustard, garlic, rosemary, thyme, pepper and honey. Coat tenderloins with mixture. Place tenderloins on prepared pan. Bake for 40 to 45 minutes or until a meat thermometer inserted into the thickest portion registers 160 degrees.
Makes 6-8 servings.
Nutrition info per serving:
Calories 145 | Fat 3g | Saturated fat 1g | Cholesterol 74mg | Sodium 137mg | Carbohydrates 5g | Dietary fiber 0g | Total sugars 5g | Protein 24g
---
SWEET POTATO BISCUITS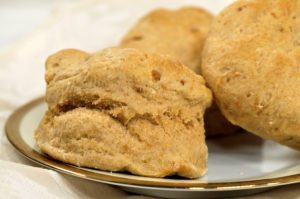 Ingredients:
4 cups all-purpose baking mix
½ tsp. ground cinnamon
1 (15-oz.) can sweet potatoes, drained (reserve ½ cup juice)
½ cup skim milk
Preheat oven to 450 degrees. Coat a baking pan with nonstick cooking spray. In a large bowl, combine baking mix and cinnamon. Mash sweet potatoes and add to dry mixture with milk and reserved juice, mixing well. Roll on floured surface or press with hands until 1 inch thick. Cut with a 2-inch cutter or glass, and place on baking pan. Bake for 10 to 12 minutes or until golden.
Makes 18 biscuits.
Nutrition info per serving:
Calories 128 | Fat 3g | Saturated fat 1g | Cholesterol 0mg | Sodium 337mg | Carbohydrates 22g | Dietary fiber 1g | Total sugars 4g | Protein 2g
---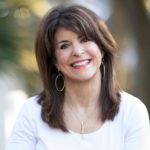 Holly Clegg is a Baton Rouge-based healthy lifestyle expert who has sold more than 1.5 million cookbooks including the best-selling trim&TERRIFIC and Eating Well series.