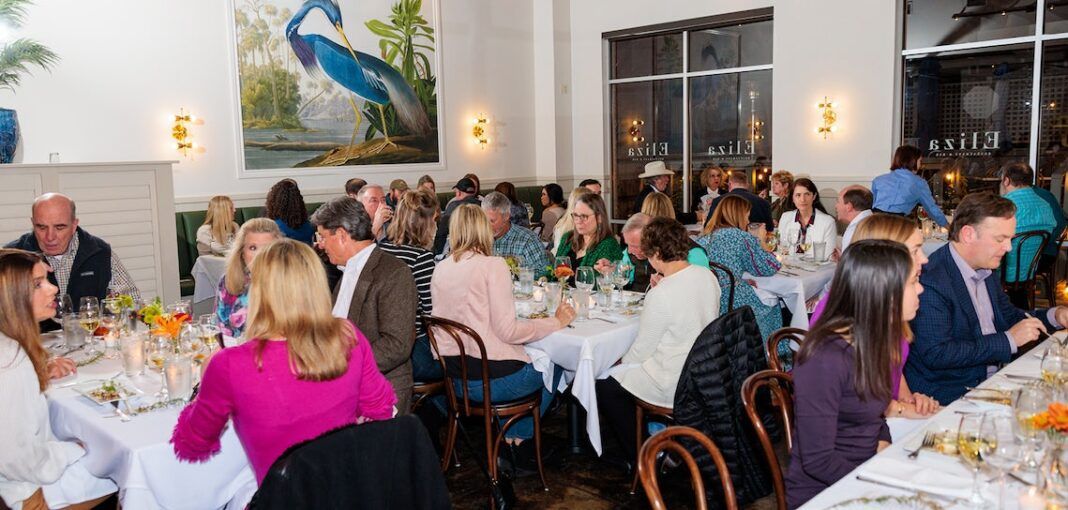 A "Farm to Menu" benefit dinner unites local farmers and consumers
What began as a phone call from Sally Davis, co-owner of Eliza Restaurant & Bar, to BREADA executive director Darlene Rowland with a novel idea to gather both local farmers and consumers around a communal table came to fruition this past November as Eliza hosted the first Farm to Menu BREADA Benefit Dinner.
BREADA, the Big River Economic and Agricultural Development Alliance, is dedicated to increasing sustainability of small family farms, engaging in the stewardship of land and community, and providing access to local foods for everyone, regardless of income level. The organization also provides financial assistance following natural disasters via the Louisiana Small Farm Survival Fund, among numerous other programs.
While the Farm to Menu event marked the first collaboration between the restaurant and the nonprofit, bringing seasonally available local ingredients from farm to table is a space Eliza chef Russell Davis dances in flawlessly. His restaurant menu is routinely updated seasonally, and the names of local farms from which he sources ingredients are displayed in the lower left-hand corner of each menu. According to Darlene, Russell can be spotted regularly each Saturday morning at the Red Stick Farmers Market, BREADA's most well-known program.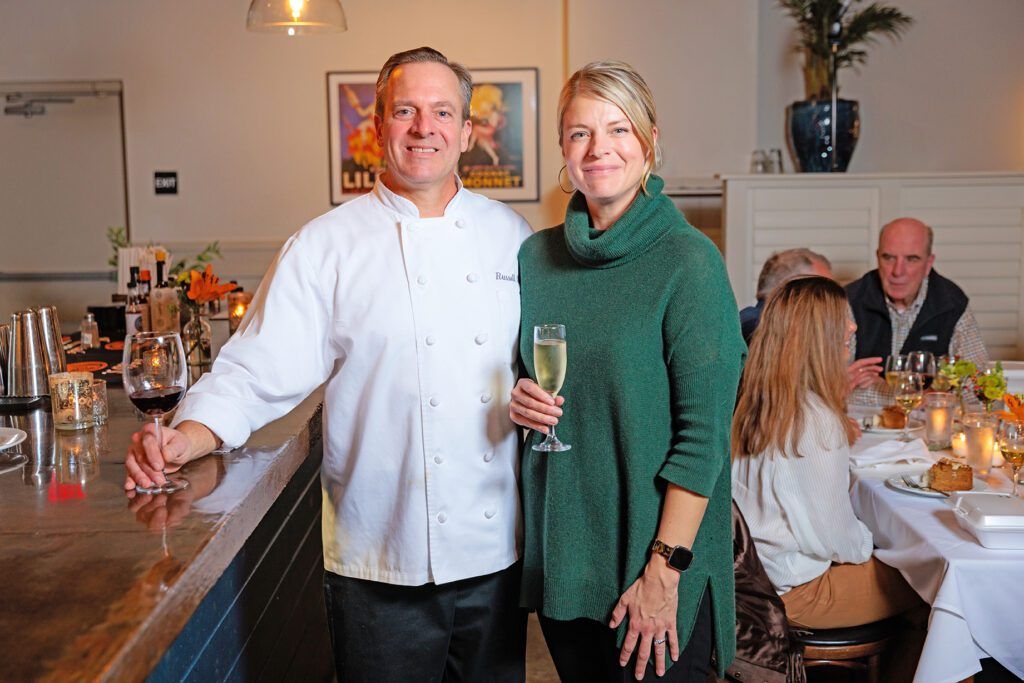 In addition to supporting local farmers, Russell's passion for all things local is further carried out by engaging his staff in quarterly field trips to local farms, where connection to the products is established and conversation with the producers is cultivated.
"Getting the staff out to visit the farmers and to see firsthand the work that goes into these products we use is so important," Russell says. "They are always eager to learn more about the food we serve, and it's important they understand the full story of where our products come from. Plus, it gives them a great sense of pride in the work they do back at the restaurant."
Rather than bringing guests of the inaugural Farm to Menu dinner on a field trip, the passionate and dynamic Davis duo brought not only the farm to Eliza's table but the farmers as well, in hopes that a shared meal would both educate guests and inspire budding cooks to create similar meals at home.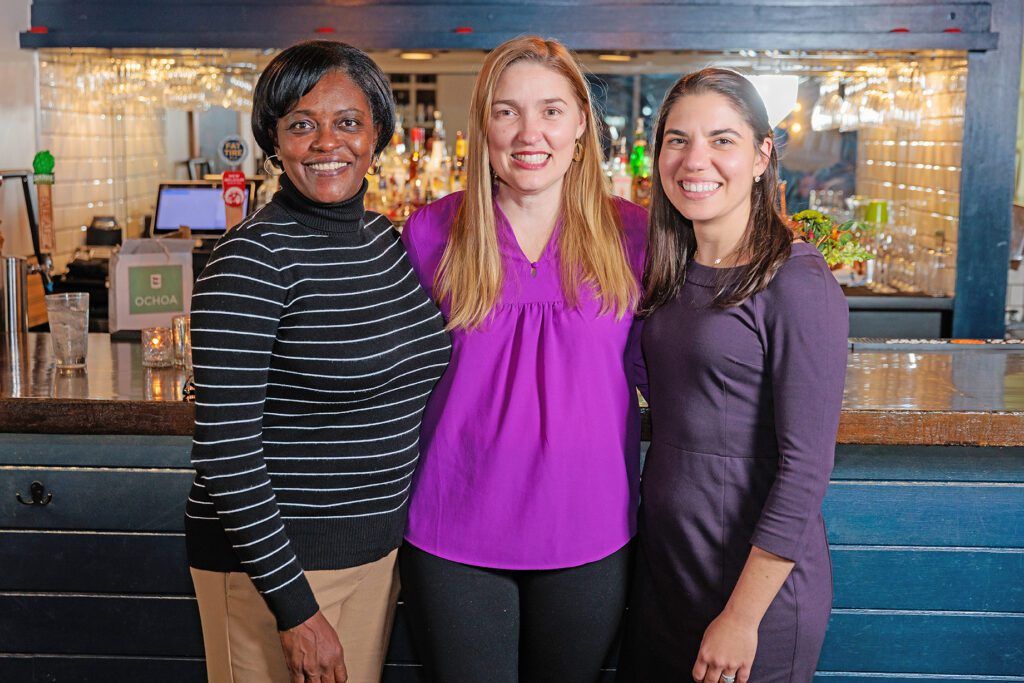 Eliza's cozy vibe served as the perfect setting for its intimate gathering, with guests arriving to personalized place cards set upon long tables with menus tucked inside cloth napkins tied with twine and adorned with fresh rosemary. The meal itself consisted of a four-course dinner with wine pairings and featured local farmers and purveyors, many of whom were in attendance. An introduction to each dish was given between courses, highlighting the connection the chef had with each producer.
Crostini topped with baked whipped goat cheese, roasted shiitake mushrooms and madeira cream sauce set the tone for the evening in a way that piqued curiosity of what was to come, as it would be unwise to have an appetizer steal the show, as this one certainly tried to do. The market salad of local lettuces with bacon lardon, pickled shallot and poached farm egg gave nod to Goppelt Farms, highlighting the beauty of fresh farm eggs in an unexpected way.
In anticipation of the main course, and having thoroughly enjoyed both previous courses, a quick glance at the menu description signaled panic as the "red wine and rosemary braised ragout with fennel, leeks and green olive served with creamy stoneground grits and hot house oven-dried tomatoes" made way to our table. I suddenly wished I had skipped lunch, or at least worn more forgiving pants, as I predicted the main course of Sicilian Beef Ragout was sure to embrace me like a warm hug. I was correct in my assumption and could even write an entire article devoted to the parmesan grits—grits that sent me straight to purchase my own bag from Bonnecaze Farms, days later, in anticipation of the shared recipe.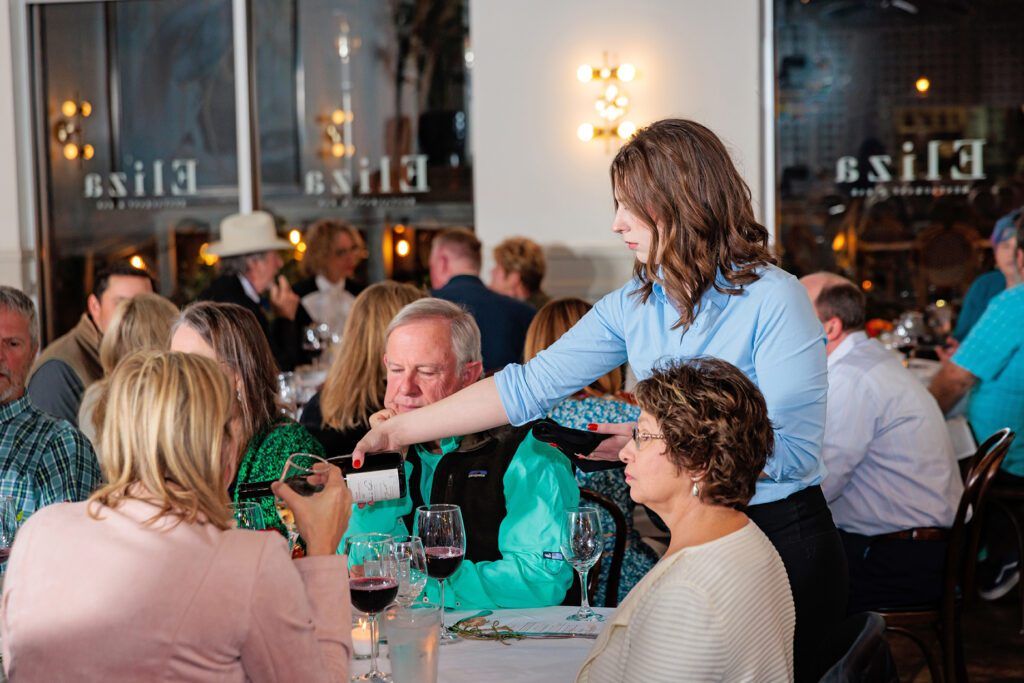 Relief set in as my tablemate and new friend Joe Simmons paused our Outstanding in the Field dining event experience chatter (of which this dinner reminded us) to request a to-go container, prompting me to piggyback, "One for me, too please."
The evening concluded with Cardamon Spiced Honey Cake with the most impressive rise that made my dessert-loving heart go pitter patter. Sinking my teeth into the first bite of the satsuma-glazed goodness did the same thing.
Hallelujah for that to-go box.
When prompted as to whether another event would be on the horizon based on the success of this first run, Sally teased, "Supporting local farmers and spreading the gospel of local ingredients is a core mission for us, so supporting BREADA in this way makes great sense," giving me and the other attendees great anticipation that this will not be the last we hear from them.
Featured local farms:
Belle Ècorce Farms, Mushroom Maggie's, Bonnecaze Farms, Cutrer's Meat Market, Goppelt Farms, Biggie Bee Farm, Feliciana's Best
---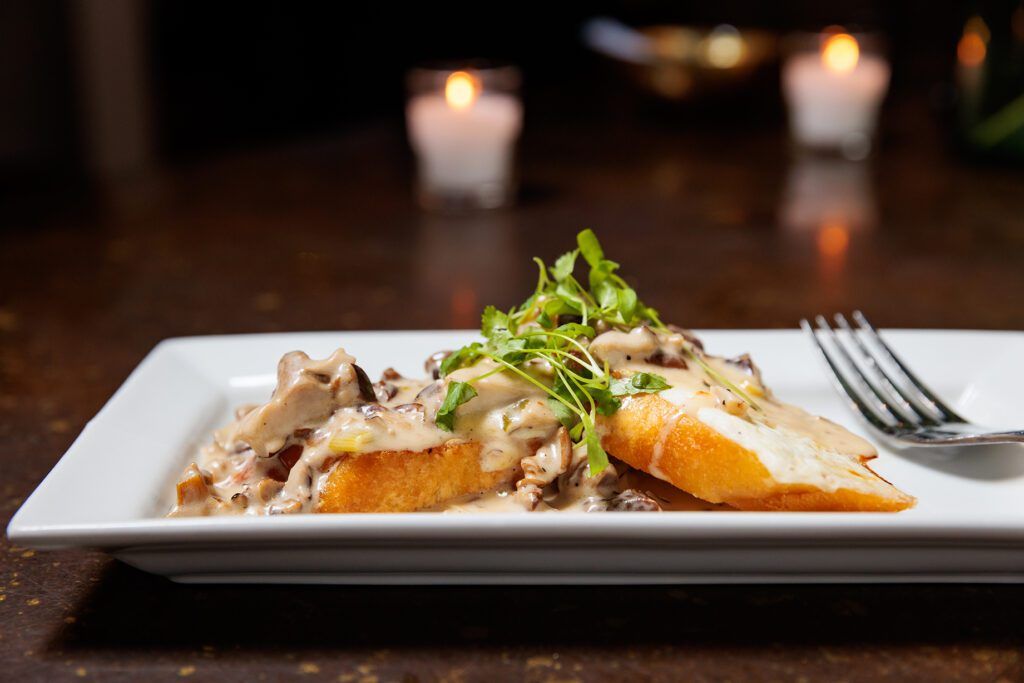 Local Chevre and Roasted Mushrooms
Whipped Goat Cheese Crostini:
10 oz. chevre
¼ lb. cream cheese, room temperature
¼ cup parmesan cheese, grated
2 Tbsp. olive oil
¼ tsp. salt

1

⁄

8

tsp. white pepper
16 crostini
Blend chevre, cream cheese and parmesan in a stand mixer fitted with a paddle attachment until creamy and smooth. Drizzle in oil slowly. Season with salt and pepper.
Drizzle crostini with additional olive oil, and bake at 350 degrees for 15 minutes.
Spread whipped goat cheese on one side of the toasted crostini, and broil until hot and bubbly. Set aside.
Mushrooms and Madeira Cream:
1 lb. fresh mushrooms, sliced
6 Tbsp. butter, divided
2 Tbsp. olive oil
4 Tbsp. shallots, minced
1 Tbsp. flour
1
½

cups heavy cream


¼

tsp. salt


1

⁄

8

tsp. white pepper
4 Tbsp. madeira
Over medium heat, pan-roast mushrooms in 4 Tbsp. butter and 2 Tbsp. olive oil until they start to turn brown. Add shallots and sauté briefly. Stir in flour until fully incorporated. Blend in cream, salt and pepper, and reduce until thick. Add madeira and cook for a minute longer to evaporate alcohol. Turn off heat and enrich with remaining butter.
To serve:
Place 2 goat cheese crostini on each appetizer plate, spoon sauce over the top, and garnish with fresh thyme leaves.
---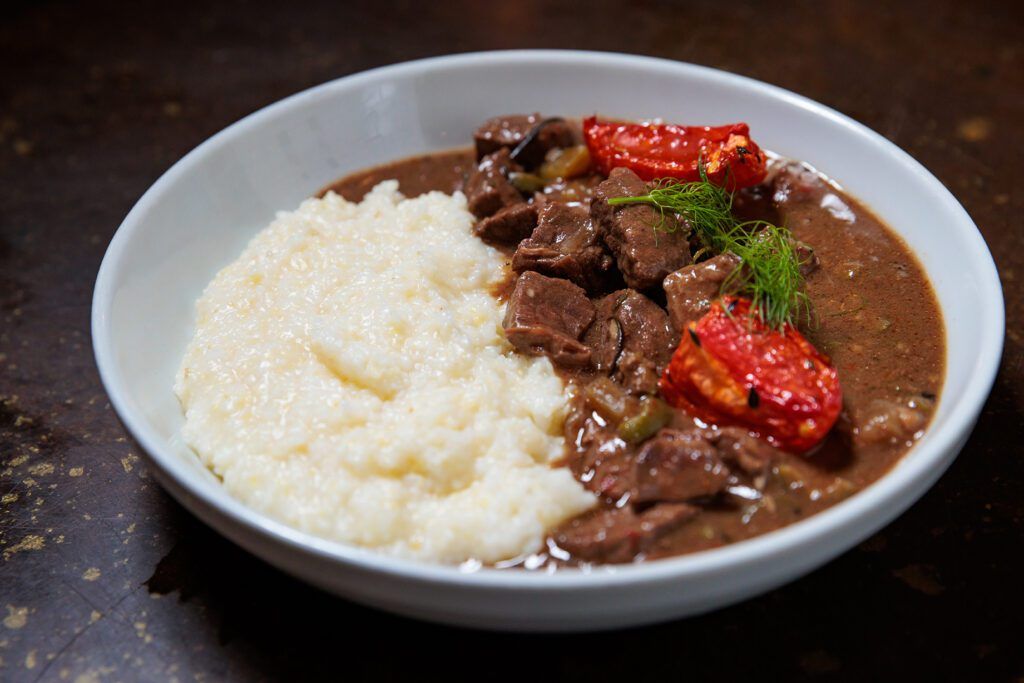 Sicilian Beef Ragout
Ingredients:
6 tomatoes, cut into wedges

¼

cup olive oil, divided
2 tsp. salt, divided
2 tsp. black pepper
4 sprigs thyme
3 lb. stew meat, cut into 1-in. cubes


½

cup fennel bulb, diced


½

cup onion, diced
1 large shallot, minced
4 cloves garlic, minced
2 Tbsp. flour
10 Castelvetrano olives


½

tsp. red pepper flakes
1

½

cups full red wine


½

cup beef stock
2 branches rosemary
In a large bowl, toss tomatoes with 2 Tbsp. oil, 1 tsp. salt, 1 tsp. pepper and leaves of thyme branches. Lay out tomatoes on a sheet pan, skin side down.
Heat remaining oil to medium-high in an ovenproof pan, and sear stew meat, turning once. Cook in batches if necessary to avoid overcrowding. Remove meat to a bowl and turn heat down to medium. Add fennel, onion, shallot, garlic and remaining salt and pepper. Sauté until lightly browned. Add flour and stir until fully dissolved. Add olives, pepper flakes and wine. Stir and cook for 2 minutes to evaporate alcohol. Add stock, meat and any juices accumulated in bowl to pot. Lay rosemary branches on top of meat, cover pot, and cook in a 300-degree oven for 2 to 3 hours, until meat is very tender. Carefully remove pot from oven, taste and adjust seasonings. (Note: It's best to cook the ragout a day or two in advance and reheat to serve.) Cook tomatoes at the same temperature for 2 hours.
Parmesan Stone Ground Grits:
4 cups water
1 cup stone ground grits
1
½

tsp. salt
2 Tbsp. butter
¼ cup parmesan cheese, grated
In a pot, heat water to a boil and whisk in grits and salt. Turn heat down to a simmer and cook, stirring frequently, for 20 minutes. Cover pot, turn heat off and allow grits to sit for an additional 20 minutes. Blend in butter and cheese.
To serve:
Spoon a large scoop of grits into one side of a pasta bowl. Ladle the ragout into the other side, making sure to scoop an even amount of meat, vegetables and sauce. Garnish the meat ragout with 2 to 3 tomato wedges and serve.
---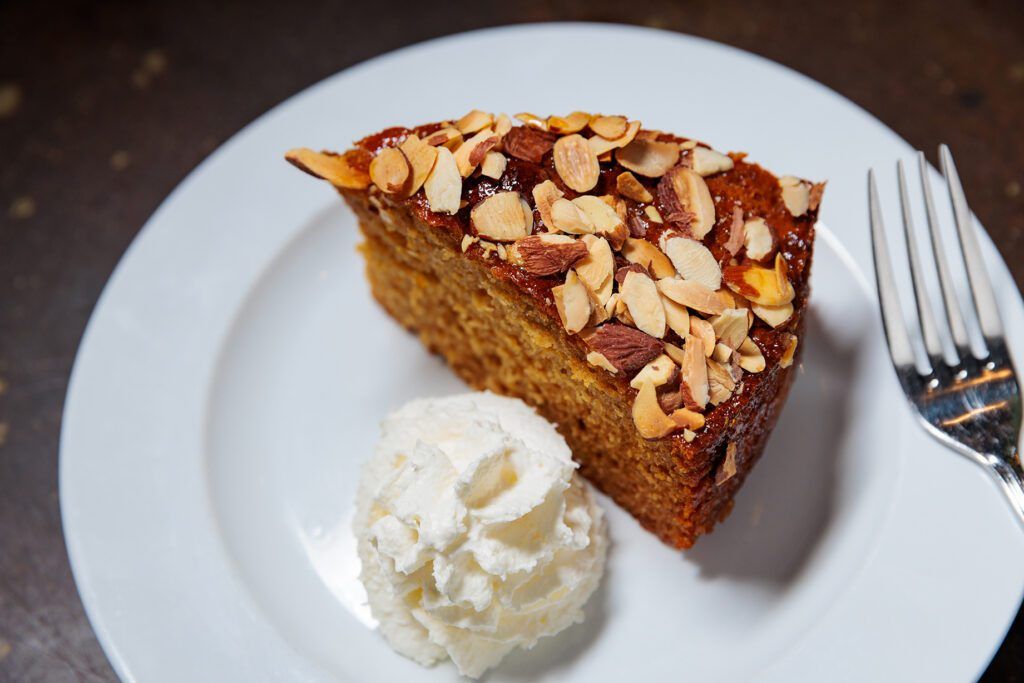 Cardamom Spiced Honey Cake
Ingredients:
3 cups flour
1 tsp. baking soda
1
½

tsp. baking powder
2 tsp. cardamom
12 Tbsp. (1 1⁄2 sticks) butter
1

½

cups honey
3 eggs
1 cup whole buttermilk
1 tsp. vanilla
Preheat oven to 350 degrees and lightly grease a springform pan. Combine dry ingredients in a bowl and whisk briefly to evenly distribute. Add remaining ingredients to a stand mixer fitted with a paddle attachment and blend. Slowly add dry ingredient mixture to form a batter. Pour batter into greased pan and bake for approximately 50 to 60 minutes, removing from oven when a knife inserted in center comes out clean. Cool completely, then unmold.
Satsuma-Honey Glaze:
1
 

cup satsuma juice


½

cup honey
Combine ingredients and bring to a boil. Turn down heat and reduce by half. Allow to cool.
Chantilly Cream:
1 cup heavy cream
1 Tbsp. powdered sugar
¼ tsp. vanilla
Beat cream until soft peaks form. Blend in sugar and vanilla.
To serve:
Pour
½

to

¾

cup (depending upon taste) of satsuma glaze all over top of cake. Slice cake into 8 pieces. Place each piece in the center of a dessert plate and garnish with a dollop of Chantilly cream.