Cuisine: First Louisiana Christmas
---
When you uproot your kids and move a time zone away from family and friends, holiday traditions can get shaken up. Our first Christmas after moving to Baton Rouge, we promised our trio of daughters the ritual of the big family celebration in West Virginia would endure. It's the only Christmas they know, and off we trekked in search of snow and the ever-expanding table. As promised, I concocted our forever menu of roasted beef tenderloin, braised green beans and crispy new potatoes. Almost as soon as the dishes were washed, we pointed the car for Baton Rouge.
As our roots began to shoot in our new hometown, I proposed the unthinkable: "Let's have Louisiana Christmas!" Convincing them to give up snow for sunshine and spice was easier than I predicted, but what I didn't offer was that the menu would change with the venue.
A stroll through the Red Stick Farmers Market made tweaking our traditional fare a snap. I picked up a small piece of beef tenderloin for the grill, green beans to dress with Creole mustard and pecans, and sweet potatoes for experimenting.
As I unloaded my haul for the new menu dress rehearsal, my daughter called from New York. "What are you doing today?" she asked in between bites of homemade cookie. I blurted out my news to silence on her end. "Oooohhh. You're diverging?"
After a comment like that, I knew I had to fine-tune my kitchen dance to ward off any naysayers.
I blended my own blackening seasoning for the beef and sprinkled some across the accordion-cut sweet potatoes, which were drizzled with spicy cream before baking. In the same hot oven, I roasted the green beans crisp-tender and tumbled them with a familiar shallot
dressing.
After a forkful of each, I humbly declare the menu revisions to be a win! I'm ready to set the table for five. Louisiana Christmas, the first of many, can't come soon enough.
---
ACCORDION SWEET POTATO GRATIN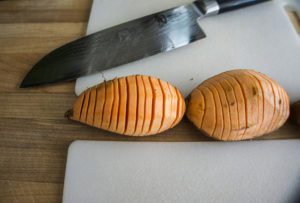 Riffing on the classic "hasselback" potatoes, sweet potatoes are accordion-cut, seasoned and baked in cream for a decadent and delicious holiday side.
6 small sweet potatoes
1 Tbsp. House Blend Seasoning (recipe below), divided
1 cup heavy cream
Preheat oven to 425 degrees. Lay potatoes flat on a work surface and remove peel from top half of each. Place potatoes between 2 thin cutting boards (or 2 wooden spoon handles) and make thin crosswise cuts in each potato. Cutting boards will prevent knife from cutting all the way through potato, leaving bottom band of potato intact. Repeat process with all potatoes and carefully fan slices out to make space for seasoning.
Place potatoes in 1 tight layer in a baking dish (I used a 7-inch cast-iron skillet), and sprinkle with 1 tsp. House Blend Seasoning, distributing evenly among potato fans.
Whisk cream with remaining 2 tsp. House Blend Seasoning, and drizzle over potatoes, allowing excess to pool in baking dish.
Bake until cream is golden and bubbling and potatoes are tender when pierced with a toothpick, about 45 minutes. Serve each with a spoonful of thickened cream
---
HOUSE BLEND SEASONING
There are tons of great Cajun blends out there. Here's my version.
2 tsp. garlic powder
2 tsp. paprika (I use a bit each of sweet, smoked and spicy)
1
1

⁄2 tsp. coarse salt
1 tsp. cayenne
1 tsp. coarse black pepper
1 tsp. dried thyme


1

⁄2 tsp. sugar
Combine all ingredients in a small bowl to blend. Store in an airtight container until ready to use.
---
GREEN BEANS WITH SHALLOT-PECAN DRESSING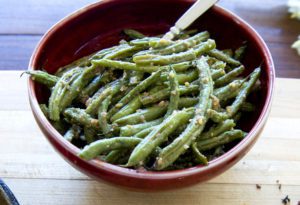 1 lb. slender green beans, stem ends and any strings removed
1 Tbsp. plus
1

⁄2 cup pecan oil, divided
1 large shallot
2 Tbsp. sherry vinegar


1

⁄2 tsp. each coarse salt and black pepper
1 tsp. Creole mustard
1 tsp. cane syrup (I used Steen's)


1

⁄2 cup pecan oil


1

⁄4 cup roasted pecans
Preheat oven to 425 degrees. Toss green beans with 1 Tbsp. pecan oil on a rimmed baking sheet, and roast until desired tenderness, about 15 minutes for crisp-tender. Transfer to a serving bowl.
Drop shallot through feed tube of food processor with motor running. Add vinegar, salt and pepper, mustard and cane syrup. Pulse to combine. With motor running, add 1⁄2 cup pecan oil through feed tube in a thin stream, then pulse in pecans until desired consistency.
Drizzle 3 to 4 Tbsp. of the dressing over warm beans and toss to combine. Keep remaining dressing refrigerated in an airtight container for tomorrow's green salad.
---
BLACKENED BEEF TENDERLOIN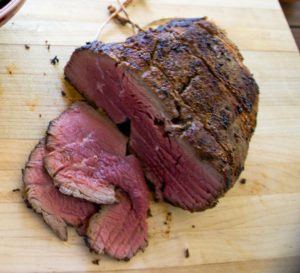 I usually roast a whole beef tenderloin for the WV crowd, but for our gathering of five, a filet head is the perfect amount.
2 Tbsp. House Seasoning Blend (recipe above)
1
1

⁄4 lb. beef filet head, tied with

 

string to make a uniform piece (I discovered this ready-to-cook tenderloin at Iverstine's)
1 Tbsp. clarified butter
Sprinkle House Seasoning Blend on a clean work surface, and roll beef in seasoning to completely coat. Let sit at room temperature for about 1 hour to take chill off beef.
Preheat oven to 425 degrees. Heat clarified butter in a large cast-iron skillet over medium-high heat, just until it begins to smoke. Using tongs, lay beef in hot skillet and turn in a rolling motion every 2 minutes until evenly blackened, about 8 to 10 minutes total. Place skillet into preheated oven and cook to desired doneness, about 5 minutes for medium-rare. Let rest for 10 minutes before slicing.