Aimee's Pretty Palatte: Taste of the Tropics
---
Whether you're cooling down poolside at home or lucky enough to indulge somewhere on the beach, this month's recipes are seasonally appropriate for beating the heat while still enjoying something sweet. 
With variations of charcuterie boards still in high demand, summer months are the perfect excuse to lighten things up by swapping out the salty meats and crackers with tropical fruit for a beautiful poolside snack. 
Fresh fruit tossed (or dipped) with my three-ingredient Honey Yogurt Dressing ensures a fruit board that is as delicious as it is beautiful. Add some homemade Baked Cinnamon Chips and skip the guilt of overly processed store-bought chips.  
Wash it all down with some perfect for poolside sipping Frozen Pineapple Coconut Margaritas. No need to choose between a piña colada and a margarita, just combine the two in this tasty twist on the classics. Add an umbrella, close your eyes and play pretend you are transporting yourself somewhere tropical if a vacation is still not in the cards this year. 
---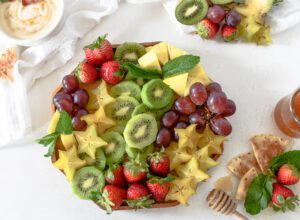 Tropical Fruit Salad with Honey Yogurt Dressing
Ingredients:
Mixed fruits (your choice!)
1 cup vanilla-flavored Greek yogurt
1/4 cup honey
1/2 tsp. vanilla extract
Whisk together yogurt, honey and vanilla in a small bowl. For a fruit salad, top cut fruit with dressing. Toss and enjoy immediately. For a fruit board, serve alongside fresh fruit and use as a dip with Cinnamon Chips (recipe follows).
Makes 8 servings.
---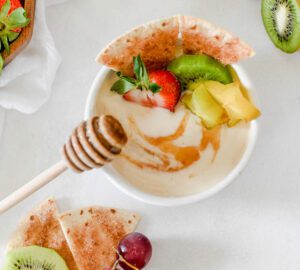 Cinnamon Chips
Ingredients:
10 (8-in.) flour tortillas
1/4 cup butter, melted
1/3 cup sugar
2 tsp. ground cinnamon
Preheat oven to 350 degrees. Brush tortillas with butter; cut each into 8 wedges. In a small bowl, combine sugar and cinnamon; sprinkle over wedges. Place on ungreased baking sheets. Bake at 350 degrees for 8 to 10 minutes or just until crisp.
Allow chips to rest for about 5 minutes so that they have time to fully crisp.
Makes 6-8 servings.
---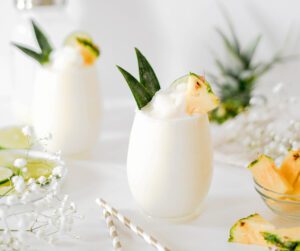 Frozen Pineapple Coconut Margaritas
Ingredients:
Lime wedges and kosher salt for rimming glasses (optional)
4 oz. pineapple juice
2 oz. coconut milk
4 oz. Calypso coconut tequila
3-4 teaspoons agave nectar (more or less depending on how sweet you prefer your margarita)
Juice of 1 lime
2-3 cups ice
For garnish: Lime and pineapple wedges (optional)
If desired, use a lime wedge to coat edge of glasses in lime juice. Dip the rim of each lime-coated glass into a small flat plate with salt, and turn edge of glass in salt.
Pour pineapple juice and coconut milk into a blender, and blend until smooth. Add coconut tequila, agave nectar and lime juice; blend. Add ice, 1 cup at a time, and blend until desired consistency is reached. Pour into glasses and garnish each with a lime slice and pineapple wedge, if desired.
Makes 2 servings.
---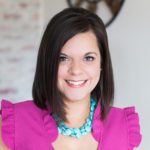 Aimee Broussard is a Southern food blogger and award-winning cookbook author. Seen on QVC, Rachael Ray and more, she is a self-proclaimed accidental entrepreneur with a penchant for porches and sweet hospitality. Find her online at aimeebroussard.com.