Aimee's Pretty Palate: Perfect for a picnic
---
You know what they say, April showers bring May flowers, but I'm going to say it brings with it what could be your only opportunity for some delightful picnic weather down here on the bayou. Soon it will be obnoxiously hot, and unless you plan on picnicking somewhere covered and preferably underneath a fan, the thought of a picnic is, well, merely a nice thought.
As unofficial queen of the picnic (I did write a cookbook on the topic, after all), this month I'm sharing what's inside my personal picnic basket and some tips to help things go smoothly.
For starters, if you find your significant other unimpressed with your picnic plans, it's because you're not upping the ante with your sandwich. "Want to grab a turkey sandwich and go on a picnic?" Eh. "Join me for a picnic? I've got Spicy Avocado Bacon & Egg Sandwich Stackers. Did you hear, they have BACON!" Got your attention now, don't I? Be sure to wrap the sandwiches with parchment paper or strips of a brown paper bag to keep things nice and tidy.
My Yo-Yo Fruit Dip requires minimal ingredients and is the perfect complement to summer's favorite fruits … and the Louisiana temps. To package, and not waste unused dip, put the dip at the bottom of a Mason jar, top with fruit, and keep it ice cold prior to your picnic plans.
And last but not least, my Grandma's Oatmeal Raisin Cookies are perfect for picnic snacking, ballgame watching, or simply when you need something nostalgic and satisfying. They are better than the grocery, y'all. I pinky promise, cross my heart.
---
SPICY AVOCADO BACON & EGG SANDWICH STACKERS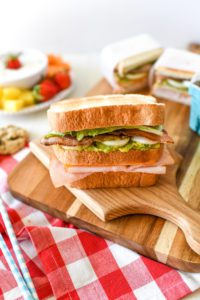 Ingredients:
2 avocados
¼ cup sour cream
1 tsp. salt
¾ tsp. ground coriander
½ tsp. chili powder
¼ tsp. cayenne pepper
Juice of 1 lime
1 loaf thick sandwich bread
1 lb. deli-sliced turkey (or other sandwich meat of your choice)
1 lb. cheddar cheese, sliced
1 lb. sliced bacon, cooked
6 hard-boiled eggs, thinly sliced
Romaine lettuce (optional)
Scoop insides of avocado into bowl of food processor. Add next 6 ingredients and pulse until smooth. Adjust seasonings if necessary. Refrigerate.
Lightly toast bread slices (they hold up better than untoasted bread). For each stack, add turkey and cheese to a slice of bread. Top with a second slice of bread, and spread with avocado mixture. Place egg and bacon slices on top. Top with a third slice of bread. Cut sandwich in half, and wrap with parchment paper. Repeat for remaining stackers.
Makes 6 to 8 servings.
---
YO-YO FRUIT DIP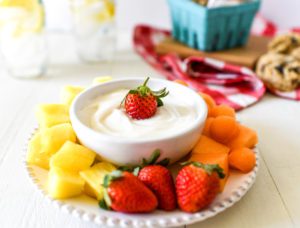 Ingredients:
8 oz. cream cheese, softened
1 (8-oz.) container lemon yogurt
1 Tbsp. lemon juice
Fresh fruit
Combine cream cheese, yogurt and lemon juice, and beat at low speed until smooth and creamy. Chill until ready to serve. Serve with fresh fruit.
---
GRANDMA'S OATMEAL RAISIN COOKIES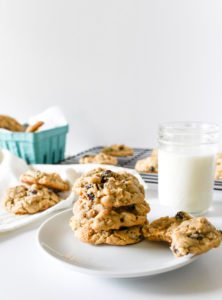 Ingredients:
½ cup shortening
2 eggs
1 ¼ cups sugar
1/3 cup brown sugar
1 tsp. vanilla extract
1 ¾ cups all-purpose flour
1 Tbsp. baking soda
1 tsp. salt
1 tsp. cinnamon
2 cup oats
¾ cup raisins
Preheat oven to 375 degrees. Beat shortening, eggs, sugar, brown sugar and vanilla extract until well combined.
In a separate bowl, whisk together flour, baking soda, salt, cinnamon and oats. Add to sugar mixture gradually, scraping bowl between additions. Fold in raisins.
Using a cookie scoop, drop onto cookie sheet about 2 inches apart. Bake for 10 to 12 minutes or until lightly browned.
Makes 2 to 3 dozen cookies.
---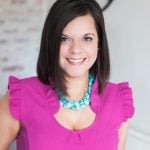 Aimee Broussard is a Southern food blogger and award-winning author. Her recent cookbook Picnics, Potlucks & Porch Parties debuted exclusively on QVC. Join Aimee for weekly recipes with a side of Southern hospitality on her blog, southernfromscratch.com.