Aimee's Pretty Palate: Leftover Love
'Tis the season for welcoming in a new year! While I won't bother with offering a helping hand should healthier eating be atop your list of resolutions (my new cookbook is cake focused, after all!), I am sharing what I've declared as something food related that I want to tackle this year: reducing food waste in my home and learning to love my leftovers.
Did you know that nearly 40% of all prepared food in America goes to waste? I recently watched the documentary Just Eat It: A Food Waste Story, where filmmakers discuss "the issue of waste from farm, through retail, all the way to back of their own fridge." The filmmakers turned themselves into test subjects, eating only what would otherwise be discarded food for a period of six months. Watching it called attention to how much food gets tossed in my own household simply because we get tired of leftovers.  
So, with my new recipe repurposing resolution in place, I'm beginning to look at meal planning with new eyes. Rather than focusing on the daily question of what's for dinner tonight, I'm instead looking ahead at what's for dinner for the week, but rather than simply assigning leftovers to a certain day, I'm looking at ways to breathe new life into those meals to keep them from feeling like, well, leftovers.  
Shredded Chicken Carnitas work well for Taco Tuesday nestled inside tortillas, but also serve double duty in a rice bowl, or on top of a salad. An added bonus is that they are made in the slow cooker, meaning it's a fix-it-and-forget-it meal perfect for post-holiday, not-in-the-mood-to-cook-anymore vibes. 
Made a batch of your favorite spaghetti and don't want it for lunch the next day? Transform it into Leftover Spaghetti Pie! With the addition of a couple of ingredients and baked into a pie dish, slicing your spaghetti will feel like you're eating something new. Add a side salad to round out the meal. 
Didn't use all your cranberries over the holidays? Toss them in my Cranberry Orange Muffins for a delicious kick start to your morning, or for a tasty afternoon treat. 
To keep myself accountable throughout the year, I'm going to create a new category on my website where I'll post my rescued and revived leftovers progress. Be sure to take a peek if you find yourself heading toward the trash can! 
---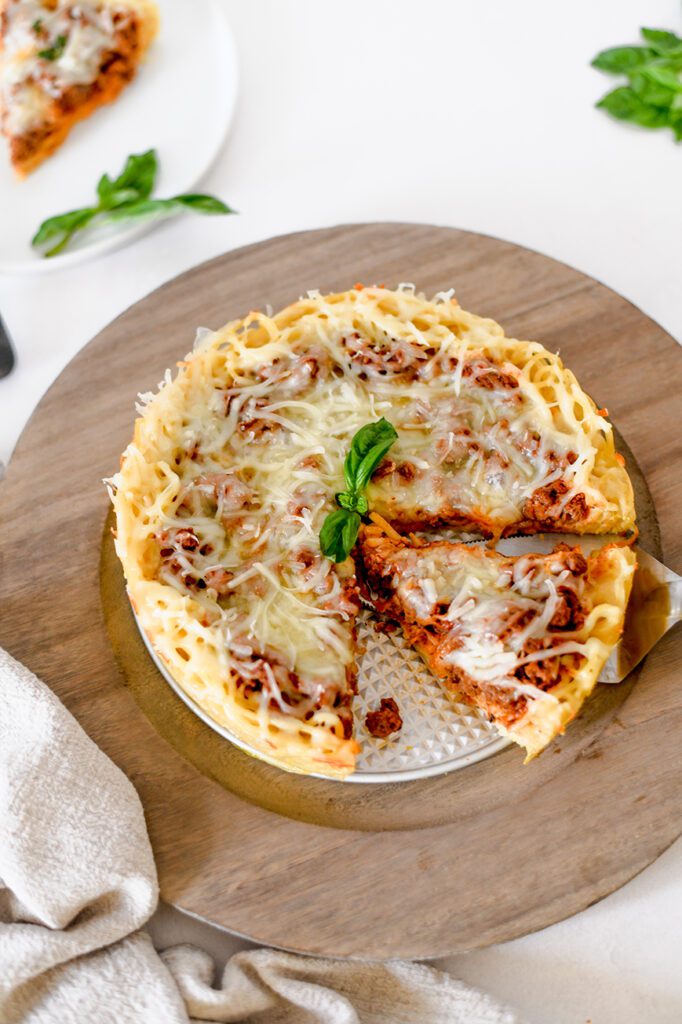 Leftover Spaghetti Pie
Ingredients:
8 oz. spaghetti, cooked
2 Tbsp. olive oil
2 eggs, well beaten
¾ cup shredded parmesan cheese
1 cup shredded mozzarella cheese, divided
1½ cups pasta sauce
Preheat oven to 350 degrees. Spray a 9-inch baking pan with non-stick cooking spray. (I use a springform cake pan.)
Toss spaghetti with olive oil in a large bowl. Stir in eggs and parmesan cheese. Pour spaghetti mixture into prepared pan; form into a crust by gently pressing against bottom and sides of pan. Spoon pasta sauce over spaghetti. Bake for 25 minutes. Remove dish from oven, top with half of mozzarella cheese, and return to oven for an additional 5 minutes or until cheese is melted. Sprinkle remaining mozzarella over top, and allow pie to cool for 10 minutes before removing springform and cutting.
Makes 4-6 servings.
---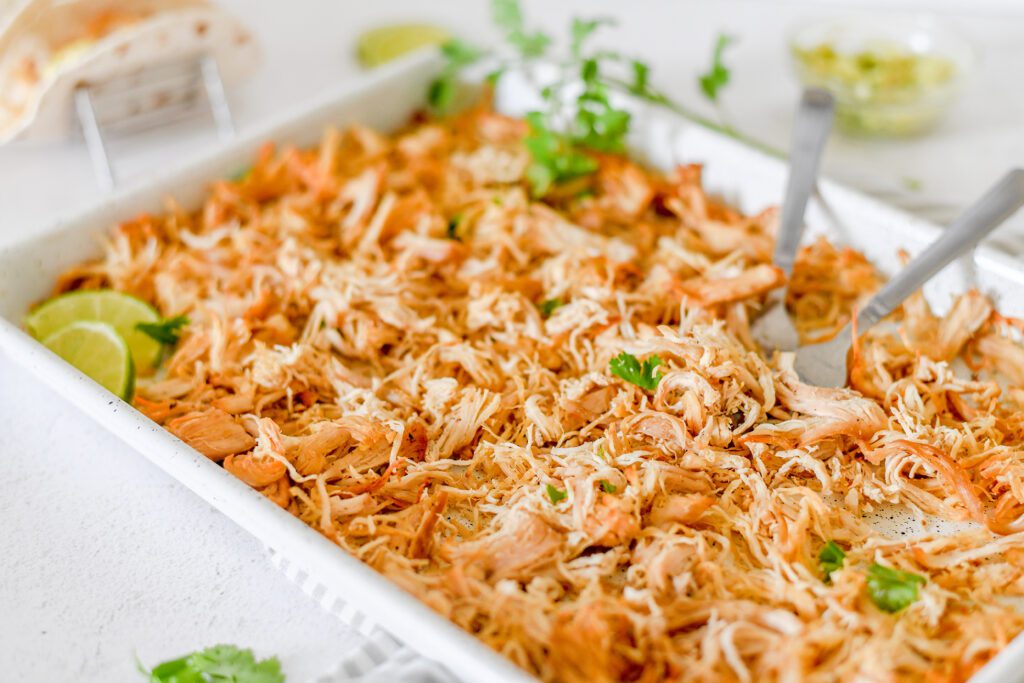 Slow Cooker Chicken Carnitas
Ingredients:
1 tsp. salt
1 tsp. cumin
1 tsp. chili powder
½ tsp. paprika
½ tsp. oregano
½ tsp. roasted garlic powder
¼ tsp. black pepper
2 lbs. boneless, skinless chicken
½ cup chicken stock
2 Tbsp. olive oil
2 tsp. lime juice (optional)
In a small bowl, combine salt, cumin, chili powder, paprika, oregano, garlic powder, and black pepper.
Place chicken in slow cooker and coat chicken with seasonings. Pour chicken broth around sides of chicken. Place lid on slow cooker and cook until chicken is tender and juices run clear, 3 to 4 hours on high or 7 hours on low.
Once chicken is done, use a slotted spoon to remove it from slow cooker and transfer to a cutting board. Shred chicken with 2 forks. Toss chicken with olive oil and spread evenly on a sheet pan. Season with additional salt and pepper to taste.
Turn on oven's broiler. Place chicken beneath broiler and cook until edges are crisp and golden brown, about
8 to 10 minutes. Watch it closely to prevent burning.
Drizzle lime juice over chicken, and serve.
Makes 6 servings.
---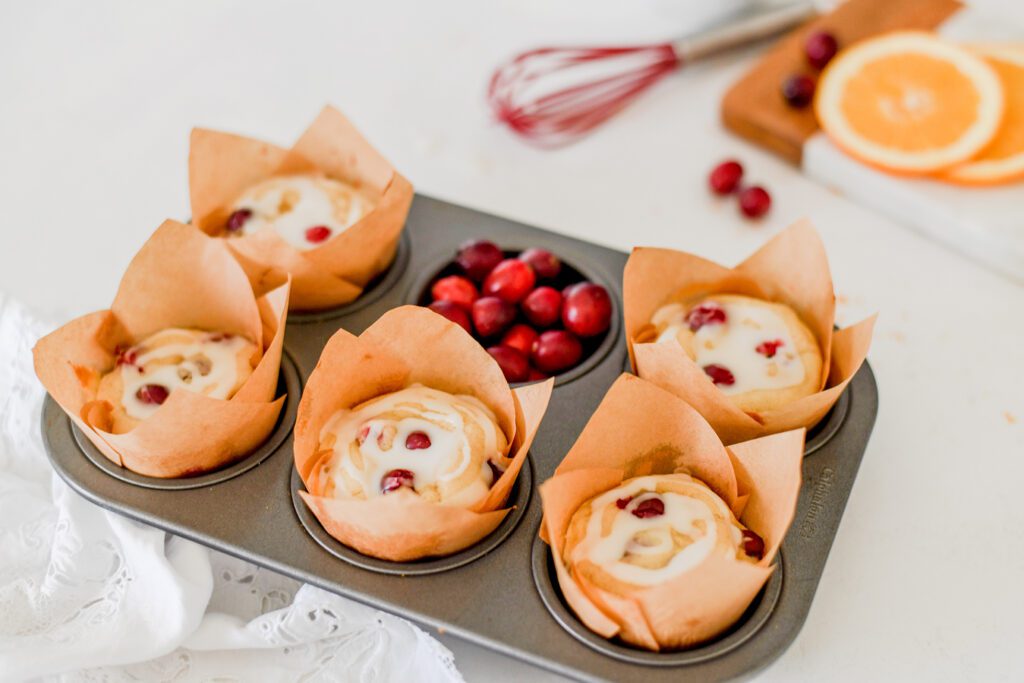 Cranberry Orange Muffins
Ingredients:
4 Tbsp. butter, softened to room temperature
¼ cup sugar
1 egg, at room temperature
¼ cup sour cream
1 tsp. vanilla extract
Zest of 1 medium orange
1 ¼ cups all-purpose flour
½ tsp. baking soda
½ tsp. baking powder
¼ tsp. cinnamon
¼ tsp. salt
4 Tbsp. orange juice, divided
2 Tbsp. milk
1 cup fresh or frozen cranberries (do not thaw)
½ cup powdered sugar
Preheat oven to 350 degrees. Spray a 6-count muffin pan with nonstick cooking spray or line with cupcake liners.
In the bowl of a stand mixer fitted with the paddle attachment, beat butter and sugar together until smooth and creamy. Scrape down sides of bowl and add egg, sour cream and vanilla extract. Beat for another minute until fully combined. Add orange zest.
In a separate medium bowl, whisk together flour, baking soda, baking powder, cinnamon and salt.
In stand mixer, replace paddle attachment with whisk attachment, and add dry ingredients to butter mixture a little at a time. Add 2 Tbsp. orange juice and milk, whisking until just combined. Fold in cranberries.
Spoon batter into prepared muffin pan, filling to top. Press additional cranberries on top, if desired. Bake for 15 to 18 minutes or until toothpick inserted into center of a muffin comes out clean. Allow muffins to cool while making glaze.
To make glaze, whisk together powdered sugar and 2 Tbsp. orange juice until smooth and well combined. Drizzle over warm muffins.
Makes 6 muffins.
---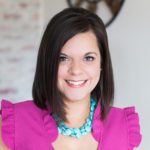 Aimee Broussard is a Southern food blogger and award-winning cookbook author. Seen on QVC, Rachael Ray and more, she is a self-proclaimed accidental entrepreneur with a penchant for porches and sweet hospitality. Find her online at aimeebroussard.com.