Aimee's pretty palate: Farmers market finds
---
With summer upon us, there is no better time to head to the local farmers market and produce stands to take advantage of the season's best and tastiest offerings.
While butternut squash is considered a winter variety, I find it available pretty much year round and see no reason to limit it in the summertime. It is a wonderful side dish substitute for sweet potatoes served warm as in my Honey-Roasted Butternut Squash recipe, but it is also equally fabulous served chilled on top of a salad.
Typically, you'll be hard pressed to get me excited about eating zucchini; however, my Shrimp and Edamame Zoodle Stir-Fry will have you running out to purchase a spiralizer to create zucchini noodles (zoodles) of your own … forgetting all about your aversion to zucchini. Just me with an issue with vegetables? That's OK, all the more reason that this recipe will appeal to even the pickiest of eaters.
And last but not least, I'd be remiss if I didn't end with something seasonal and sweet. My Bakery-Style Blueberry Muffins use blueberries straight from the freezer and from last season's pick at Blue Harvest Farms in Covington. I light up like a Christmas tree when the email goes out saying the bushes are ready for pickin'.  If you've never been to a u-pick farm, I urge you to find one and take the family. It's a sweet way to spend the morning!
---
SHRIMP AND EDAMAME ZOODLE STIR FRY
Don't worry about peeling the zucchini prior to spiralizing. You need the skin to help the zoodles retain their shape; otherwise, you'll have a sloppy mess.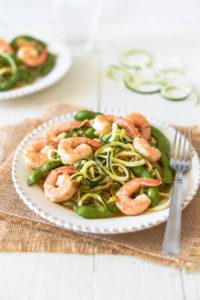 Ingredients:
3 Tbsp. vegetable oil, divided
1 lb. shrimp, peeled and deveined
2 medium zucchini, spiralized and patted dry with paper towel
1 pkg. shelled edamame, steamed
1 Tbsp. soy sauce
2 Tbsp. teriyaki sauce
1 Tbsp. sesame seeds
Heat 2 Tbsp. vegetable in a large skillet over medium heat. Add shrimp and cook until they begin to turn pink, turning once, about 3 minutes. Remove to a plate. Add remaining 1 Tbsp. vegetable oil to same pan, and stir in zucchini zoodles; continue to cook for 2 minutes. Add edamame, soy sauce, teriyaki sauce and sesame seeds; toss and continue to cook for 5 minutes or until zucchini is tender. Remove from heat and serve.
Makes 4 servings.
---
HONEY-ROASTED BUTTERNUT SQUASH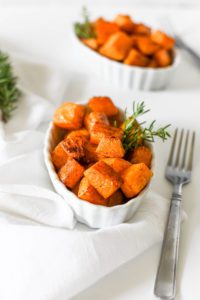 Ingredients:
1 large butternut squash, peeled, seeded and cut into 1-inch cubes
2 Tbsp. olive oil
½ tsp. ground cinnamon
1 tsp. kosher salt
2 Tbsp. honey
Preheat oven to 400 degrees, and line a large baking sheet with parchment paper.
Toss squash cubes with olive oil, cinnamon and salt until well coated, and spread in an even layer on baking sheet. Avoid crowding squash cubes.
Bake squash, turning once midway through baking, until edges are lightly browned and centers are tender, about 30 to 35 minutes. After the initial 30 minutes and once squash is tender, remove pan and brush honey onto tops of squash. Return to oven and broil for 2 minutes to allow honey to caramelize.
Makes 4 servings.
---
BAKERY-STYLE BLUEBERRY MUFFINS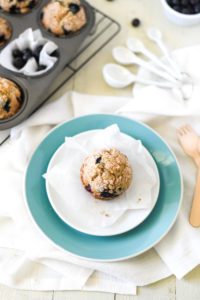 Ingredients:
2
1

⁄

3

cups all-purpose flour, divided
¼ tsp. salt
½ tsp. baking soda
2 ½ tsp. cinnamon, divided
2 eggs
1 cup sugar, divided
½ cup brown sugar
½ cup butter, melted
1 tsp. vanilla extract
½ cup sour cream
1 ½ cups blueberries, dusted in flour
4 Tbsp. cold butter, cubed
Preheat oven to 350 degrees. Spray a 12-cup muffin tin with non-stick cooking spray or line with paper liners. In a medium bowl, mix together 2 cups flour, salt, baking soda and 1 tsp. cinnamon. In the bowl of a stand mixer, beat eggs together with ½ cup sugar until creamy. Add ½ cup melted butter, vanilla and sour cream. Add flour mixture a little at a time to wet ingredients. Mix until combined, but do not overbeat. Gently fold in blueberries. Scoop batter into prepared muffin cups about ¾ full.
For topping, using a pastry cutter (or two forks), combine
1

⁄

3

cup flour, 1 ½ tsp. cinnamon, ½ cup sugar, and
4 Tbsp. cold butter. Sprinkle over muffins. Bake for 18 to 20 minutes or until muffins puff up and a toothpick inserted into center comes out clean.
Makes 12 muffins.
---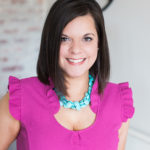 Aimee Broussard is a Southern food blogger and award-winning author. Her recent cookbook Picnics, Potlucks & Porch Parties debuted exclusively on QVC. Join Aimee for weekly recipes with a side of Southern hospitality on her blog, southernfromscratch.com.