Aimee's Pretty Palate: Boy, am I stuffed!
---
Ready, set, stuff! This month we are taking traditional recipes and "stuffing" them, making things a bit less traditional and dinner time a tad more fun and exciting. Let's face it: sometimes dinner can get a bit boring, but I'm here to liven things up.
Got a picky eater who wouldn't dare eat zucchini? Try my Hidden Veggie Taco Stuffed Zucchini Boats. Not only are they a healthier alternative to Taco Tuesday, there's zucchini mixed into the filling that no one needs to know about. Let them refuse to eat the "boat" and know that you're still winning the veggie war.
My Jambalaya Stuffed Peppers are delicious, easy and practically perfect anytime. Whether it's shaking up your weeknight dinner rotation, enjoying them for lunch or serving them at your next football watch party, they are sure to get rave reviews.
And as always, life is sweeter when you finish off with dessert. The Cherry Pie Cake Bars are exactly that: cake bars stuffed with cherry pie filling. A piece of cherry pie-tasting cake that you can eat with your hands, that is. Holy moly!
---
HIDDEN VEGGIE TACO STUFFED ZUCCHINI BOATS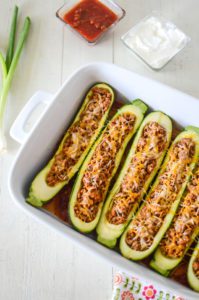 A healthier alternative to Taco Tuesday, and a super secret way to add in some extra veggies.
4 medium zucchinis, cut in half lengthwise
1 lb. lean ground turkey
1 tsp. garlic powder
1 tsp. salt
1 tsp. chili powder
1 tsp. paprika
1 tsp. oregano

1

⁄2 small onion, finely chopped


1

⁄2 small bell pepper, finely chopped
1 (4-oz.) can tomato sauce


1

⁄4 cup water


1

⁄2 cup Mexican blend shredded cheese
6 to 8 Tbsp. sour cream, optional (for topping)
Chopped green onions (for topping)


1

⁄2 cup mild salsa
Preheat oven to 350 degrees. Using a small spoon or melon baller, hollow out the center of each zucchini half, leaving a
1

⁄4-inch-thick shell. Place zucchini halves on a baking sheet, cut side down, and bake for 10 to 15 minutes. Set aside to cool.
Chop
1

⁄2 cup of scooped-out flesh of zucchini in a food processor (or chop by hand if you don't mind zucchini chunks), and set aside to use in taco filling.
Brown turkey in a large skillet. When no longer pink, add spices and mix well. Add onion, bell pepper, reserved zucchini, tomato sauce and water. Stir. Cover and simmer on low for about 20 minutes or until thickened.
Using a spoon, fill zucchini "boats" with taco filling, pressing firmly as you go to get adequate filling in each. Sprinkle each zucchini boat with shredded cheese. Cover with aluminum foil and return to oven for 35 minutes or until cheese is melted and zucchini is cooked through. Top with a dollop of sour cream and chopped green onions if desired. Serve with salsa on the side.
Yield: 4 servings.
---
JAMABALAYA STUFFED PEPPERS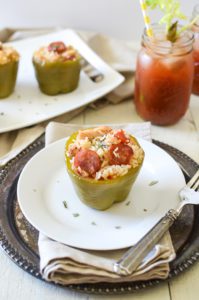 An easy weeknight meal swap, this dish is also great for weekday lunches or even weekend football parties.
6 to 8 large bell peppers (any color)
2 small chicken breasts, cubed
1 tsp. pepper
2 tsp. salt, divided
1 Tbsp. olive oil
1 small onion, diced

1

⁄2 cup celery, diced
1 medium red bell pepper, diced
2 cups chicken stock


1

⁄2 (14.5-oz.) can diced tomatoes (or chop a fresh tomato)
2 cups andouille sausage, sliced
1 Tbsp. Creole seasoning
1 cup rice, uncooked
Dried basil or chopped green onions (for garnish)
Preheat oven to 375 degrees. Cut off tops of peppers and hollow out insides; discard insides. If peppers don't stand up on their own, thinly slice uneven portion off bottom of peppers to help them stand.
Prepare a large, high-sided baking pan or casserole dish with non-stick cooking spray, and arrange bell peppers in pan.
Season chicken with 1 tsp. each of salt and pepper; set aside.
Heat oil over medium heat and sauté onions, celery and diced red bell pepper until translucent. Slowly stir in chicken stock, tomatoes and sausage. Add remaining 1 tsp. salt along with Creole seasoning. Bring to a boil. Add cubed chicken and rice. Allow to come to a boil, then carefully ladle mixture into peppers. Cover with aluminum foil and bake for 40 to 45 minutes.
Note: Mixture will be runny. Be sure to add the liquid into the peppers to allow the rice to cook adequately.
Yield: 6 servings.
---
CHERRY PIE CAKE BARS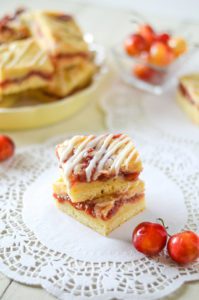 Bar recipes are perfect for potlucks because they're so easy to serve. These are similar to biting into a piece of cherry pie, but the batter is more like a cake.
3 cups all-purpose flour
1 tsp. salt
1 cup butter, softened
2 cups sugar
4 eggs
1
1

⁄2 tsp. vanilla extract, divided


3

⁄4 tsp. almond extract, divided
1 can (21 oz., or largest you can find if you really like cherry) cherry pie filling
1 cup powdered sugar
About 1 Tbsp. milk
Preheat oven to 350 degrees. Grease a 9 x 13-inch baking dish. In a mixing bowl, whisk together flour and salt; set aside. In the bowl of an electric mixer, beat butter and sugar until light and fluffy. Mix in eggs 1 at a time, then add 1 tsp. vanilla extract and
1

⁄4 tsp. almond extract. Reduce mixer speed to low and add flour mixture a little at a time; mix until well combined. Reserve 1

1

⁄2 cups batter. Spread remaining batter evenly into prepared baking dish. Top with cherry pie filling, spreading evenly. Drop spoonfuls of reserved batter over top of filling.
Bake for 30 to 35 minutes or until light golden and a toothpick inserted in center comes out clean. Cool completely on a wire rack.
Mix together glaze by whisking together powdered sugar with
1

⁄2 teaspoon vanilla extract,

1

⁄2 teaspoon almond extract, and enough milk to reach desired consistency. Pour into a resealable bag (or piping bag) and cut a small tip from one corner. Drizzle glaze over cooled bars. Allow bars to chill in refrigerator for a couple of hours, then cut into squares and serve slightly chilled.
---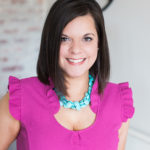 Aimee Broussard is a Southern food blogger and award-winning author. Her recent cookbook Picnics, Potlucks & Porch Parties debuted exclusively on QVC. Join Aimee for weekly recipes with a side of Southern hospitality on her blog, southernfromscratch.com.