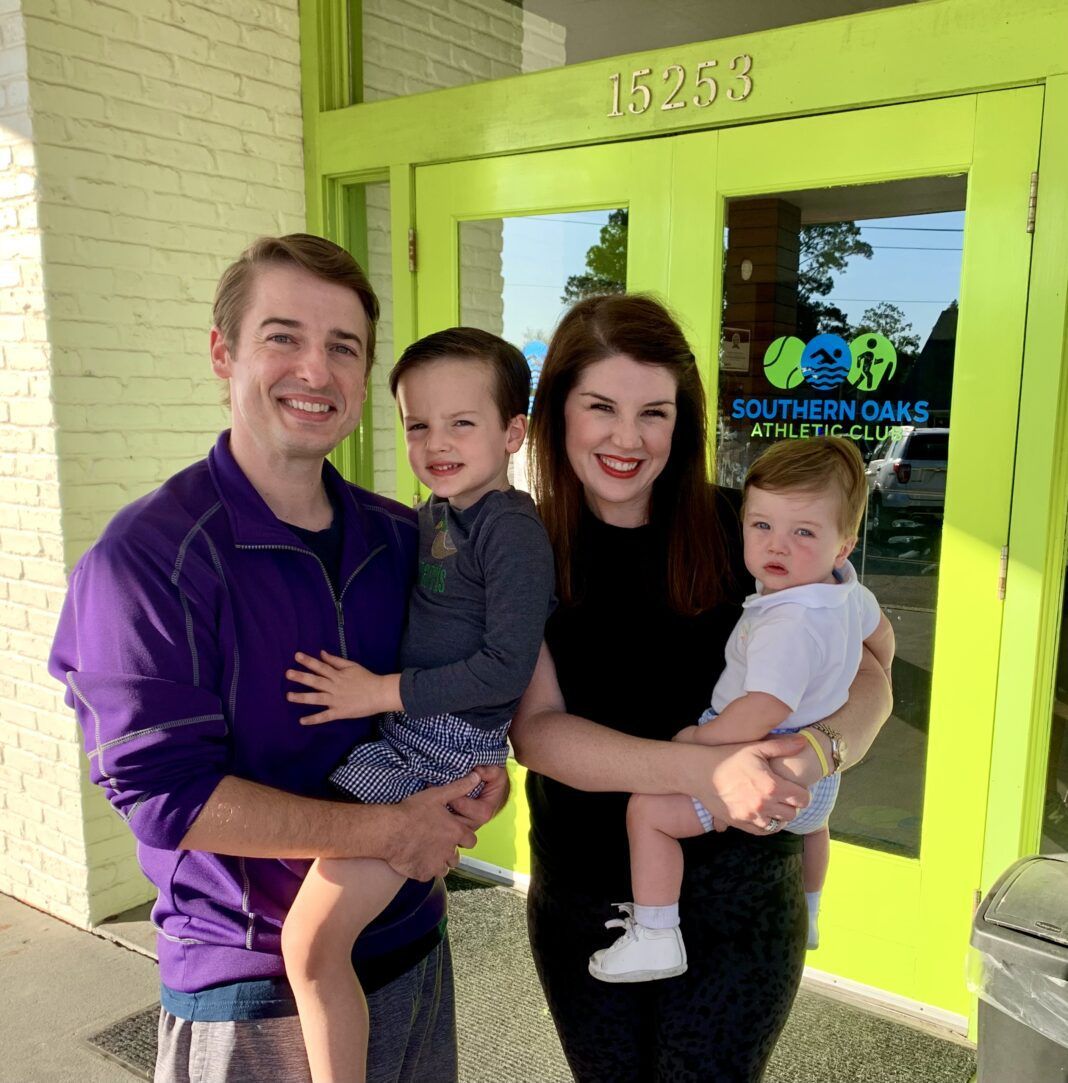 Sponsored by Southern Oaks Athletic Club
After belonging to a woman's only gym for more than a decade, now mother-of-two Lindsay Guerin was looking for a fitness club with opportunities for everyone in the family. At Southern Oaks Athletic Club, the swimming pool is a main draw, but the club has many amenities offered year-round. Here are the top reasons SOAC is the fitness club of choice for Guerin and her family.
Lots of class options
Guerin's favorite class at SOAC is called Refit. It combines a powerful dance workout with positive music. All Group X classes are appropriate for ages 16 and up and all exercise levels are welcome. Guerin says she loves the class so much it's one of the reasons she joined SOAC – she followed the instructor here!
Barre, Yoga and Mat Pilates classes are another appeal. Members get the same high-quality instruction without the added fees of a studio. You can also find Indoor Cycling and Box & Burn formats along with other cardio and weight training classes, including outdoor circuit training and summer aquatics classes. Plus, you have the freedom to create your own workout in the well-designed weight room with ample choices from cable machines, free weights, barbells and benches. In all, SOAC offers more than 50 fitness classes weekly.
The Fun Zone
While Guerin works out, her 4-year-old son happily plays at The Fun Zone, a children's area with both inside and outside play options. The children do art projects, enjoy tons of toys and socialize with their friends. With desks for arts, crafts, and assignments, older kids can even get homework done!
Now that Guerin's youngest child is 1, he'll be joining his brother at The Fun Zone. The hours are great, and the staff is friendly and professional.
Help with dinner
Unless you are diligent about meal prepping, it can be difficult to serve a healthy meal after a long day. SOAC makes it easy to make better choices and avoid the drive through.
Each month, SOAC sends out a menu to its members, and they are able to sign up for family meals that serve four prepared by Executive Chef Kevin Black. The pickup is convenient, and the amount is charged to your account every month, so it's hassle free.
SOAC also offers healthy, grab & go, single-serve lunch options, as well as a patio menu with snacks, salads, flatbreads, burgers, wraps and more.
Year-round family fun
There is always something happening at SOAC! Whether it's live music, tailgates on the patio, special wine or bourbon tasting events or bingo nights, there are so many options for the whole family. During the holidays, one of Guerin's favorite events is an open house with local vendors for shopping, Santa and a bounce house for kids.
Then, there's tennis. SOAC offers junior tennis programming and lessons, as well as its programming for adults and onsite racquet stringing. Now that Guerin is entering the world of summer camps, she's looking forward to signing up her boys for tennis camps. SOAC offers many camp options with different themes from tennis to art & crafts and more.
During swimming season, children enjoy the slide, diving board and splash pad. There's even a baby pool for the little ones, and lap lanes for serious swimmers.
"I needed something that could do it all – a place where I could pay one membership and call it a day for my family, and that's what I found at SOAC," Guerin says. For more information or to join, call 225.756.7485 or visit online at soacitup.com.