Publisher's Letter: Vintage Vibes
---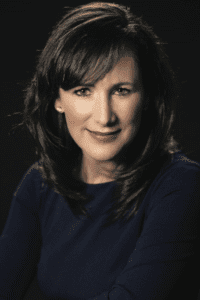 I saw it on the runways first. Not that the designs lauded at fashion week in metropolitan cities have ever informed the contents of my closet. Or tickled my fancy. In fact, a passing glance at the over-the-top ensembles strutting down the catwalk often make me say things out loud that are better left knocking around inside my head. But printable words include "Ludicrous. Preposterous. That looks like trash."
So one would think that when I spotted the return of shoulder pads—big, architectural shoulder pads that could take down a grown man if the model turned too suddenly—I would remember my disdain for haute couture and chalk it up to a preposterous fashion fad.
But heck no. I love me some shoulder pads. Hammer don't hurt 'em.
So I did what any middle-aged woman with a penchant for storing things would do. I reached way back into my closet and pulled out four favorite blazers I wore no less than two decades ago when my job was more corporate (and involved a daily dose of pantyhose.) I selected a nicely lined, oversized gray model, double-breasted of course—with shoulder pads strong enough to take down a medium-size linebacker if I was in the right mood—and I paired this with jeans and a tank top. I felt empowered.
I received rave reviews at work from girls who were born around the time this blazer first hit the market. "So vintage!" "Love the wide collar!" "Wow, those buttons!" I'm rollin' in my 5.0, right? Killing it. My mind started to race. What else do I have stored that might make a strong impression on the south Louisiana fashion scene? I've got pants with pleats. I've got blouses with bows. I've got leather.
I went through my closet with fervor, embracing old ensembles like they were long-lost friends of yore. "I wore this to that wedding in New Orleans before we had kids," I said to my husband who mildly nodded. "Everyone wore high-waisted pants like this," I told one of my children who couldn't even feign interest. "Black and white polka dots were very 1940s, but they've never really gone out of style," I said to my mother, who agreed and pointed out that my dress was attractively cut on the bias.
Suddenly, my wardrobe made sense again. For years, I struggled with the understanding that I was not young enough, cool enough, edgy enough to pull off the trends of the day such as shredded denim or rocker T-shirts. If it didn't look good on me, I must be trying too hard.
Then in saunters the shoulder pads—snicker if you will—and I was back on track. Because shoulder pads (you know this, right?) look great on everyone. Everyone. Sloping shoulders? Shoulder pads camouflage. Need to whittle down your waist? Shoulder pads create illusions. Need to take out a menacing coworker? A four-point stance and shoulder pads.
My phone buzzed with texts from a high-school friend I was meeting for dinner later that night. "This will be up for discussion," she wrote, right above multiple photos of us and our friends donning the most ludicrous collars of 1990. Sailor collars, Battenberg lace collars, square collars with piping. We wore the frumpiest dresses over these collars, and—based on these photos—I can't believe we ever went on a date.
When showing my younger counterparts pictures of these collared, cringe-worthy looks of yesteryear, one of them pointed to my friend in a high-collared fringe lace disaster and said, "Actually, I would wear that right now."
How could this bright, fashion-forward colleague of mine astutely notice the awesomeness of my shoulder-padded blazer then point out a heinous piece of textile best left for history to devour? Had she tragically lost her sense of style? Or was the term "This is so out it's back in" not specific to only the few items that I hold dear? Clearly, even the ugly trends can be pulled back out for public consumption.
"You've got to be kidding me," I said mercilessly, wounded that my jacket might be on par with the collared shirts. "That looks like trash."   
---