Say yes: A trio of picture-perfect marriage proposal ideas
---
Big life events are even bigger in the movies. When Harry finally professes his love to Sally in one of our favorite romantic comedies of all time, he does it while catching his breath after sprinting down the streets of Manhattan to find her at a New Year's Eve party. "I came here tonight," he exclaims, "because when you realize you want to spend the rest of your life with somebody, you want the rest of your life to start as soon as possible."
What Harry's proposal lacks in preparation it certainly makes up for in passion. What a line, right? But as event planner Angela DiVincenti Babin of Angela Marie Events proves on the following pages, a little forethought can ensure that the kickoff to a couple's life together can be both romantic and remarkable. The secret, she explains, is playing off the bride-to-be's unique personality or drawing inspiration from the special moments the two of you have already shared.
"When you go that extra mile and personalize the experience for the person you love, that's such a grand gesture," says Babin. "Right now, everything is so 'micro' because of the pandemic, but this is something anyone could pull off, and it really feels over the top and lavish."
On the following pages, Babin shares three distinctive proposal concepts, all based on different whimsical notions but all filled with the pretty details that a day like this deserves.
---
Always You
Monochromatic hues, painterly plates and rich velvet fabrics set an unmistakably romantic mood for this proposal. Babin created floral arrangements highlighted by David Austin garden roses, dahlias and ranunculus, and she even used a special floral spray paint to give the plumosa greenery the same wine-drenched hue. A textile sign proclaims this suitor's feelings before he says a word.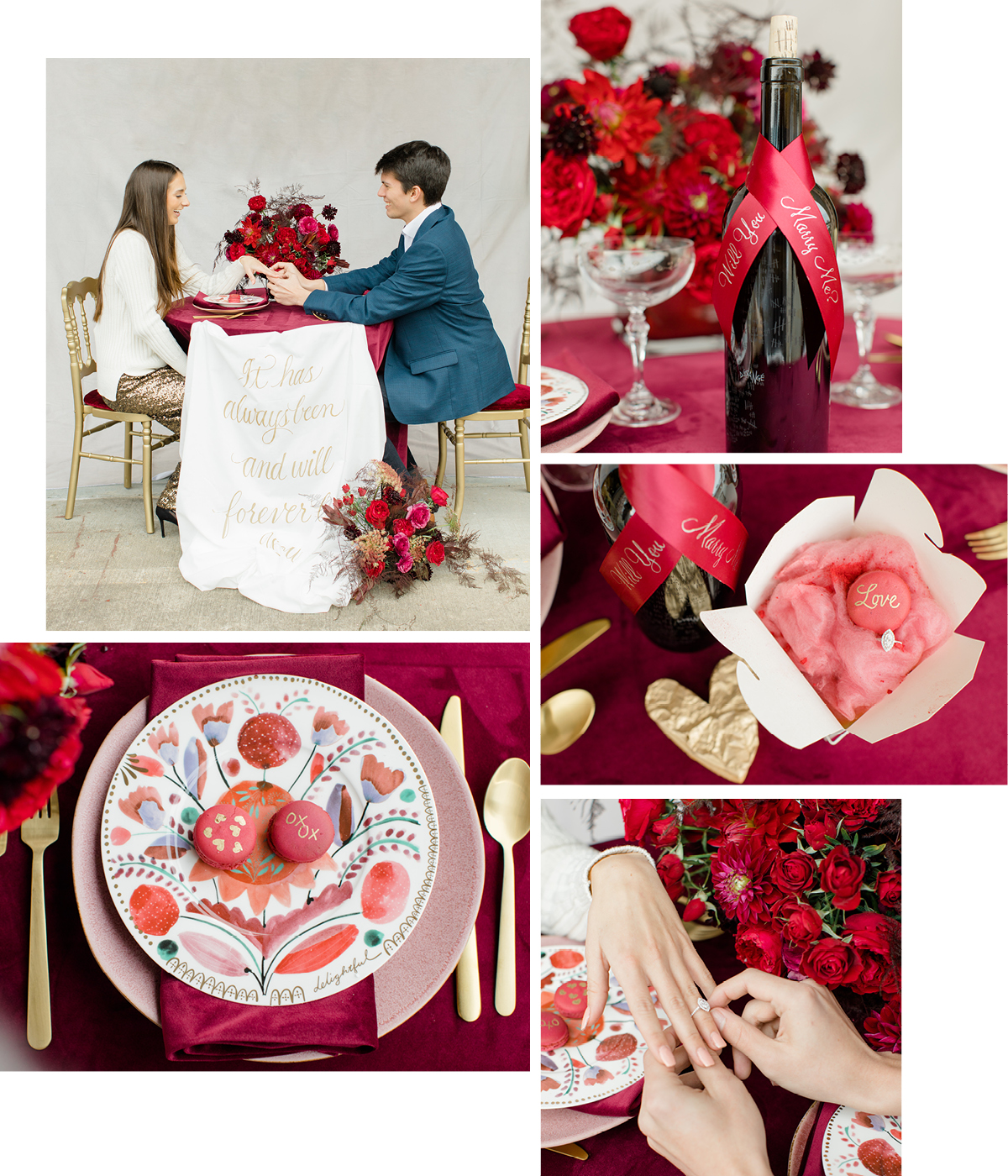 ---
Marry Me Meow?
'Everyone brings their dogs to the wedding to serve as a furry ringbearer, so I thought, why not have your cat at the proposal?" says Babin. "Animals are an important part of many people's lives, so this was a way to include Bree the cat in this special moment." Bree's collar (pictured above) is embellished with fresh flowers that mirror the roses and scabiosa in the table arrangement. And where better to hide the sweetest gift of all—the ring—than in a serving of pastel-hued cotton candy?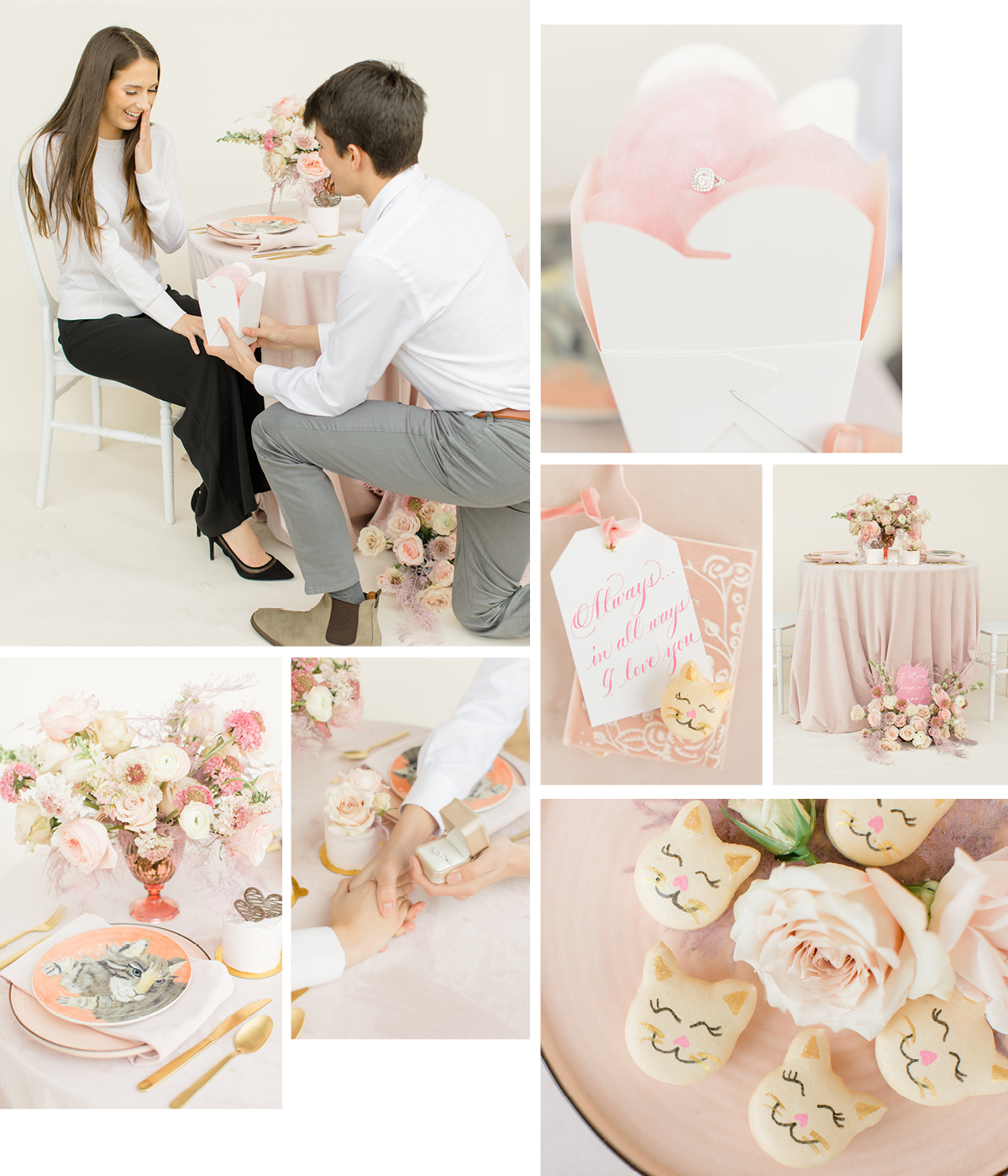 ---
Forever Football Date
For that diehard Tiger fan, a gridiron-themed proposal is a must. Babin drew inspiration from whimsical tiger plates and added ticket-shaped cookies, purple petit fours, and arrangements of Amnesia roses and fresh lavender. For those keeping score, this is the recipe for a winning team!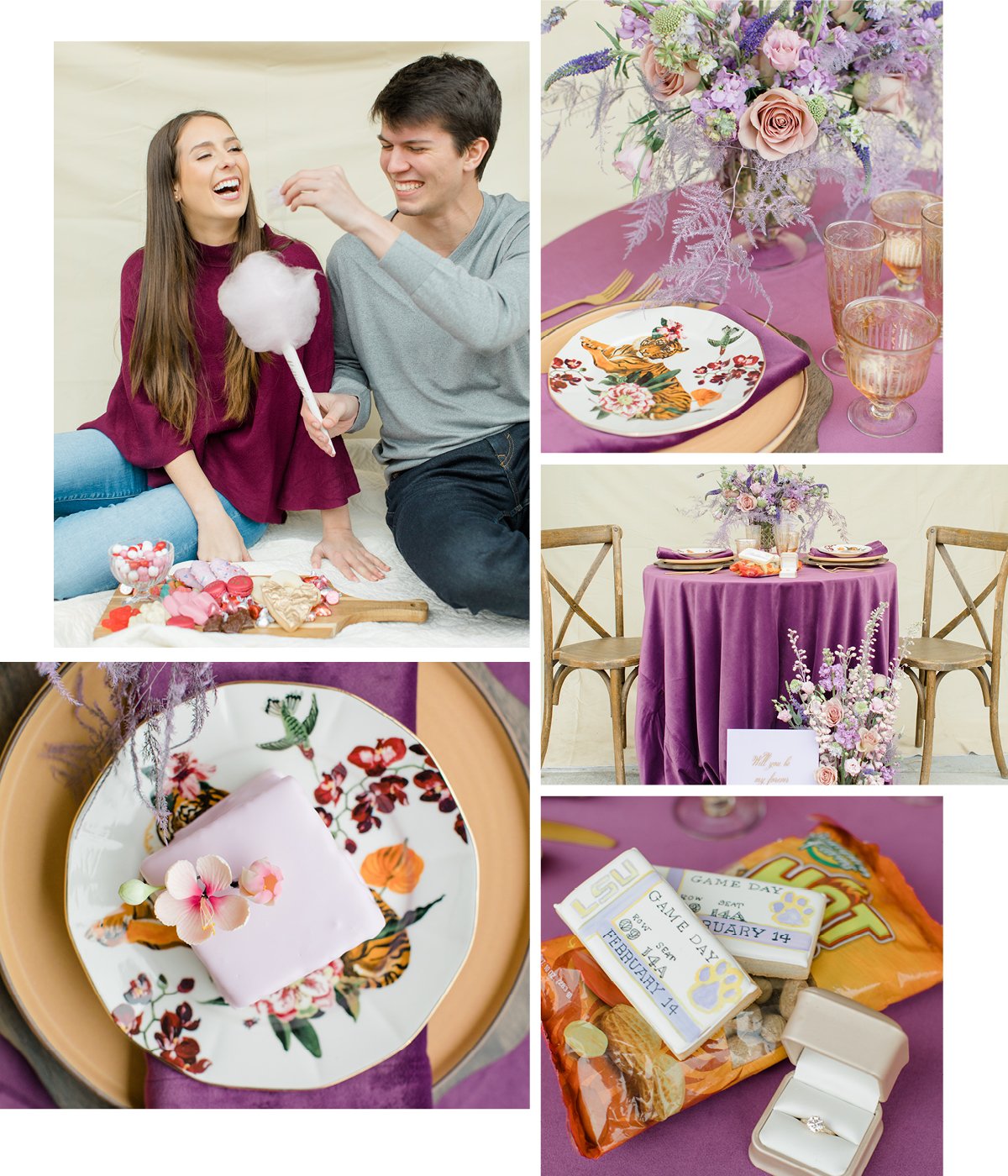 ---
Resources:
Design and florals: Angela Marie Events
Rings: Patrick's Fine Jewelry
Banner and calligraphy: Paperwhite Stationery Boutique
Signs: Sharon Benton Designs
Macarons: Crave Macarons and More
Cookies: Sugar Kettle Cookie Co.
Desserts: The Ambrosia Bakery
Cotton candy: Le DOODLE
Chairs: ELEMENT
Linens: Nuage Designs
Plates and glassware: Anthropologie
Velvet book: The First Snow
Makeup: Marissa Mizell
Models: Olivia Vance and Jake Davenport