Swept away: The romance of Pedram Couture's bridal designs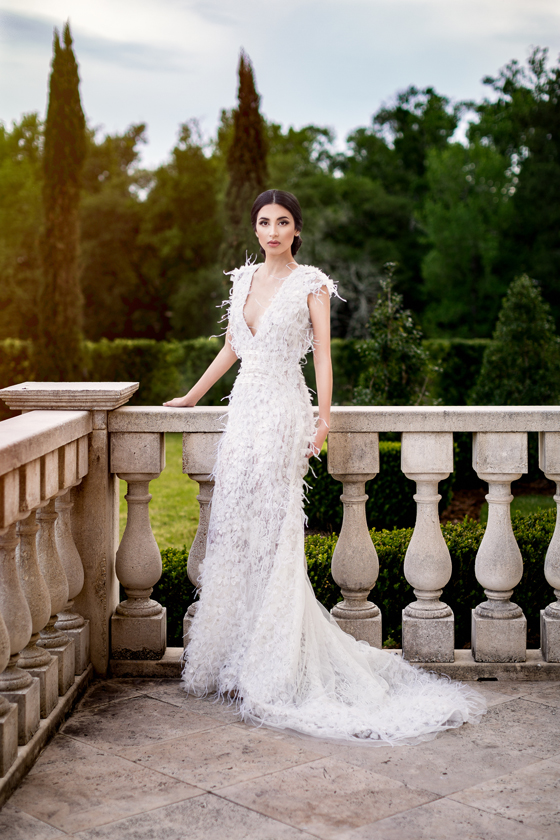 Rich fabrics. Hand-beading. High-drama silhouettes. The same signature elements that made Pedram Couture eveningwear popular among actresses, musicians, reality TV stars and basketball wives are now also being lavished on brides around the world.
"They both are designed to turn heads," says Pedram Pasha Taheri, a native of Iran and longtime Baton Rouge resident who studied interior design at LSU before turning his focus to high fashion. "Thanks to social media, several clients saw my pictures of Pedram Couture brides—such as NBA player Zach Randolph's wife Faune—and wanted their own gowns."
The Pedram Couture Atelier bridal collection stood out among hundreds of lines during its first showing at New York International Bridal Week in April, and it was snapped up by shops from Los Angeles to London to South Korea. "And the highlight of it all is that my line will be available at Kleinfeld beginning this fall," says Taheri, referring to the blockbuster New York bridal shop made famous by the TV show Say Yes to the Dress.
Like his evening gowns, Taheri's bridal designs are brought to life at his atelier in downtown New Orleans. Here, brides-to-be can make appointments to get an up-close look at the line; the collection is also available at Le Jour Couture in Lafayette.
"Being in the midst of the most memorable event of a person's life and knowing that my dress is the highlight of the day is extremely rewarding," Taheri says. "It affirms that I'm following the right path and doing what I was called to do—to create beautiful things and make women feel and look their best."
The Pedram Couture Atelier collection taps into some of this year's hottest bridal trends—from sheer elegance to plunging necklines to cap sleeves. Check out a few of our favorite dresses from other designers, all available at local boutiques, here.