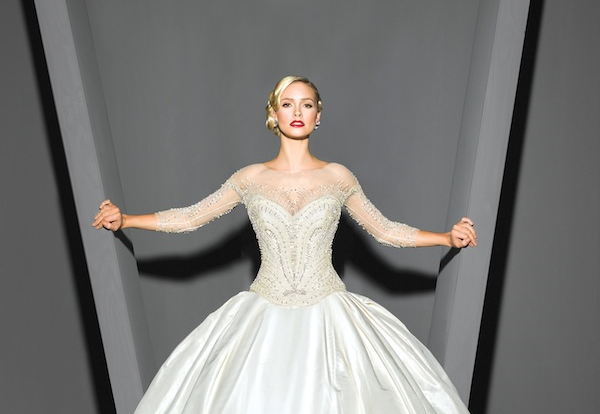 Twirl-worthy ball gowns. Gatsby-esque glamour. Puffs of soft pink and shimmering champagne.
Bridal designers are playing the role of fairy godmother this year, creating dresses that whisk a bride right out of real life and into a fantasy world filled with magic. And Baton Rouge brides are falling under the spell.
"A lot of girls are going toward layers and layers of tulle or elaborate beading," says Marie Gilley of Bridal Boutique. "The biggest thing right now is that sense of opulence, and I think that's a very storybook look."
Simple and sleek seems to be on the wane, local bridal experts say, as brides embrace full ball gowns and elaborate beading. While ethereal tulle skirts are always en vogue, some new ball gown styles are sweeping brides off their feet with silk satin skirts set with wide panel pleating. Working with so much volume, designers are even able to add pockets to some ball gown skirts—the perfect place to tuck a Kleenex in case a bride gets a little misty at the altar.
"Brides are wanting to be more extravagant, more over-the-top," says Ramsey Sims of I Do Bridal Couture. "We're seeing longer trains, grand skirts and beautiful beadwork. It's sort of like Cinderella."
The vintage vibe is also a big part of the fantasy trend—think Roaring '20sinspired dresses with details like dripping beads, slinky slip dress silhouettes and drop waists, or classic cuts straight out of the '50s. "It's an elegant Audrey Hepburn look, a Grace Kelly look," says Helen Durham of Gabrielle's Bride and Occasion Salon. "Brides are a little older these days and more discerning, and so they want something more elegant. Luckily, the designers have all responded."
Experts say the right headwear adds to this return to extravagant femininity and fantasy. Cathedral-length veils offer just the right note of high drama, notes Gilley, as do lace-edged mantillas, veils with jewel accents, and even monogrammed veils. To complement the vintage look, brides can try headbands or delicate beaded strands directly woven through the hair. "It's very romantic—just lovely," says Durham.
No matter what sort of dress a bride may be dreaming of, Gilley recommends that she try on a variety of styles before making a commitment. It's a bit like kissing some frogs before you find your prince. "It's really funny," she says. "A girl will come in and think she wants a fit-and-flare or mermaid style but then try on a ball gown and fall in love with it. Or the opposite will happen. You just have to try them on to see what's perfect for you."
Pretty as a princess, fine vintage, new hues or underwrap? Find your dress style.