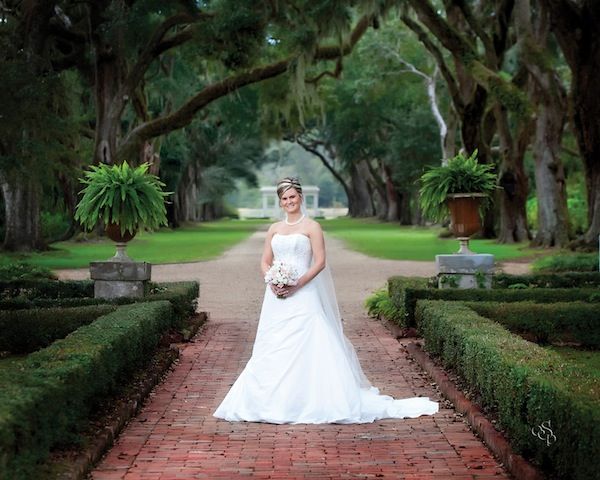 Marie Gilley recognizes the significance of a marriage ceremony and the attire that goes along with it. The owner of Bridal Boutique still joyfully reminisces about the day she got married decades ago and, of course, the dress she wore—a spectacular gown featuring a lace boat-neck top and organdy bottom with a Watteau train.
"The Summer of '69' is my song," Marie says. "That was a monumental year for me."
In 1969 Marie walked down the aisle to marry Shelby Gilley; she also graduated from LSU and helped to open Bridal Boutique on Government Street, the first mom-and-pop wedding gown shop in the area. She soon became sole proprietor and in 1978 moved Bridal Boutique to its current location on Florida Boulevard.
"Never would I have thought I'd be where I am today," Marie says. "It is fun, but it is work."
It's work that has paid off, thanks to her family. Marie's husband, Shelby, ran Gilley's Gallery on the second floor of Bridal Boutique until his death five years ago. His support was instrumental in the store's success, Marie says. The couple's son, Eric, now operates the art gallery. Downstairs, Eric's wife, Robin, helps to manage Bridal Boutique.
Marie says her business is all about relationships, not only with her family but also with customers from different generations. She delights in the fact that former brides she helped clothe for their wedding day are now bringing in their daughters to have a similar experience. Marie has befriended women of all ages from the Capital Region and beyond during her 45 years of owning the specialty boutique. In addition, she has developed strong, long-standing relationships with people in the wedding gown industry, which has given Bridal Boutique a solid foundation to help it thrive.
"We have worked with many of the companies and sales representatives for 40-plus years. Now, when we need a favor, they go the extra mile for us," Marie says. "We pass this service on to our customers."
One repeat customer is Jackie Creed, who bought her own wedding gown from Bridal Boutique 37 years ago.
"They really rolled out the red carpet," says Jackie, of the wonderful customer service she received there as a bride-to-be. "After all these years I still remember that."
When her daughter, Keelie, became engaged a few years ago, Jackie accompanied her to Bridal Boutique. There Keelie found her dress, and Jackie also bought a mother-of-the-bride dress. Then, taking advantage of the store's diverse inventory, they also looked for and purchased bridesmaid dresses, pre-wedding party dresses and the wedding book.
"If it must be worn during the ceremony, except tuxedos, we offer it here," Marie says.
"They manage to make you feel like the only girl in the store," says Keelie. "The hospitality I received there was excellent." She married Jeremy Naquin in St. Francisville in 2010.
Marie strives to provide gowns and dresses at different price points so that women with any size budget can find what they are looking for. Bridal Boutique carries exclusive lines of Lazaro, Badgley Mischka, Alvina Valenta, Jim Hjelm, Pronovias, Enzoani, and more. The store is also a premier retailer for David Tutera and Casablanca.
Bridal Boutique—much like a wedding—is a family affair. Now that three granddaughters are running around the shop, Marie has hopes that Bridal Boutique will continue to help clothe brides-to-be for generations to come.