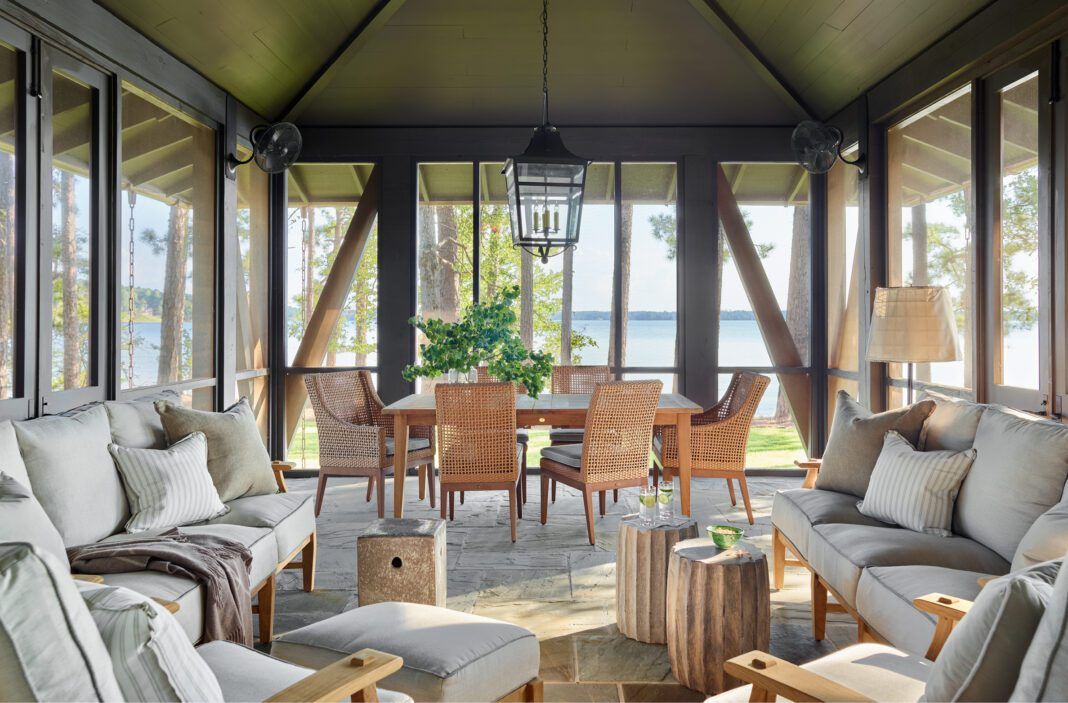 Natural inspiration is the focus in this lake house featured in the pages of Ashley Gilbreath's new design retrospective
---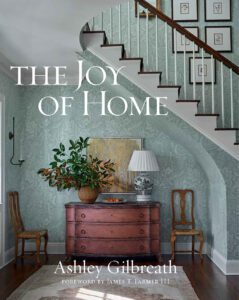 Creating a book, at least in the design world, is usually a painstaking process that extends over a span of years. It's a little like the way some of us like to get into a cold lake or pool at the beginning of the summer. First, we dip a toe and shiver. Then we gradually wade in, feeling the icy water in our bones with each step closer to the deep end. Eventually, we're swimming and having fun, but not before experiencing some serious discomfort along the way.
But when Baton Rouge native and Montgomery, Alabama-based Ashley Gilbreath, the creative mind behind Ashley Gilbreath Interior Design, began her own book project, she took a decidedly different approach.
"We just literally jumped right in, I feel like with no clothes on," Gilbreath tells inRegister. "We were like, 'What do we do? How do we do this?' And we figured it out as we went along. It was very, very quick."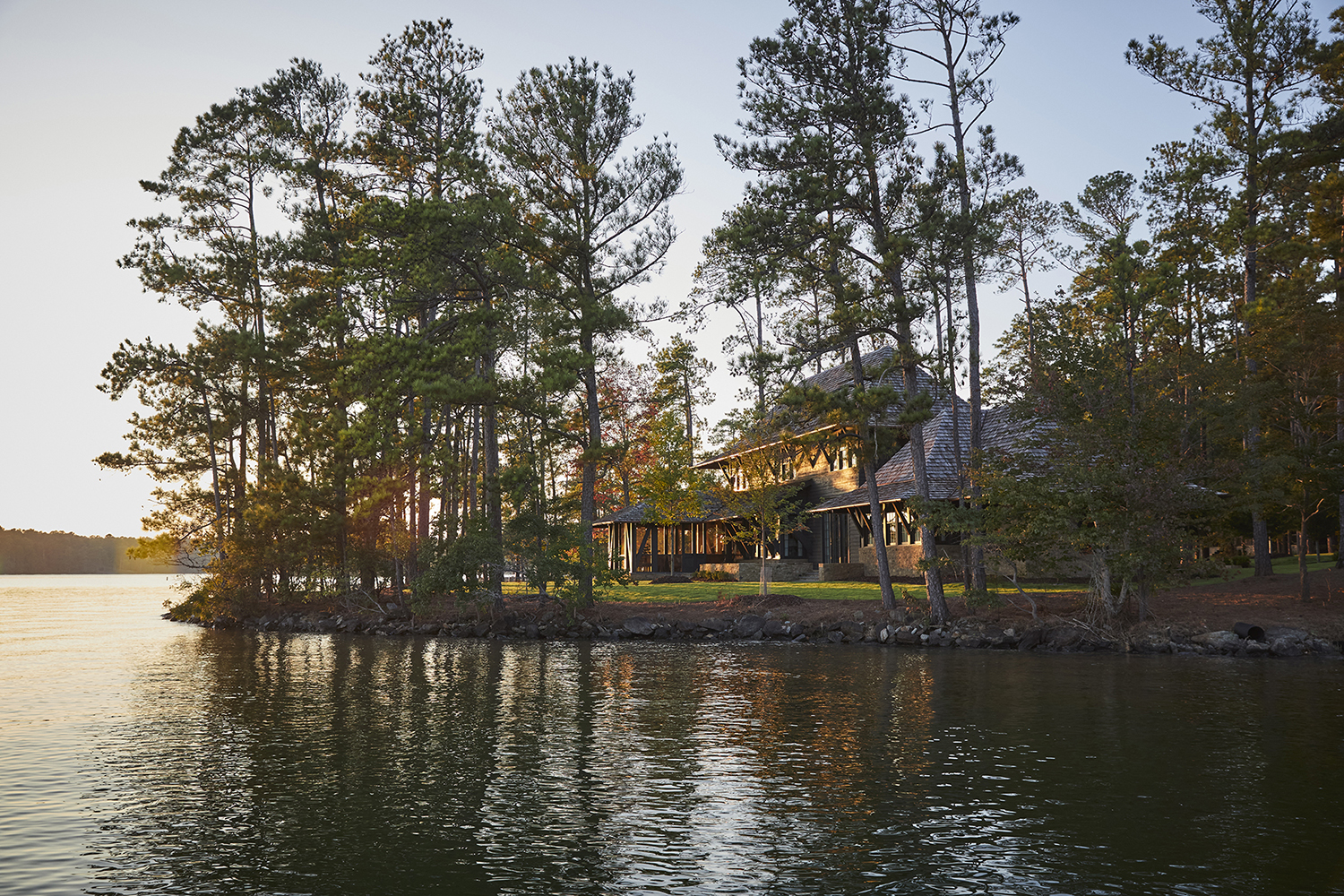 The whirlwind began when Jill Cohen, a design book publishing agent and advisor, approached the publishing house Gibbs Smith with an idea for a book featuring Gilbreath's design projects. The company liked Gilbreath's work so much that they bypassed the typical submission process and asked her to dive in headfirst. About six months and a flurry of photo shoots and writing sessions later, the content—page after page of pristinely styled Southern spaces—was ready.
"It was very, very quick and a little crazy," Gilbreath says. "It was a fun ride for sure."
Since the book features a variety of design projects Gilbreath has completed during her career, she got to revisit—with photographer and stylist in tow—many homes from years past.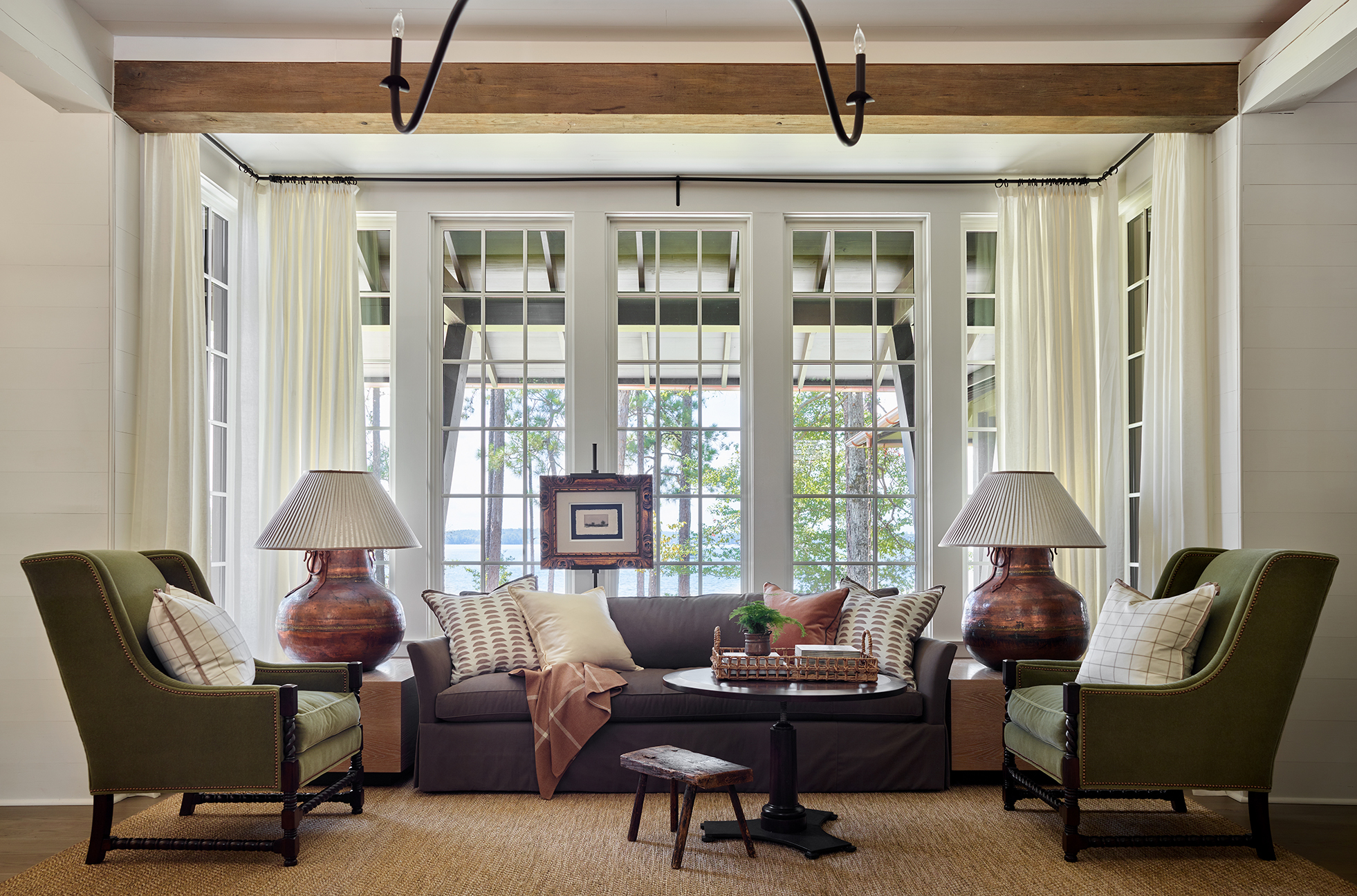 "I live with each of these projects for so long, so it was like visiting family members I hadn't seen in a long time," she says. "It was fun to be back in these spaces and hear, 'This is where I do my devotional because the sunlight in here is awesome' and 'This is where we curl up as a family.' Those kinds of things are sweet to hear, because we get to have a part in how these people live their daily lives."
Published in April, The Joy of Home features residences ranging from a renovated beach home on the Gulf of Mexico to a modern-leaning new build in Baton Rouge, but all with a focus on family togetherness and creating happy memories. In telling the story of each project through photos and text, Gilbreath leans into her own personal background to tie into the heart of each home.
"To me, the homes where we go to get away could be described as 'journey homes,'" she writes in the introduction to the lake house highlighted here. "My father-in-law always says it's important to enjoy the journey, and if we are to enjoy the journey of life, we must set aside the time it takes to reflect and appreciate."
Recalling childhood trips to the Grand Hotel on Mobile Bay, Gilbreath points out the rustic details in this home on Alabama's Lake Martin that features architectural design by Chris Tippett. "To me, lake living is peaceful and still," she writes. "The house slips seamlessly and respectfully into the landscape and incorporates the surroundings into the living space."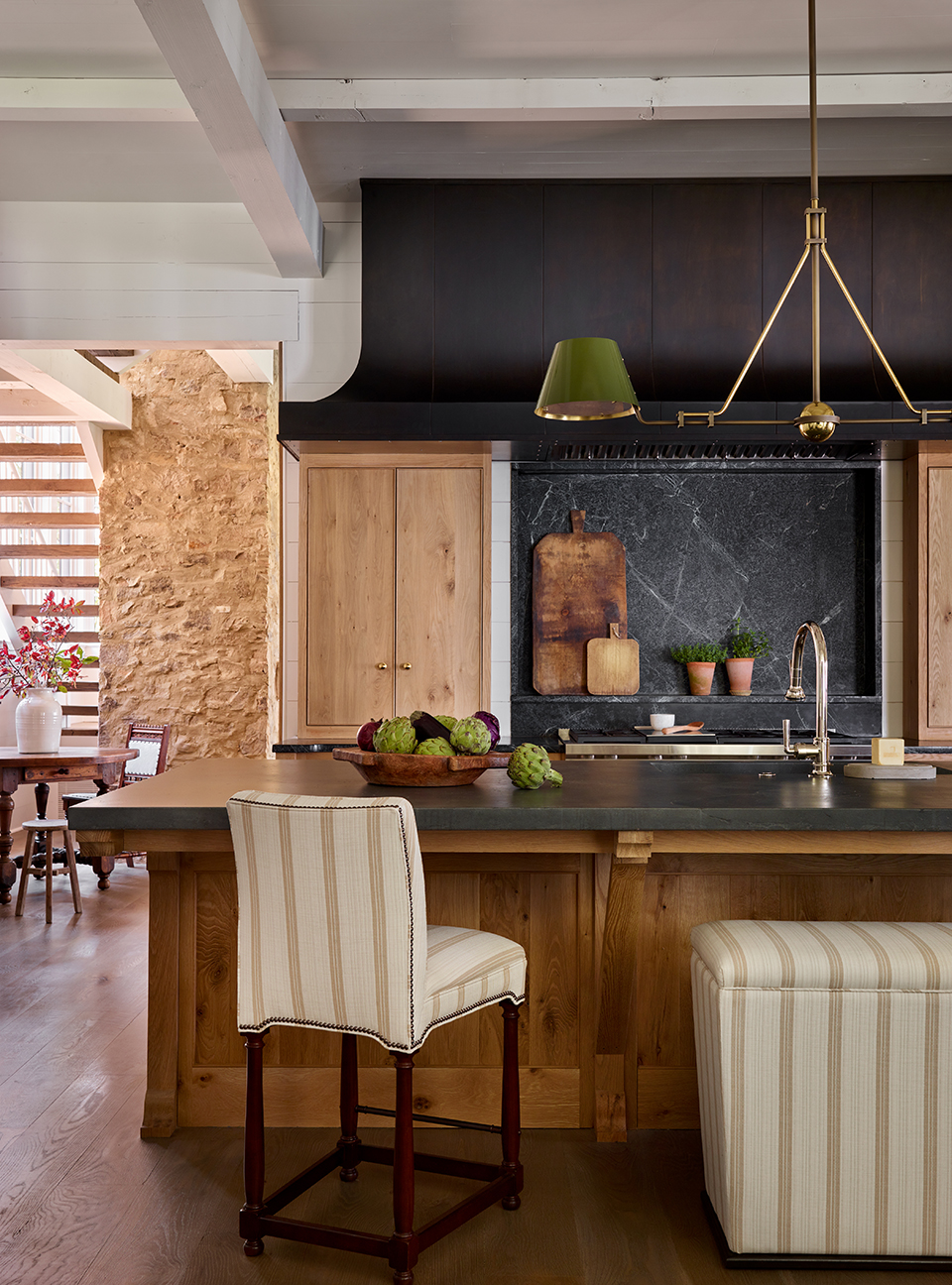 Gilbreath tells us she was tasked with "taking what you see outside those windows" and making it feel connected to the indoor environment, while also creating coziness and practicality to suit a family with grown children and young grandchildren all gathering on weekends. "They wanted to be able to have fun and not have to fuss over who has a muddy swimsuit or who's dripping water into the house," she says, adding that blending those hardy materials with a few antique pieces helped to give the house a sense of history that defies time. "They just really wanted it to be very family friendly and at the same time something that could be passed on to the next generation."
Just as gleeful grandchildren now spend their summer afternoons jumping right into this chilly lake, Gilbreath has no regrets about taking the plunge into the pages of her first book.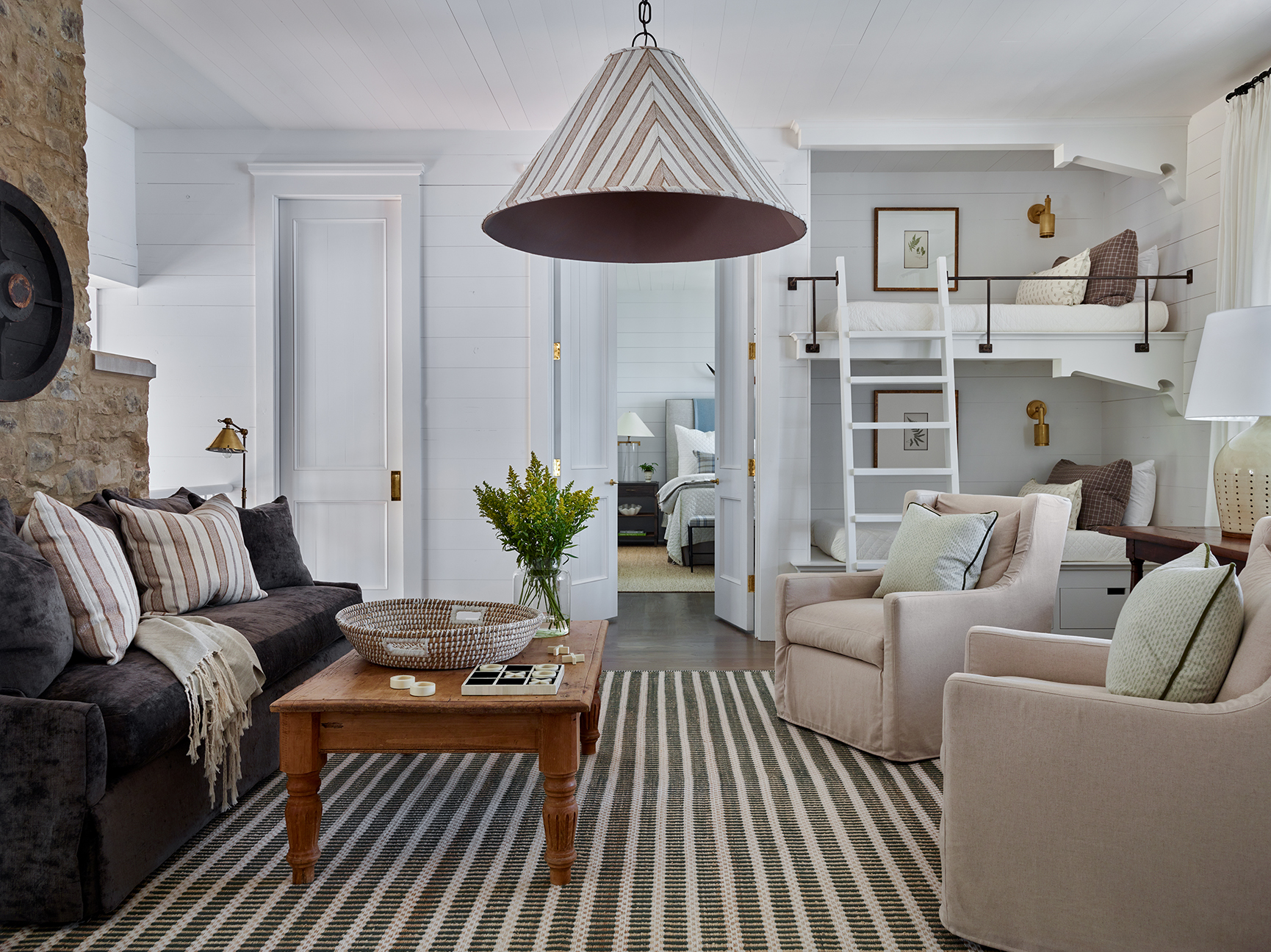 "Writing this book has illuminated a level of self-reflection I hadn't previously taken the time—or had the time—to understand," she writes as the book comes to a close. "I've realized that the serenity found near the water or in the mounts helps me enjoy my journey."
---
Dream State
A home built for guests calls for plenty of places to crash after a day out on the water. Along with the combination playroom/bunk space on the opposite page, these four bedroom looks created by Ashley Gilbreath in the lake house show that no matter how many sleeping spots a home holds, each can have its own distinctive personality.