Travel Journal: Niagara Falls, Canada
Seen through the eyes of Brandy Pontif
---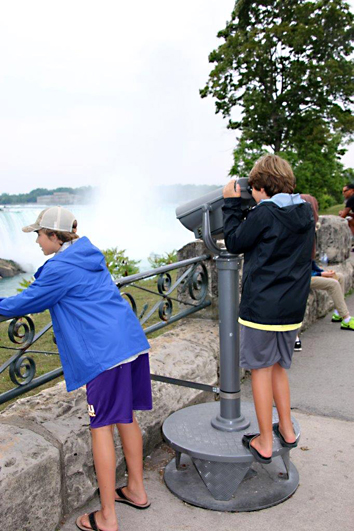 Who went: My husband Jason and I, along with our sons Peyton and Preston
We went because: Several years ago, after buying the book Frommer's 500 Places to Take Your Kids Before They Grow Up, we started a family tradition. Each year we go to a destination that we read about in the book. Last summer, since we were also heading to Cooperstown, New York, to play baseball, we figured we would throw in Niagara Falls, too.
Hotel recommendations: Embassy Suites Niagara Falls Hotel. It has a great view of the falls.
Where to eat: There were many great options, but we decided to pick restaurants with outside seating. The weather was such a nice change from the heat and humidity of Louisiana, and the people watching proved to be entertaining.
Item of clothing you shouldn't leave home without: Rain jacket. If the wind is blowing, it feels like it's raining from the mist of the falls, and it gets cool at night.
Local attraction worth a drive-by: Take a ride on the Niagara SkyWheel. You will soar 175 feet above Niagra Falls and witness an awesome view of the city and falls—especially at night when the falls are lit up.
A great experience off the beaten path: Clifton Hill is a short drive from the falls with lots of old-school fun—haunted houses, museums and mazes. Around every corner you could find street performers juggling swords, swallowing fire or tightrope walking.  The boys' favorite act was the high-wire motorcycle/trapeze act.
Worth the splurge: Whirlpool Jet Boat Tour. We had a blast whitewater rafting in a very powerful jet boat.  You get to see the walls of the Niagara River Gorge up close, instead of leaning over the rail from the many pathways along the edge.  We went through Class 5 rapids, and we experienced 15- to 20-foot waves. There was not a stitch of dry clothing anywhere on the boat!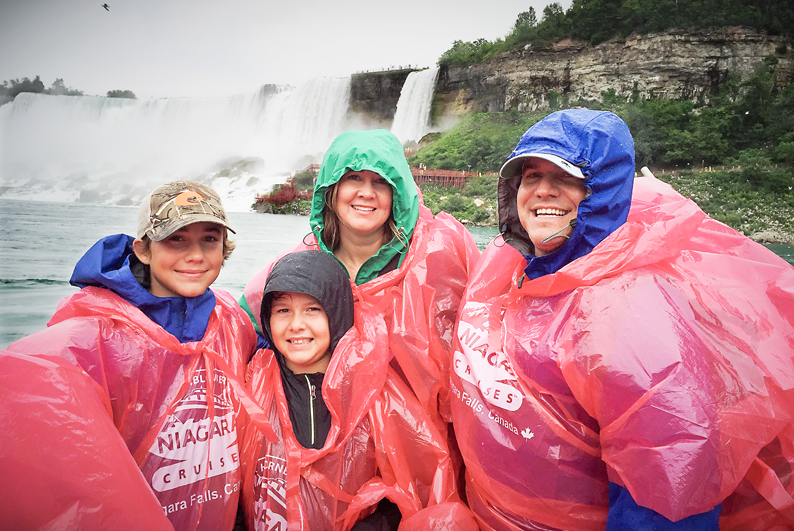 ---
Something surprising we learned on the trip: The Niagara River collects all the water from the Great Lakes, which amounts to about 20% of the world's freshwater.  The first person to survive going over Niagara Falls did it in 1901 in a wooden barrel.
Insider's tips: Definitely stay on the Canadian side—the view is amazing and the landscaping along the walkways is immaculate! We also recommend flying into Buffalo and renting a car to drive to Canada.  It's a scenic drive and much less expensive.
We would suggest this trip to others because: It is impossible to appreciate the magnitude and beauty of Niagara Falls unless you hear the roaring waters and feel the mist on your face!